GSA Changes Lineup for Final Alliant 2 Small Business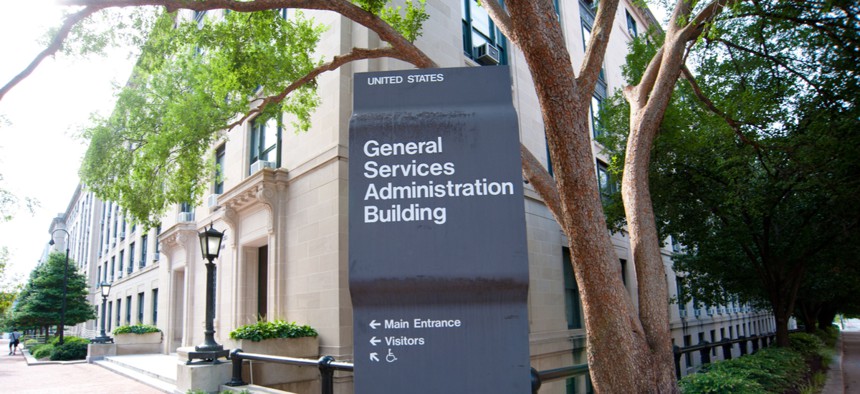 The agency made some swaps on the $15 billion sister to Alliant 2 Unrestricted since the pre-award notice.
The General Services Administration officially announced the awardees for the Alliant 2 Small Business contract vehicle, dropping three contractors since the pre-award notice in December but adding four more.
The 10-year $15 billion contract gives agencies access to pre-vetted IT services companies—versus the IT commodities on IT Schedule 70. The vehicle is the small business companion to the $50 billion Alliant 2 Unrestricted which was awarded in November.
GSA officials intended to award 80 spots on the small business vehicle but allowed for a tie in the final position bringing the total to 81. Almost 500 small businesses vied for the spots.
Of the 80 pending awardees in the pre-award notice in December three did not make the final cut: AEEC, Avineon, and Superlative Technologies dba SuprTEK.
The removals made room for four other small businesses: Atlas, Product Data Integration Technologies dba Modulant, SNAP and The Informatics Applications Group. All four awards are pending as their small business designation "still subject to contracting officer size challenge at the Small Business Administration" for five days after the award notice, according to said notice.
GSA is waiting to give the notice to proceed until any potential challenges are resolved. If any of the four companies are removed from Alliant 2 Small Business those spots will not be backfilled, according to GSA.
"As IT modernization takes center stage in the administration's drive to create a more efficient and effective government GSA's Alliant contracts will continue to be an important tool for agencies looking to enhance and improve their IT operations in service of American taxpayers," Federal Acquisition Service Commissioner Alan Thomas said.
Kay Ely, assistant commissioner of the Office of Information Technology Category, agreed, touting GSA's collaboration with agencies and industry in crafting the second generation of Alliant.
"These partnerships have been in place for years and have provided GSA with valuable feedback that helped build and refine the next-generation Alliant program—ensuring that we deliver precisely what agencies want and need," she said. "These solutions provide a solid foundation to address growing needs to modernize the government's IT infrastructure implement leading-edge technology solutions and enable improved service to our citizens."    
The full list of awardees:
Aderas Inc.
Advanced Software Systems Inc.
Agile Defense Inc.
Alutiiq Business Services LLC
ASRC Federal Data Network Technologies LLC
Atlas Technologies Inc.
aXseum Solutions LLC
Barbaricum LLC
Battle Resource Management Inc.
BayFirst Solutions LLC
BlueWater Federal Solutions Inc.
Business Integra Technology Solutions Inc.
Clearavenue LLC
Client/Server Software Solutions Inc.
CNI Global Solutions LLC
Constellation Software Engineering Corp.
Credence Management Solutions LLC
Customer Value Partners Inc.
Decypher Technologies Ltd
DKW Communications Inc.
DSFederal Inc.
EMW Inc.
Encentric Inc.
Evanhoe & Associates Inc.
Excellus Solutions LLC
Exeter Government Services LLC
Federated IT Inc.
FEDITC LLC
Goldbelt Hawk LLC
Grove Resource Solutions Inc.
Halfaker and Associates LLC
Halvik Corporation
Harmonia Holdings Group LLC
Highlight Technologies LLC
ICS-Nett Inc.
InCadence Strategic Solutions Corporation
Incentive Technology Group LLC
Innovative Management Concepts Inc.
InquisIT LLC
Inserso Corporation
Interimage Inc.
Koniag Services Inc.
Link Solutions Inc.
LinkTec LLC
LinTech Global Inc.
MetroStar Systems Inc.
Network Security Systems Plus Inc.
New Generation Solution LLC
NikSoft Systems Corporation
Paragon Technology Group Inc.
Procentrix Inc.
Product Data Integration Technologies Inc. dba Modulant
Pro-Sphere Tek Inc.
Qbase LLC
Sentar Inc.
Sev1Tech Inc.
SNAP Inc.
Soft Tech Consulting Inc.
Solutions By Design II LLC
Solutions Development Corporation
Spry Methods Inc.
Strategic Operational Solutions Inc.
Sumaria Systems Inc.
Suntiva LLC
Superior Government Solutions LLC
Systems Plus Inc.
Tantus Technologies Inc.
Technology Solutions Provider Inc.
Teracore Inc.
The Informatics Applications Group Inc.
The net.America Corporation
Time Solutions LLC
Tuva LLC
Usmax Corporation
Valador Inc.
VariQ Corporation
Vector Planning & Services Inc.
Vista Defense Technologies LLC
VMD Systems Integrators Inc.
VSolvit LLC
X-EETO Inc.
Editor's Note: The original story misstated the number of companies to drop off between pre-award and award.