DOD's data integration experiments help to identify benefits and barriers to new tech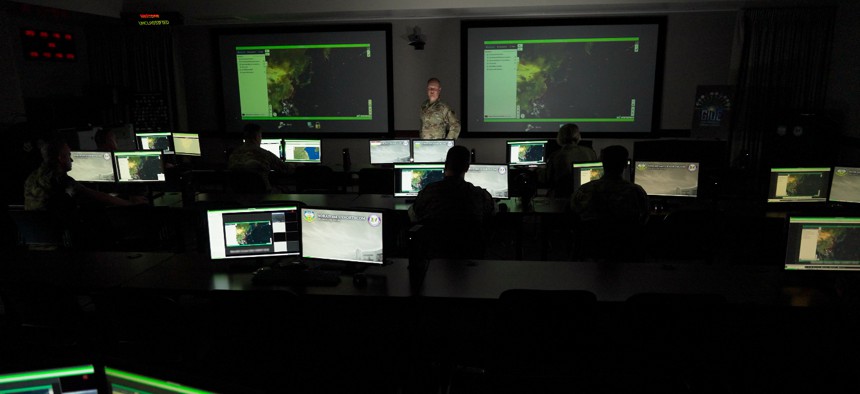 "We want to fail," the deputy chief of the Pentagon's AI office said about a series of experiments supporting the Defense Department's JADC2 efforts.
An ongoing series of experiments to inform the Department of Defense's development of an interoperable data sharing network is bringing together industry partners and U.S. allies to help identify the benefits and challenges of using emerging technologies, one of the leaders of the Pentagon's Chief Digital and Artificial Intelligence Office — or CDAO — said during an event hosted by the Center for Strategic and International Studies think tank on Friday.
Margie Palmieri, deputy chief digital and artificial intelligence officer, noted that CDAO is working with the military branches to help streamline the implementation of the Pentagon's Joint All-Domain Command and Control — or JADC2 — strategy, which is designed to enhance tactical decision making across air, cyberspace, land and sea domains. 
Palmieri said that CDAO has been particularly focused on the data component of the strategy, including the interoperability and exchange of data. 
"We're trying to think through, 'how can we democratize data access?'" Palmieri said, adding that part of this work includes considering how DOD can have industry partners "develop on top of government data to support a wide variety of users for their specific applications."
Earlier this year, Palmieri said CDAO relaunched a series of experiments initially created by U.S. Northern Command "to really test data and analytics in support of decision making." She noted that the four initial experiments — known as Global Information Dominance Experiments, or GIDE — ran about every 90 days and were "very quick and iterative, with industry bringing new capability at each increment to see if it helped with their workflows."
"Each GIDE that we do manufacturers a crisis," Palmieri said, adding that the experiment looks to see if partners in government, industry and policy can come together and solve the scenario. But the main focus, she said, is to use GIDE "as a true learning opportunity."
"We don't white card; we want to fail," Palmieri said. "And we want to identify what that barrier looks like."
CDAO is currently conducting the sixth iteration of GIDE, which Palmieri said would likely be completed within the next two weeks. During an event hosted by the RAND Corporation earlier this month, Palmieri noted that the current GIDE series has also tested out approximately five different generative AI models.
The sixth GIDE iteration has also seen successes that will help chart the implementation of the Pentagon's JADC2 strategy moving forward. During an eight-week period across June and July, Palmieri said that GIDE participants were able to make 70% of the tested data connections occur.
"Capabilities we brought are going to continue to be operational in the future," she added. "And so once you make that data connection into an existing software system, you've made that software system much better. And you don't have to do that again or operationalize that."
Palmieri noted that representatives from U.S. allies — including Australia, Canada and the United Kingdom — also participated in the sixth GIDE iteration "to understand what the barriers are" when it comes to boosting data interoperability through the use of new systems and technologies. 
"One of the biggest challenges for us has been our own data, and how we tag our own data for them to be able to see and for us to share," she added.
Palmieri said the seventh GIDE iteration — scheduled to begin in September — will partner with the Joint Staff's Bold Quest event, "where they bring in different allies and partners at a more tactical level."