OMB preps guidance on AI in government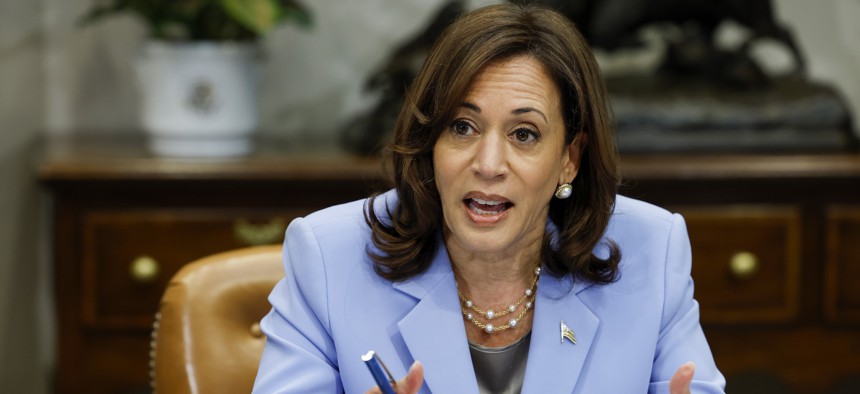 The White House plans to issue draft policy guidance on federal government use of artificial intelligence systems, officials announced ahead of Thursday meetings between Vice President Kamala Harris and heads of companies with large AI investments.
Harris and other senior government officials are hosting the heads of Google's parent company Alphabet, Microsoft, Anthropic and OpenAI, which operates the ChatGPT generative AI tool.
The policy news is paired with announcements of $140 million in funding for seven new National AI Research Institutes via the National Science Foundation and private sector commitments from some of the firms visiting the White House to support public, independent evaluations of commercial AI systems. 
Forthcoming Office of Management and Budget draft guidance, which will be open for public comment when released this summer, will set up specific policies for the development, procurement and use of AI in government, according to a White House fact sheet. 
"We are making sure that the federal government is leading by example," a senior administration official told reporters in a Wednesday call. 
The guidance "will make sure that we're responsibility leveraging AI to advance agencies' abilities to improve lives and to deliver results for the American people, and it will further our efforts to lead by example in mitigating AI risks and harnessing AI opportunity," they said.
The specific guidance for government agencies comes into an arena of rapid AI developments – especially generative AI, like the release of Open AI's ChapGPT chatbot – and increased attention to the promise and risks of the technology across society. 
"There's so many public missions that the government does, for which AI can be enormously beneficial, but the whole ballgame is going to be how it's implemented," the official said. "The risks are quite diverse."
There are safety and security risks, including in the cybersecurity arena, and potential ramifications for trust in democracy from deepfakes, for example, the official said. Also there are looming civil rights implications from potential bias in AI systems. 
The administration isn't giving too many details about what the forthcoming draft guidance will include. But the official did point to an executive order on racial equity issued earlier this year that included a provision directing government agencies to use AI and automated systems "in a manner that advances equity."
"If you're going to use this powerful technology, you have to do it in a way that protects rights and protects safety," the official told reporters.
Already, the White House released an AI Bill of Rights late last year meant to be a framework for AI, although it isn't enforceable. The National Institute of Standards and Technology also released an AI Risk Management Framework in January, which is also voluntary.
And some enforcement agencies have an eye on the effects of AI already, reiterating their intention to use existing enforcement powers last week.
Asked about whether the White House will be calling on Capitol Hill to do more in terms of AI, the official told reporters that, "the President, of course, has also been very clear about the need for Congress to step up and act on a bipartisan basis to hold tech companies accountable, including for algorithmic discrimination."