GOP Lawmakers Demand Telework Stats from Federal Agencies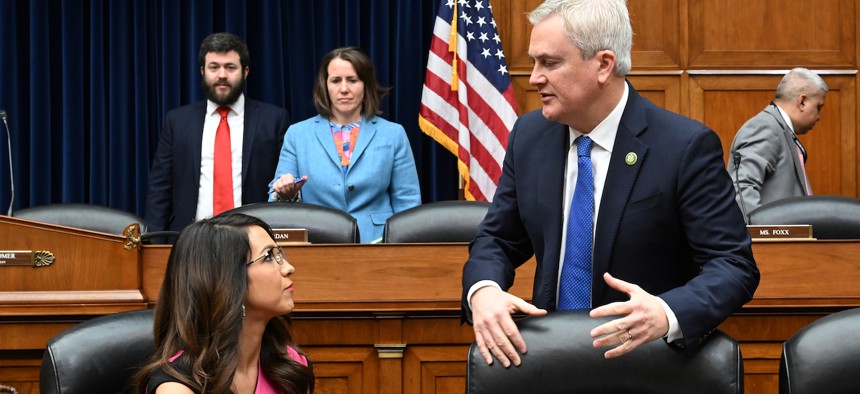 Congressional Republicans argued that the Biden administration's recent efforts to scale back the use of telework are insufficient.
The Republican leadership of the House Oversight and Accountability Committee last week demanded that federal agencies submit updated data on the federal workforce's use of telework and remote work, as conservatives continue deride the workplace flexibilities.
House Republicans have had their sights set on telework and remote work since the beginning of 2023, passing legislation in February that would force agencies to revert to pre-pandemic telework policies within 30 days and requiring them to submit a plan to Congress if they wish to expand the practice beyond 2019 levels. GOP lawmakers have blamed telework and remote work for increased service delivery backlogs at several agencies, although Democrats and administration officials instead point to chronic underfunding and temporary COVID-19 related measures like social distancing for service delays.
Following a committee hearing in which GOP lawmakers became vexed by the fact that the Office of Personnel Management's two primary barometers to measure telework's use in government—the annual Federal Employee Viewpoint Survey and an annual telework report—are either self-reported by employees, as is the case with the survey, or based on data that's more than a year old by the report's publication, Republicans on the panel last week sent letters requesting up-to-date telework statistics from 25 different federal agencies.
In a letter to the agencies, Committee Chairman James Comer, R-Ky., government operations and the federal workforce subcommittee Chairman Pete Sessions, R-Texas, and Rep. Lauren Boebert, R-Colo., demanded updated telework statistics for the agencies' workforces, as well as a report on "any adverse impacts" telework and remote work have had on agency performance.
"The Biden administration has allowed agencies to continue levels of telework and remote work that are significantly higher than before the pandemic," the letter states. "The administration, however, has not provided current data about the specific amount of telework occurring within federal agencies or across the entire federal workforce. Furthermore, it has provided no objective evidence concerning the impact of elevated telework on agency performance—including any deleterious impacts."
Last month, the Office of Management and Budget issued guidance to agencies instructing them to scale back telework and develop new workforce environment plans that "substantially increase meaningful in-person work at federal offices," as well as improve their data collection so that agencies can provide a more up-to-date snapshot of how the workplace flexibilities are currently being used by employees. But the GOP lawmakers said the measure still is not enough.
"The Office of Management and Budget recently issued guidance to agencies that seeks to improve organizational health and performance," the letter states. "While the guidance requires agencies to submit updated work environment plans, agencies should have compiled relevant data based on previous guidance and existing statute. To date, Biden administration officials have only referenced the Federal Employee Viewpoint Survey as evidence of the efficacy of expanded teleworking practices. This self-reported data point cannot be viewed as objective evidence of efficacy, nor should it be the sole basis for determining whether existing telework policies are in the best interest of the American people."
In a statement announcing the letter, Sessions suggested that improved oversight could ensure that workplace flexibilities work to the benefit of the public.
"The COVID emergency is over—and most Americans have been back to work for many years," he said. "Taxpayers expect the same from public servants, but telework policies and outcomes are unclear across the federal government . . . We are taking deliberate steps to ensure taxpayers are receiving value from their government."
But Comer took a harder line against the practice.
"Hard-working Americans across the country show up to work every day and the federal government workforce their taxes fund must follow their lead," Comer said. "Even though the pandemic is over, the Biden administration is allowing telework levels far above those that existed pre-pandemic . . . Federal workers must show up to work in-person and the oversight committee will hold agencies accountable when their employees do not show up to work for the American people."