Republican Lawmakers Want to Know Where $50B CHIPS Funding is Going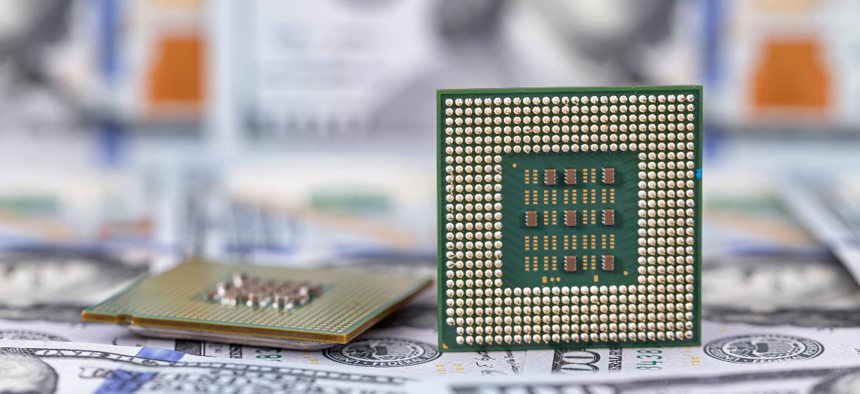 Several Republican leaders sent a letter to Commerce Secretary Gina Raimondo asking for details about the funding.
Three House Republicans asked Commerce Secretary Gina Raimondo to provide more information about the agency's $50 billion funding from the CHIPS and Science Act, citing concerns of government spending.
According to Tuesday's announcement, House Energy and Commerce Committee Chair Cathy McMorris Rodgers, R-Wash.; Subcommittee on Innovation, Data and Commerce Chair Gus Bilirakis, R-Fla.; and Subcommittee on Oversight and Investigations Chair Morgan Griffith, R-Va. requested a full accounting of CHIPS and Science Act funding in a letter sent to Raimondo. 
The letter follows testimony from the agency's Inspector General about funding.
"The increased funding may also increase the volume and complexity of financial transactions, thus making it more difficult to detect and prevent payment errors, fraud, waste and abuse," Commerce Department Inspector General Peggy Gustafon testified during an Oversight and Investigations Subcommittee hearing on March 29. "The increase in funding may require additional monitoring and reporting to ensure project recipients comply with statutes, achieve intended outcomes, and use funds efficiently. Finally, the increased funding may introduce new or emerging risks that must be identified and addressed in a timely fashion."
The letter noted that Commerce is controlling the $50 billion in CHIPS funding, of which $39 billion is for manufacturing incentives. 
"The American people deserve a full, transparent, and regular accounting of the funds that have been spent, where the funds have gone and for what purpose, who has benefited and how much remains," the lawmakers state in the letter. 
The chairs are asking for monthly report starting on April 18, at the latest, to include:
The total amount of obligated funding to date.
The statutory authority for said funds.
A list of each award funded—whether in part or in whole—by this account, including information such as statutory authority, recipient, amount funded and type of award.
Information on positions created or workers hired because of the funding, like number of hires, job titles and responsibilities and locations.
An account of non-obligated funding.