The IG Council is investigating Homeland Security watchdog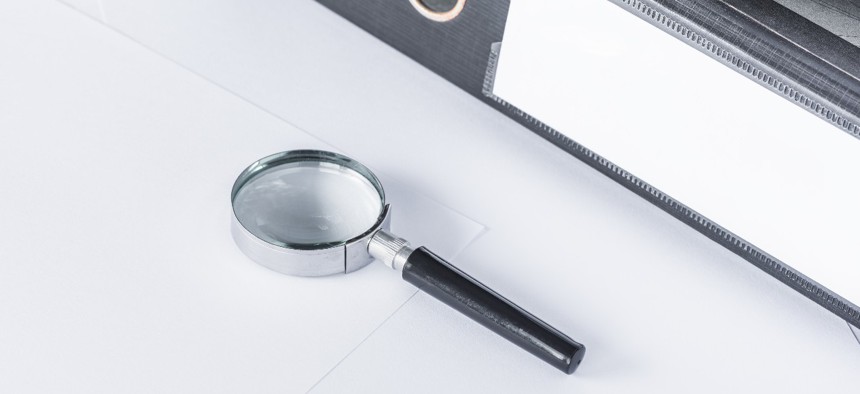 The federal watchdog council confirmed on Friday its Integrity Committee does have an ongoing investigation into current and former senior officials at the embattled Homeland Security inspector general's office. However, the council could not make further comments in order to protect the integrity of the ongoing investigation. 
Alan Boehm, executive director of the Council of the Inspectors General on Integrity and Efficiency, in consultation with the Integrity Committee, told Government Executive about the ongoing investigation as part of the council's response to a report from the nonprofit Project on Government Oversight published on Oct. 5 that argues the Integrity Committee "is failing in its mission to hold inspectors general accountable for bad behavior."  He said the POGO report  "suggests a very limited investigative effort" into the DHS IG office. 
There have been issues at the Homeland Security Department inspector general office for years, some dating back to before the current watchdog. Most recently IG Joseph Cuffari has come under intense criticism and scrutiny for a variety of matters including handling of investigations related to the Jan. 6, 2021 attack on the Capitol and alleged suppression and delays in reports on domestic violence and sexual assault. The office has pushed back on the allegations. 
POGO and news outlets have previously reported that CIGIE's Integrity Committee has opened investigations into current and former DHS IG officials. Over the summer, Rep. Gerry Connolly, D-Va., chairman of the House Oversight and Reform Committee's government operations panel, called on CIGIE's integrity committee to confirm whether or not it is investigating Cuffari "and the swirl of serious allegations surrounding him."  
At the time, CIGIE was not able to confirm or deny any existing probes. Boehm said he was now able to disclose more information than in the past due to a new transparency policy that took effect earlier this week. 
NPR reported on Wednesday that since Cuffari became DHS IG more than 30 lawyers have left, citing sources and records. "The departures often stemmed from the lawyers' unease with how Cuffari managed the watchdog role," said the report. "Seven sources with knowledge of the inner workings of the agency who spoke with NPR said the inspector general has fueled organizational dysfunction and abused his power." 
This comes after POGO published a letter last month from an unknown number of anonymous employees at the DHS IG office imploring President Biden to remove Cuffari, citing the workforce's lack of trust. "After years of poor decision-making by IG Joseph Cuffari, Ph.D., and his front office staff, we can no longer hope that the ship will right itself," they wrote. 
When asked for comment on the letter a DHS OIG spokesperson said "since his confirmation IG Cuffari has provided every OIG employee multiple opportunities to meet with him and other senior leaders, in small groups" and "the feedback employees have provided during those sessions has been overwhelmingly positive and useful to continue to improve our operations." The spokesperson also cited the office's improved scores in the Federal Employees Viewpoint Survey and the nonprofit Partnership for Public Service's "Best Places to Work" rankings (which primarily uses FEVS data). 
White House Press Secretary Karine Jean-Pierre said during a briefing on September 26, "We've heard about some of the issues with this particular inspector general and we're going to take a look at those…But as far as any personnel announcements I don't have anything to share." 
Broader Criticism of the IG Council's Integrity Committee and Its Response
The POGO report criticizing the IG Council's Integrity Committee says that "in various instances the [committee] declined to open investigations into credible allegations of misconduct, spent so much time on an investigation that its recommendations were no longer as relevant to the affiliated agency in question, and neglected to ensure inspectors general and their staff were held accountable once an allegation had been substantiated." In addition to the situation with the Homeland Security IG, POGO pointed to the committee's handling of reviews into the former Federal Housing Finance Agency IG and former Securities and Exchange Commission IG. POGO gave eight recommendations for reform. However, CIGIE took issue with various aspects of the report. 
"Over the years, CIGIE and POGO have successfully interacted on items of mutual interest regarding government oversight and accountability," Boehm said. "CIGIE has always valued—and continues to value— POGO's insights and perspectives on these topics. For this article, unfortunately, POGO did not seek the benefit of CIGIE's perspective prior to publishing its report. As a result, there appear to be numerous misunderstandings regarding the underlying facts and Integrity Committee processes, which undermine the report's findings and recommendations." CIGIE intends to reach out to POGO in the near future "to clarify these misunderstandings," Boehm said.  
CIGIE's Integrity Committee is charged with receiving, reviewing and referring for investigation allegations of wrongdoing against an IG, designated staff members of an IG office, the Special Counsel (head of the office of Special Counsel) and principal deputy special counsel. The committee is also responsible for making sure allegations are handled fairly, consistently, impartially and in a timely manner. The committee has six member IGs and is supported by a handful of staff members.
The council was especially concerned with POGO's assertion that the Integrity Committee "obscures its activities from both Congress and the public" and buries its recommendations, Boehm stated. He said the committee scrupulously complies with the Inspector General Act and the Integrity Committee's policies and procedures for all investigations. 
As for POGO's claim that there was "delayed accountability" for the former Federal Housing Finance Agency IG because the Integrity Committee's investigation into her took a long time, that is "misplaced," Boehm said. 
This was because in this matter the Integrity Committee "experienced multiple and unprecedented refusals by the subjects to provide access to necessary witnesses and documents, which impacted the timing, scope, and findings of the investigation," Boehm said. As a result of this, CIGIE ratified "its long- standing policy on access authorities in the course of an [Integrity Committee] investigation," which was documented in an addendum to its policies and procedures on March 25, 2021 and published online.
Laura Wertheimer, then FHFA IG, stepped down from her position in summer 2021, following investigations from the Integrity Committee and a pair of Republican senators that found a pattern of misconduct and abuse of authority, although she did not cite that as the reason for her departure. 
POGO did not ask the DHS, SEC and FHFA IG offices for comment on their report. Government Executive asked all three for comment. The housing finance IG declined to comment, and the Homeland Security and SEC inspectors general offices did not respond. 
Of the eight recommendations POGO gave, CIGIE's Legislation Committee previously supported two similar ones that were part of the bipartisan Inspector General Independence and Empowerment Act, which are to give CIGIE a single appropriation (which it does not have currently) and increase the Integrity Committee's reporting requirements.