USDA pushes out funds to modernize key nutrition benefit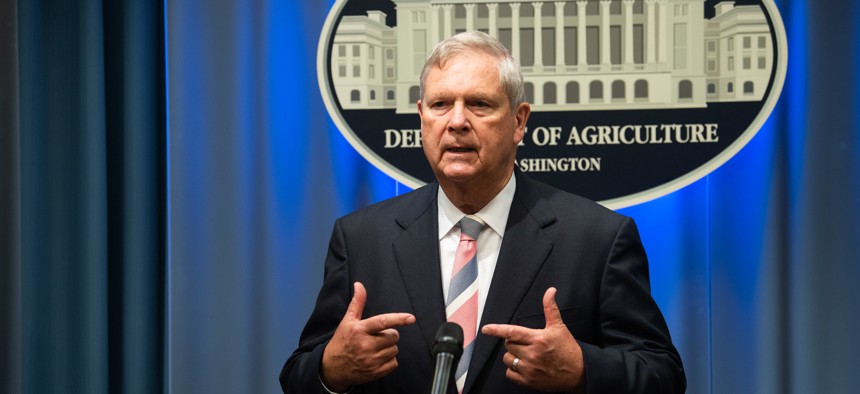 The Agriculture Department awarded over $50 million in grants last month for WIC modernization and outreach and is pursuing efforts to change regulations to permit online shopping in federally funded nutrition programs.
More than $50 million in modernization grants from the U.S. The Department of Agriculture could help bring more eligible participants into key nutrition programs and support more high-tech service delivery, the agency said.
The American Rescue Plan Act appropriated $390 million to upgrade the Special Supplemental Nutrition Program for Women, Infants, and Children, known as WIC, which provides food assistance, nutrition education and referrals to other social services for low-income pregnant women and moms, infants and young children. 
In fiscal 2021, 6.2 million people participated in WIC, but less than three of every five eligible people are enrolled in WIC, and participation drops over time as kids get older, the department says.
One goal is to stand up online shopping for the WIC program, but the department is still working to release new regulations, initially slated to be released in fall 2021, that will remove major regulatory barriers to online shopping.
Of the recently awarded $53 million in  grants, around $23 million went to 66 WIC state agencies (out of 89 total state and tribal agencies) to improve tech and service delivery with appointment scheduling tools and plain language efforts, according to a USDA spokesperson.
The non-profit Food and Research Action Center received $20 million to focus on outreach to existing and potential WIC participants via state and local agencies, community organizations and other nonprofits.
Additionally, 19 WIC agencies were awarded around $10 million to modernize in-store shopping and plan for online shopping.
"These grants build on the USDA's extensive efforts to strengthen the WIC program, make it easier and more convenient for participants, and use data and feedback from stakeholders to fulfill our commitment to serve them well," said Agriculture Secretary Tom Vilsack in a statement. "We've got to do all we can to connect eligible mothers, infants, and children to the program and provide them with a positive, meaningful experience."
In addition to WIC, the Agriculture Department is also looking to modernize the Supplemental Nutrition Assistance Program, or SNAP.  As with WIC, a major focus is online shopping, which Congress first authorized in 2014.
The program was able to scale up online shopping pilots after the onset of the pandemic. Nearly 3.5 million SNAP participants shopped online in August 2022 – an increase from 35,000 in March 2020, according to a report released by USDA in conjunction with the release of the new White House Strategy on Hunger, Nutrition and Health.
For the WIC program, a major to-do item for the Agriculture Department to stand up online shopping long-term is to change regulations to remove current regulatory barriers to online shopping in the program. 
The department initially listed the timetable for the notice for proposed rulemaking to be released in November 2021, but it has yet to be published. FNS is still working towards publishing this proposed rule that would remove regulatory barriers and modernize vendor regulations, a USDA spokesperson told FCW.
The department also awarded a $4.1 million grant for a three-year pilot for online shopping via the Gretchen Swanson Center for Nutrition in seven states in 2021. Participating states are still in the planning and preparation phase, according to a USDA spokesperson. The timeline is to go live with online shopping next calendar year.