GSA Should be Sharing Government Office Utilization Data, Watchdog Says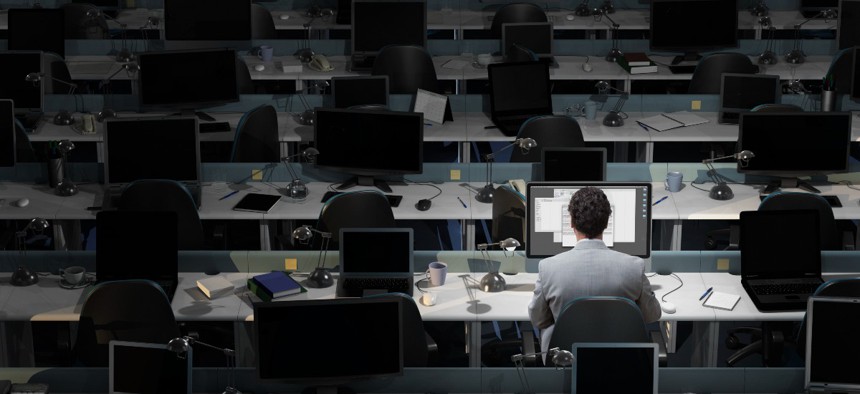 More could be done to help the federal government work transition between remote and in-person working environments as agencies try to strike a balance with workspace needs and changes from the COVID-19 pandemic, according to a recent report. 
The Government Accountability Office issued a report on Wednesday, finding that the General Services Administration could further support agencies' post-pandemic planning. 
According to the report, the pandemic left government facilities—both federally owned and leased—underutilized as a large percentage of federal employees worked remotely. As a result, the government is rethinking its property portfolio, such as reducing office space because of increased remote work, but so far federal agencies have only made limited changes to their workspace because of the pandemic.
As the government's primary real estate manager, GSA is helping with federal office space planning, particularly to address shifts in the post-pandemic world. The agency is also "collecting data on how often employees report to federal offices and what parts of the office they use." Specifically, it is pilot-testing technologies to collect utilization data—such as the number of employees in buildings on a daily or hourly basis—and other data collection efforts for proper space utilization. This could include collecting data from employees with a badge card entering or exiting a workspace, as well as collecting data based on the number of employees using the internet at the workplace.
GAO noted that 13 out of 24 surveyed agencies viewed this data as helpful to their planning, while all surveyed agencies expressed concern about the costs to collect this data on their own and 20 out of the 24 reported collecting little or no space utilization data themselves. GAO added that while GSA is not planning on sharing costs or the benefits of space utilization data, it would be beneficial if the agency did provide this information. 
GAO recommended that GSA should create a plan to generally share information with federal agencies—regardless of whether they use GSA services—that GSA learns from its data collection efforts. The agency agreed with the recommendation and said it will share the lessons learned from its data collection.