Airport facial recognition is improving, DHS watchdog says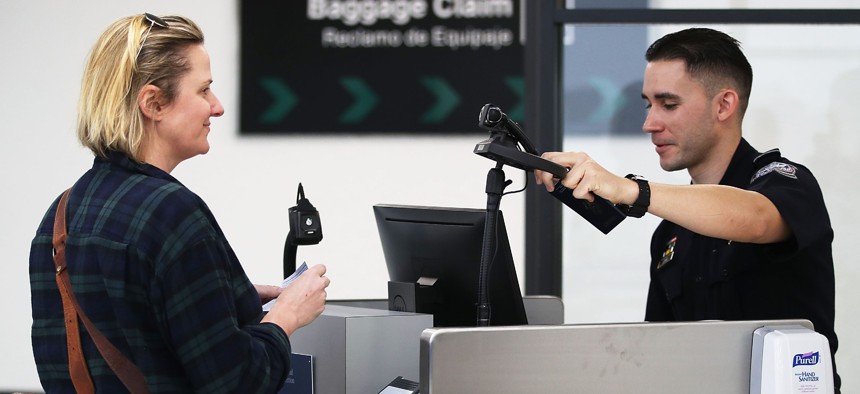 Customs and Border Protection has strengthened its facial recognition procedures for international travelers attempting to enter the United States since 2019, including removing officers' abilities to override facial mismatches, according to a new oversight report. 
The report from the Office of Inspector General at the Department of Homeland Security found that "CBP complied with facial recognition policies to identify international travelers" across 238 U.S. international airports where the agency has deployed facial biometric technology since May 2019, and even took its own steps to further "enhance" facial recognition procedures while processing over 51 million travelers. 
Those revamped policy guidelines included removing override controls for CBP officers when a facial mismatch occurs on travelers aged 14 and older, as well as enforcing mandatory referrals to secondary inspection when those travelers have a facial mismatch, the report said.
CBP officers complied with the requirements, sending nearly 23,000 travelers aged 14 and older to secondary inspection due to facial mismatches. The new requirements also instructed officers to alert supervisors of all flagged facial mismatches.
According to the IG report, facial biometric technology in U.S. airports helped CBP identify 39 imposters attempting to enter the country from May 2019 through September 2021, including six with prior criminal records and three who were accepted for criminal prosecution.
CBP's Traveler Verification Service (TVS) collects traveler photos from an array of government documents like passports and visas, as well as a range of encounters with the Department of Homeland Security, to assist in verifying the identities of international travelers as part of its "Simplified Arrival" process. The program, which uses facial recognition and other tools to enhance the international arrival process, was expanded to all U.S. airports this year.
Diane Sabatino, deputy executive assistant commissioner for the CBP Office of Field Operations, said in a statement last month announcing the expansion that the use of facial biometrics "streamlines travel while protecting their privacy and enhancing the customer experience."
The Inspector General's office made no recommendations in its final report for CBP and the agency declined to provide a response.