GSA to study facial recognition tech with equity in mind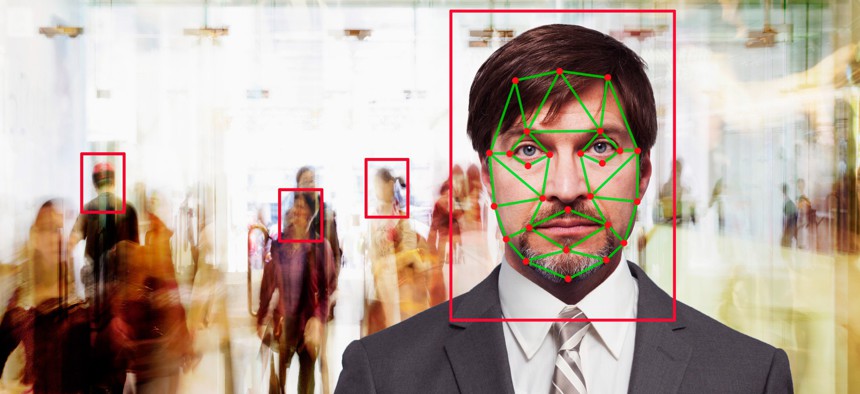 The General Services is planning a study with 2,000 participants to help the agency decide whether to tap facial recognition tech for its Login.gov service.
The General Services Administration is teeing up a study on facial recognition to decide if Login.gov should "pursue" facial recognition tech "in the near term," according to an April 25 request for information.
Login.gov, a sign-on and identity verification product for federal agencies has so far declined to incorporate biometric markers like facial recognition into its service. GSA, which runs Login.gov, is investigating whether facial recognition could be used by Login.gov equitably.
GSA told FCW in February that it would not incorporate facial recognition technology into Login.gov,  "until rigorous review has given us confidence that we can do so equitably and without causing harm to vulnerable populations."
According to the RFI, the proposed study "will enable GSA to make a data driven decision on whether to pursue facial verification capabilities for Login.gov in the near term, to determine baseline performance metrics, and to provide real-world identity verification pass rate data for the first time to the broader federal agency community." 
The key question is whether "identity verification capabilities including facial verification meet equity standards across various demographics."
GSA's recently released Equity Plan referenced GSA testing that found that "major commercial implementations of facial matching had disproportionately high false rejection rates for African Americans." 
The RFI is seeking companies that want to support the study via participant recruitment, field testing and live spoof testing services. The plan is to test 2,000 people and multiple vendors before publishing a peer-reviewed report by GSA in 2023. The study will also look at gaps in the process that aren't related to biometrics such as validating identification documents, confirming physical addresses and matching social security numbers to names. 
The agency did not respond to request for comment from FCW for more details by publication time. 
Research by the National Institute of Standards and Technology released in 2019 found that although specifics differ depending on algorithms, applications and data, most facial recognition services do a worse job in identifying people of color than white people when it comes to one-to-one matching. 
"The reason many firms use selfie match tools in ID proofing is that it provides one of the easiest ways to identity proof someone to NIST Identity Assurance Level 2," Jeremy Grant, head of the Better Identity Coalition trade association, told FCW in an email. 
The IRS, which launched a new service earlier this year that used the vendor ID.me, required participants to supply a video selfie to support user authentication. That effort was met with protests from privacy activists and user complaints about problems with alternative means of authentication, and the IRS eventually decided to scrap the offering after the 2022 tax filing season.
The tax agency opted not to use Login.gov for the 2022 filing season because it said the service didn't meet the agency's needs. Now Login.gov is working with the IRS to meet the data security, technical capacity and other requirements for the IRS to add it as an option in the future.
Login.gov may have landed another major customer in the Department of Veterans Affairs. The VA recently won a $10.5 million award from the Technology Modernization Fund to support use of Login.gov by veterans looking to access agency benefits and services.
Vendor responses to the RFI are due May 2, 2022.