Streamlining delivery at USDA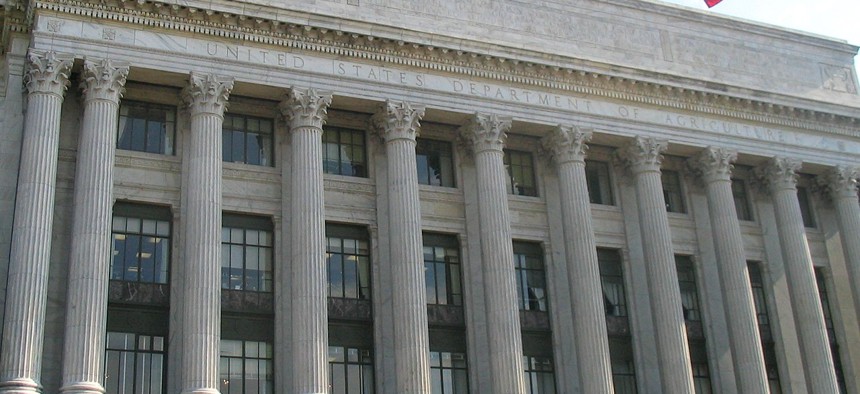 Rebecca Piazza, former 18F acting executive director, is working at USDA on customer experience in food and nutrition benefits. The hope is that the work could increase participation in programs by taking away administrative burdens.
When it comes to making access to food assistance programs easy for those needing help, Rebecca Piazza, onetime leader of 18F, says that not all improvements require "fancy technologies."
Piazza, who served as acting executive director of the 18F tech consultancy at the General Services Administration, has been at the Department of Agriculture for almost a year, serving as the USDA's senior advisor for delivery in the Office of the Under Secretary for the Food, Nutrition and Consumer Services. 
Her job is improving the delivery of domestic food programs under USDA's Food and Nutrition Services (FNS) and figuring out "what best meets the needs of our participants and provides a great customer experience and the benefits that people desperately need," she said.
So far, Piazza is working in USDA and across agencies to decrease administrative burdens that prevent eligible citizens from accessing government benefits. She's also implementing priorities from pandemic relief legislation and a recent executive order on customer experience.
USDA's Rebecca Piazza (Photo courtesy USDA)
---
The COVID-19 pandemic response included a pilot project that allowed participants in the Supplemental Nutrition Assistance Program (SNAP) to use online grocery shopping. SNAP is also allowing participants to conduct required interviews virtually, while in-person ones are suspended through mid-2022. That's an example of an innovation that didn't require especially innovative tech, just a switch to audio or video visits for what might have been a face-to-face interview in the past, Piazza explained.
SNAP systems often still rely on paper forms and confusing websites, in addition to now-suspended in-person office visits. Enrollment processes often take weeks, according to Code for America, a tech nonprofit that has worked on streamlining access to social safety net programs.
Piazza is also looking at programs with participation gaps and those with confusing and burdensome enrollment processes. Only 57% of those eligible participate in the Special Supplemental Nutrition Program for Women, Infants and Children (WIC) meant to assist low-income women, infants and kids, Piazza said.
The hope is that focusing on experience can bring more people to the benefits they're entitled to.
"We fully understand that if the customer experience isn't there, people aren't going to enroll," Piazza said. "Especially when you're talking about a program like WIC -- a lot of the people who participate in that -- they've grown up with technology their whole lives."
WIC has also seen recent proposals from Capitol Hill meant to change application requirements to reduce the number of in-person office visits necessary for applicants and fund for new tech for WIC services.
Online shopping and other priorities
The American Rescue Plan (ARP), passed in March 2021, offered some funds and priorities for USDA, including $390 million to modernize WIC.
In listening sessions with stakeholders, it became clear that states, which administer FNS food nutrition programs, want more help from the federal government, something that USDA is working to provide, Piazza said. 
There was also a lot of interest in standing up online shopping for WIC, she said, something that happened for the SNAP program on a pilot basis during the pandemic. 
"It's really driven by access and customer experience," she said. "How can we give the people who use FNS programs the same shopping experience and the same shopping options as people who are not using these benefits, so that it increases the simplicity of the programs, reduces the burden of them, and really gives the same choices as the public," she continued. 
USDA plans to help states administer WIC by setting up a new "national technical assistance center" to help them use human-centered design in WIC application and certification processes.
Piazza and her team are also looking at ways to improve outreach to those who might not know they're eligible for WIC in efforts to increase participation, she said.
Piazza also has priorities from a recent executive order on customer experience, which specifically tagged USDA as a "high impact service provider," and thus subject to special requirements, and outlined USDA action items. 
In addition to flagging online shopping capabilities for WIC, the order also directed USDA to look at direct certification and other mechanisms to "reduce individuals' and families' burdens by simplifying enrollment and recertification for nutrition assistance programs."
The idea behind direct certification is that it could increase enrollment by taking away the need for applications. 
Piazza says that she's working with other agencies on this, a strategy outlined recently in the White House's management agenda preview.
Already, USDA is working with states on a direct certification project that automatically certifies kids in Medicaid as eligible for school lunch -- eliminating the forms normally needed to qualify, said Piazza. 
"That's just really exciting," she said. "As much as we can improve technology or improve interfaces, even better is making them completely unnecessary and doing things like that on the back end that just really enable access."