Tech woes and fraud top the list of unemployment system issues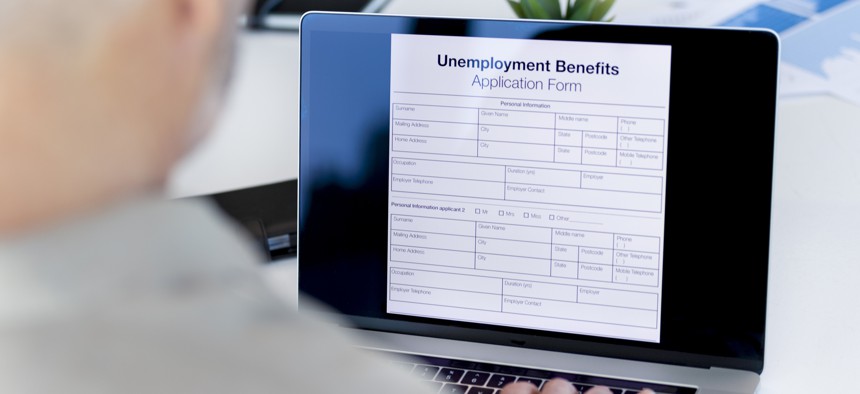 A new report from a special Pandemic Response Accountability Committee delves into the issues surrounding UI during COVID-19.
Almost two years out from the onset of the COVID-19 pandemic and its accompanying economic strife, a new oversight report surveys the state of unemployment compensation across the country, where there are over 50 distinct systems delivering the almost $716 billion in unemployment compensation the federal government has made available to states. 
Two big issues: tech and fraud.
The new report comes from the Pandemic Response Accountability Committee, made up of inspectors general to oversee pandemic response.
In March 2020, states had to deal with a surge in claims. In Louisiana, for example, there was a 2,000 percent increase in claims on April 25, 2020, compared to just weeks before on Feb. 29, 2020. 
And although the unemployment rate peaked around 15% in April 2020 – the highest rate since data collection started in the 1940s.
On the tech front, over half of states were using outdated computer systems for unemployment insurance (UI) as of Feb. 2021, according to the report.
Already, the Department of Labor's Inspector General has reported that states with modernized systems were able to stand up new programs mandated by Congress, like programs meant to cover self-employed workers and give supplemental assistance on top of payments. 
In Oklahoma, the outdated claims system wasn't able to use automated checks to detect and prevent fraudulent claims.
In Oregon, systems dated back to the 1990s functioned "adequately," but were difficult to maintain and inflexible. The pandemic hit in the middle of the state's modernization process. 
And in Kansas, some eligible claimants were denied benefits and the state struggled with delays for claims processing as the state worked to serve a surge of claims with a system designed around a 1970s-era mainframe computer. 
On the federal level, the Department of Labor is itself working through its new office expressly dedicated to UI modernization to modernize outdated systems and combat fraud.
The report also gives insight into fraud issues.The DOL IG has already reported that in the span of eight months in 2020, over $5.4 billion was paid out in fraudulent claims. 
The report states that internal controls were "often reduced" to handle the onslaught of claims or were just "not effective enough to detect the high levels of fraud occurring" in the first place.
California, for example, removed a fraud prevention tool that put stop payment alerts on claims with identity concerns. The thinking was that other fraud control measures were strong enough alone, but the state ultimately paid over $1 billion to suspicious claimants.
Another problem was the legislation from Congress setting up the program for self-employed workers. It required only self-verification of eligibility to get the benefits, although that's since been updated by Congress to require claimants to give documentation. 
In terms of identity fraud, Arizona paid out $1.6 in federal benefits to individuals using stolen identities in FY 2020 because the state eased ID verification and anti-fraud measures, despite DOL guidance directing states to do otherwise.
States also had to deal with multi-state schemes, where people file in more than one state. Three and a half billion dollars went out to claims made with over 225,000 social security numbers that were used to file in multiple states, according to the DOL OIG. 
There is a national "Integrity Data Hub" designed for states to crossmatch their claims data across states, but as of December 2020, only 32 of the 54 systems at least partially used it. That limits states ability to look across states for these sorts of issues, the report states. 
The hub now has 52 participating states and territories as of Oct. 2021, according to the  National Association of State Workforce Agencies. 
DOL is working on the fraud front. A UI modernization plan issued this year flagged identity verification as an area of work with states via a blanket purchase agreement for cross-matching tech to verify applicant identities. There's also "fraud grants" the agency is giving out to cover identity verification tool costs, the establishment and expansion of data analytics and the implementation of cybersecurity defense strategies.
Other fraud trends states faced in the last two years included "insider threats" of state employees themselves using their access and position to get benefits they're ineligible for and fraud involving the use of the personal information of incarcerated individuals to get benefits.