Senate COVID Package Includes Extension of Leave Reimbursement for Contractors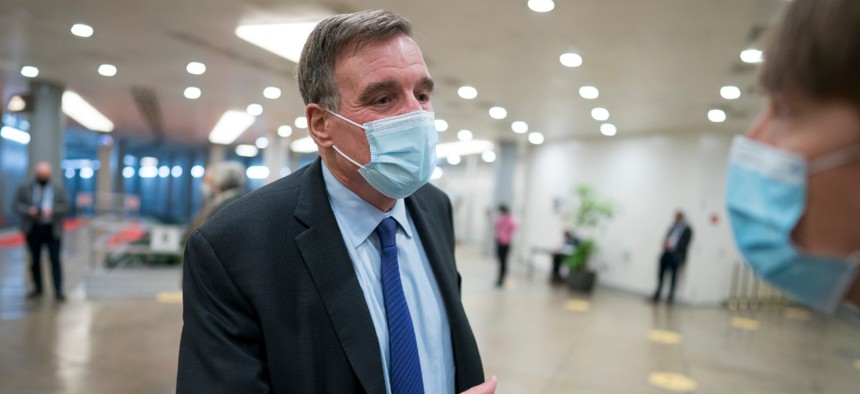 The Senate approved an amendment to its version of the $1.9 trillion COVID relief plan passed Saturday that would extend leave flexibilities for federal contractors. 
The amendment, approved as part of the package after an all-night voting session, was from Senate Intelligence Committee Chairman Sen. Mark Warner, D-Va., and ranking member Sen. Marco Rubio, R-Fla. Section 3610 of the $2.2 trillion CARES Act, passed almost a year ago, allows federal agencies to use their funds to give contractors sick or paid leave during the pandemic if they are not able to access their worksites or telework. The provision is currently set to expire on March 31, but now will be extended until September 30. Although the Trump administration first issued guidance last March advising agencies to "maximize telework" for contractors, that is not possible for many, including some involved in sensitive or classified work. 
"We are pleased that the Senate passed this bipartisan legislation to provide much-needed stability for personnel who serve a key role in protecting our national security missions and other vital programs," Warner and Rubio said in a joint statement. The amendment was passed overwhelmingly, 93-6 (the nays were all Republicans). 
The Professional Services Council, which represents over 400 companies that contract with the federal government, applauded the move. "Federal agencies need flexibility to continue to use this authority when necessary," said David Berteau, PSC president and CEO, in a statement. "With so much uncertainty around safe access to workplaces, now is not the time to let up on COVID-19 protections. If enacted, this extension will help the federal government continue to access the highly skilled, cleared and trusted contractor workforce needed to meet mission needs." 
The National Defense Industrial Association, which represents defense contractors, was also pleased.
"Extending 3610 and safeguarding the defense industrial base workforce is critical to our national security today and, more importantly, into the future," said Hawk Carlisle, NDIA president and CEO. "NDIA is thankful to lawmakers for understanding the criticality of this authorization to government contractors and the skilled, cleared workforce that delivers for our warfighters." 
Rubio, Warner and 11 groups that represent federal contractors (including PSC and NDIA) have been calling for the extension as the expiration date nears, in either a standalone bill or as part of a larger package.
House Speaker Nancy Pelosi, D-Calif., said on Monday that the House will vote on the Senate's version of the relief package within the next day or two, which it is expected to pass and Biden is poised to sign thereafter. This will come almost exactly a year after the coronavirus lockdowns began.
About three months after the CARES Act was passed, the Pandemic Response Accountability Committee stated that financial management of relief funds was one of the top challenges agencies were facing. Since then, several inspectors general have reported on their agencies' implementation and use of Section 3610 authority.
The Defense Department IG said in a report issued on December 9, 2020 that, "in general DoD contracting officers complied with OMB and DoD guidance to support rational decisions that were in the best interest of the government when approving Section 3610 requests," based on its review from May 2020 to November 2020. However there were some challenges, such as, "Contracting officers having to rely on the contractor's self-certification of the use of other COVID-19 relief measures, tracking and identifying Section 3610 in DoD contracts, and the lack of a specific appropriation for Section 3610." 
On June 29, 2020, the Environmental Protection Agency IG announced the agency's Office of Acquisition Solutions "created and provided detailed guidance to EPA contracting personnel and contractors related to reimbursements," which was consistent with the CARES Act.
Lastly, the Interior IG issued a management advisory on July 6, 2020, with three recommendations on how the agency could improve its use and oversight of Section 3610 to better prevent waste, fraud and abuse.
The National Security Agency IG has an ongoing review on this, the NASA IG listed oversight of contracts (including use of Section 3610) as one of its top management challenges for fiscal 2020 and the Defense Intelligence Agency IG said it's "conducting fieldwork for projects related" to Section 3610. 
The Government Accountability Office noted in its most recent report on the CARES Act, issued on January 28, that analyzing approaches to paid leave reimbursement for contractors is one of its ongoing COVID-related projects.