As Secret Service Deploys to Federal Buildings, Employees Across the Country Are Warned to Stay Away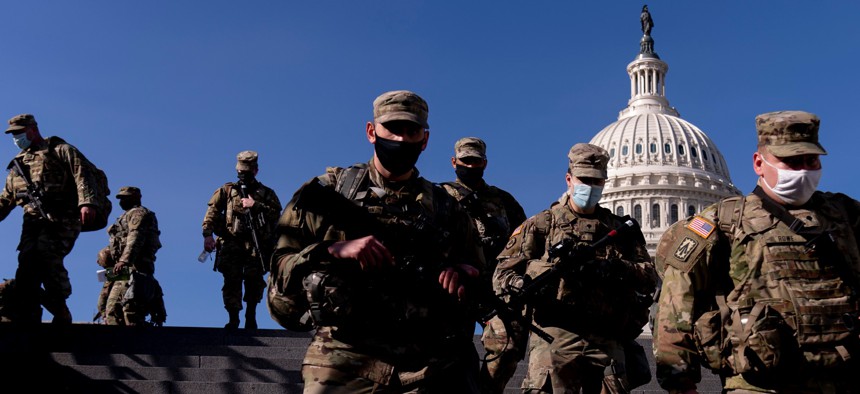 Security concerns in the run up to the inauguration have agencies taking special precautions.
Federal agencies are taking drastic measures to keep employees safe with the looming threat of violence surrounding President-elect Joe Biden's inauguration, including by hosting additional federal security personnel and even telling some workers to evacuate their homes. 
Following the violent insurrection at the U.S. Capitol last week, federal offices in the Washington area and around the country are cautioning workers, many of whom are already working remotely due to the COVID-19 pandemic, to stay away, effective immediately. Prior to his resignation, then acting Homeland Security Secretary Chad Wolf moved the inauguration's National Special Security Event designation timeline up from Jan. 19 to Jan. 13. This has led to widespread road closures and other security measures across Washington. 
Secret Service Director James Murray made the rescheduling recommendation "in light of events of the past week and the evolving security landscape" leading up to inauguration, Wolf said. Personnel from Secret Service are now at various federal offices, such as the Frances Perkins Building that houses the Labor Department's headquarters in Washington. In a message to employees this week, Labor said only security and facilities personnel should continue to come into the office and "anyone who has to come in should limit their movements and activities" due to the Secret Service presence. Labor said staff would see increased security around its building starting Jan. 13, telling employees to expect "significant disruptions" and for most workers to have their building access cut off. 
A Secret Service spokesperson declined to say to how many federal offices it was deploying, explaining it would not disclose its methods "out of concern for operational security."
Agencies are providing employees with logistical updates, including when roads will close and where protests are expected. The U.S. Agency for International Development, which is headquartered at the Ronald Reagan Building in downtown Washington, has told employees to reschedule events that would require travel to the area and to not come into the office unless absolutely necessary. At an agency-wide security briefing this week, officials even cautioned those who live downtown or near the Capitol to consider the potential risks of remaining in their homes through inauguration.
Citing primarily traffic issues, Office of Personnel Management acting Director Michael Rigas on Thursday sent a memorandum to agencies instructing them to use "all available workplace flexibilities" from Jan. 15 through Jan. 22. OPM previously said employees in the Washington area, even those teleworking due to the COVID-19 pandemic, would have Inauguration Day off as a paid holiday. Rigas emphasized the federal government will remain open in the run up to and following inauguration, but encouraged agencies in Washington to allow all employees to telework. He noted some workers, such as those onboarding or offboarding from their agencies, may have to continue to report to their offices. 
In an unusual move, OPM briefed chief human capital officers across government on Wednesday—one day prior to the memo's release—on security concerns and available flexibilities.   
Agencies had already begun notifying their employees of various security measures. The Veterans Affairs Department, whose headquarters is located directly across from the White House, told employees to "max telework" beginning Jan. 12. The Export-Import Bank, located across the street from VA, has sent an "agency-wide guidance on the ongoing security situation" to staff, according to EXIM press secretary Kelsey Koberg. Only those "who must access the building for continuity of operations" should report to the office. The Environmental Protection Agency on Wednesday sent a message to at least one group of employees saying all staff in Washington should telework from Jan. 19 through Jan. 22, adding the "safety of our employees is always our highest priority." It even instructed employees located in Michigan to "carefully evaluate" the need to come into the office. 
Thousands of National Guard troops have been activated in Washington, with the total expected to hit 20,000 by Inauguration Day. The National Park Service will close the National Mall entirely on Jan. 20, according to multiple reports. 
Tony Reardon, president of the National Treasury Employees Union, said many agencies had implemented precautions and highlighted the Internal Revenue Service as "among those taking concrete steps to protect employees." 
"We remain engaged with the leadership of the agencies where we represent employees, along with our chapter leaders on the ground, to ensure that employees' concerns are addressed," Reardon said. "The protection of employees is a top priority for NTEU and we are closely monitoring the situation across the country."