IRS Offering Up to $7M to Develop 'Data Mashing' Tools In Support of Frictionless Acquisition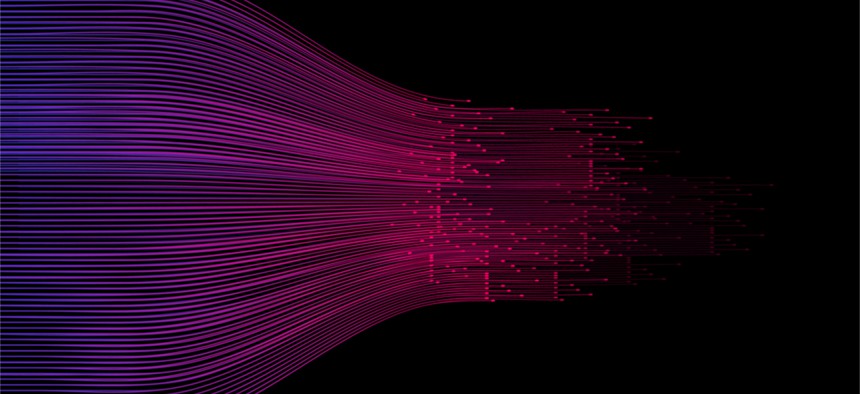 Using its experimental multiphase Pilot IRS contract vehicle, the agency issued a quickturn solicitation to improve data collection for a governmentwide effort to improve procurement.
The IRS is using its relatively new, quickturn procurement vehicle—Pilot IRS—to support a governmentwide data collection effort in support of fixing pain points in the government's acquisition process.
This summer, the Office of Management and Budget rolled out a new cross-agency priority, or CAP, goal entitled "Frictionless Acquisition," with the aim of delivering "commercial items at the same speed as the market place and manage customers' delivery expectations for acquisitions of non-commercial items by breaking down barriers to entry using modern business practices and technologies," according to the goal statement on Performance.gov.
Part of that goal includes improving information collected about federal procurements and the ways that data is standardized and combined to gain insights—also known as "data mashing."
IRS procurement officials were tapped to figure out how best to accomplish this task with regard to prices for goods and services and issued a request for proposals this week using its experimental contracting vehicle.
"There is a significant amount of data provided by government entities in this arena, including—but not limited to—information generated by the Bureau of Labor Statistics, the General Services Administration, and annual reports on the prices the federal government pays for services. Similarly, there is a significant amount of data generated by private entities in this arena," the RFP states. "Maximizing the use of existing labor/wage data will result in better acquisition planning, improved contract negotiations, and lower taxpayer costs. Furthermore, a solution that combines multiple data sources (the example sources included above and additional sources) in a user-friendly format will allow use of this data in a 'just-in-time' fashion to make smarter and faster decisions."
The solicitation is seeking ideas for collecting this data, standardizing it for analysis, visualizing those analyses and managing access to the data and results.
Specifically, the project has three goals:
Automate the analysis of multiple data sets in an easy-to-use, plug-and-play tool that processes and learns from the data to provide comparison points for evaluating labor rates proposed for use in government contracts.
Promote use of this information by government personnel during the independent government cost estimating, source selection and contract negotiation processes—i.e. results in the use of the information by government personnel with limited manual input.
Achieve near-term and incremental improvements in the number of data sets included, rigor of the analysis, etc.
The RFP stresses that the agency is looking for innovative, holistic solutions, rather than standard off-the-shelf tools.
"We are seeking an automated solution that will analyze and learn from multiple data sets," the solicitation states. "We are not seeking a solution that simply visualizes available data sets."
While the IRS doesn't have other transaction authorities or access to a Commercial Solutions Opening pilot, the agency has created its own contract vehicle for conducting phased, development-focused acquisitions: Pilot IRS.
As with those other research and development focused contracting methods, Pilot IRS uses a multiphase structure, with each subsequent phase moving a solution closer to full production while also increasing the dollar amount for the participating vendors.
That phased approach allows the IRS to experiment with untested solutions while limiting risk.
"Depending on results and mission priorities, the IRS will decide to fund all, some, or none of the project at each phase; it is important to note that there is no guarantee for funding for planned/future phases," the solicitation states.
Initially, the program's ceiling was $7 million for all solutions across all phases. That ceiling increased to $25 million earlier this year. But the latest solicitation takes a different tack, offering up to $7 million per solution across all phases, with the ability to fund multiple projects simultaneously.
"Rough scopes of work and funding ceilings for each phase will be established at the beginning of the Pilot IRS process, with the understanding that additional clarity will be established at the end of each preceding phase," the RFP explains. "In other words, the specifics of the work/cost for Phase 2 will be established as part of the work completed in Phase 1, and the specifics of Phase 3 at the end of Phase 2, etc."
The approach outlined in the RFP includes three phases, each with a not-to-exceed maximum funding level and duration: Phase 1 is capped at $50,000 and 120 days; Phase 2 at $150,000 over 150 days; and Phase 3 at $6.75 million over 4.25 years.
"As Phase 3 will occur over a longer duration, part of the Phase 3 proposal will focus on appropriate increments/funding amounts—i.e., six months, $700,000—based on the proposed solution, which will be tied directly to option periods," the RFP states. "Additionally, the IRS expects expansion in the involved data sets, federal agencies, and requirements/reviews/processes, etc. throughout Phase 3."
One feature of the Pilot IRS program is speed, and procurement officials are using that to its full in this procurement. The agency issued a request for information on August 4, a draft RFP on August 24 and held a listening session for the final RFP on Tuesday.
Interested vendors were given one week to submit bids, which are due by 8 a.m. Tuesday, September 8.
While the solicitation document is streamlined, the RFP package includes an additional 46 pages of required procurement clauses, including newer provisions like the Section 889 prohibition on vendors using telecommunication technologies from certain Chinese companies.