DHS, USCIS Want to Collect More Biometric Information from Immigrants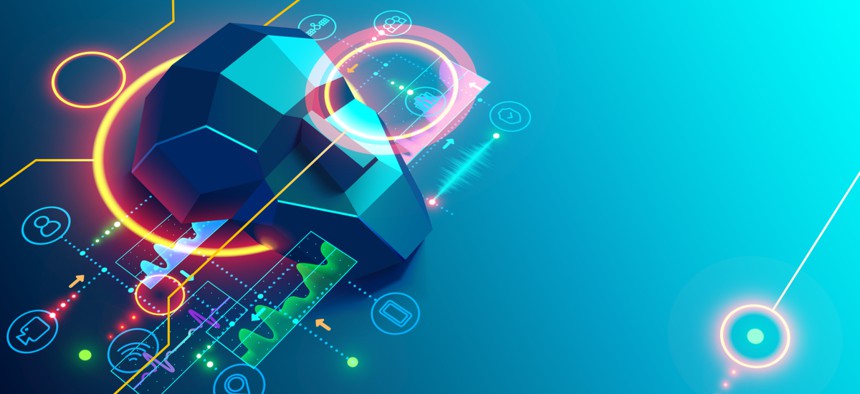 The Homeland Security Department will propose a rule change that would allow U.S. Citizenship and Immigration Services  to collect voice, iris and facial recognition scans. 
The Homeland Security Department and U.S. Citizenship and Immigration Services want to collect more biometric information from immigrants, the agency announced Tuesday.
The use of biometrics under a rule the agency plans to propose would grow beyond fingerprinting to include collection of voice, iris and facial recognition scans, the department said in a press release. Publication of the proposal is "imminent," according to the release.
Currently, the agency collects fingerprints—as well as a signature and photographs—from immigration applicants during appointments. 
Right now, biometric technology is used in background checks, but the new rule would allow the agency to also use biometrics for identity verification, secure document production and records management, according to the release. It also gives DHS the power to collect DNA to establish familial relationships between adults and minors in custody. 
Ken Cuccinelli, the senior official performing the duties of the deputy secretary for DHS, said in the press release the forthcoming rule sets a clear standard for how and why biometric information will be used. 
"Leveraging readily available technology to verify the identity of an individual we are screening is responsible governing," Cuccinelli said. "The collection of biometric information also guards against identity theft and thwarts fraudsters who are not who they claim to be."
After the rule is published, the public will have an opportunity to provide feedback during a comments period. The rule will likely raise privacy concerns. The American Civil Liberties Union released a response to the announcement Tuesday. 
Andrea Flores, deputy director of immigration policy for the ACLU, said the Trump administration is attempting to "radically change" the U.S. immigration system. 
"This time, they're contemplating a new requirement to collect unprecedented personal information from immigrants and the U.S. citizens who sponsor them throughout the immigration process and to potentially store that information even after the immigrants become citizens," Flores said in the ACLU statement. "Collecting a massive database of genetic blueprints won't make us safer — it will simply make it easier for the government to surveil and target our communities and to bring us closer to a dystopian nightmare."
DHS use of facial recognition technology raised other privacy concerns this week as well. A new audit from the Government Accountability Office, published a day after the announcement of the pending rule, showed DHS has work to do when it comes to biometrics and privacy. 
The audit found DHS and one of its other component agencies, Customs and Border Protection, deployed facial recognition technology for identity verification of foreign nationals in 27 U.S. airports, and other land and sea ports, without providing complete and accurate notice regarding the agency's use of the technology. At some airports, facial recognition notices were obscured or contained outdated information, and CBP's website didn't have complete information on where biometric technology was in use.
DHS also audited just one of its 27 airline partners participating in the facial recognition program to ensure they are complying with privacy standards. GAO found the agency was both behind on auditing and lacked a plan to conduct future audits.