U.S., International Lawmakers Push Facebook to Stop Online Hate Targeting Women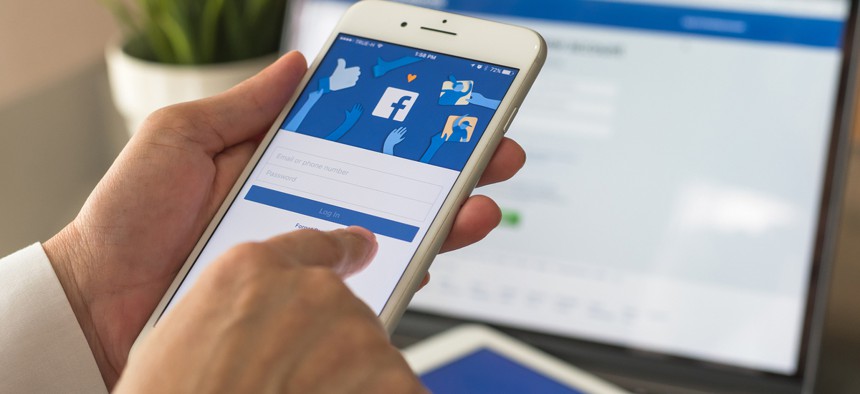 The social media giant must more aggressively enforce rules that it already has in place, they said.
Nearly 100 current and former women political leaders from the U.S. and abroad signed and sent a letter to Facebook executives Thursday, urging the social media giant to make more deliberate moves to protect women—especially women politicians and candidates—from online hate speech and harassment.  
Led by co-chairs of the Democratic Women's Caucus and House Speaker Nancy Pelosi, D-Calif., the official note comes on the heels of the latest manipulated, viral video targeting Pelosi to make her appear intoxicated (which Facebook added a warning to, but did not remove) and pushes CEO Mark Zuckerberg and Chief Operating Officer Sheryl Sandberg to "stop the amplification of gendered disinformation" via the platform.  
"Gendered disinformation can be understood as the spread of deceptive or inaccurate information and images against women, particularly women in politics, following story lines that often draw on misogyny and distrust of women's leadership, frequently referring to their sexuality," Rep. Jackie Speier, D-Calif., a co-chair of the caucus who helped spearhead the efforts, told Nextgov Friday.
Speier explained that she's been driven to pursue this work since earlier this year when she spoke to Lucina Di Meco, the author of the #ShePersisted study, released in Fall 2019. The research, also highlighted in the policymakers' letter, encompassed interviews with 88 women leaders in politics, civil society, journalism, television and technology; as well as an analysis of the 2020 primaries and more. It ultimately revealed female candidates "are attacked more often than male candidates by fake news accounts," and that social media presents a double-edged sword for women in politics. 
Moved by the matter, Speier said she's been working with Di Meco and other advocates "on the best way to address not just the rampant misogyny that women in politics and public service suffer, but the emergence of gender disinformation campaigns on social media platforms that go beyond the death threats and hate speech that so many of us have been subjected to throughout [our] careers." 
And the issue is not solely limited to America—a separate study conducted by the Inter-Parliamentary Union and referenced in the letter suggests social media has "become the number one place for psychological violence." Results of that research also revealed 42% of women parliamentarians reported seeing "extremely humiliating or sexually charged images of themselves" disseminated and spread through online social platforms. 
Pointing to that data, Speier said it was important to include the more than 60 international leaders as co-signers of the note, "because this issue is impacting not just our democracy, but democracies worldwide and because the social media platforms that are being weaponized to facilitate malicious cyber campaigns aren't contained to America's borders or politics."
In the correspondence, the lawmakers urge the company to: remove manipulated media targeting women in public service and posts that threaten women with violence; disable accounts behind such posts and refer offenders to law enforcement; end any accounts that repeatedly threaten, dox or use false identities to attack women political leaders; eliminate malicious hate speech against women; and more aggressively confront gendered disinformation.
"Much of the most hateful content directed at women on Facebook is amplified by your algorithms, which reward extreme and dangerous points of view with greater reach and visibility, creating a fertile breeding ground for bias to grow," the women wrote. 
The letter follows a separate note the tech company received from a group of state attorneys general Wednesday, demanding insiders take further steps to prevent hate speech, discrimination and disinformation from rapidly spreading through the platform's information streams. 
Facebook's Head of Women's Safety Cindy Southworth told Nextgov in a statement Friday that the company appreciates Speier and other policymakers "who have shared their personal experiences with us." 
"Abuse of women on the internet is a serious problem, one we tackle in a variety of ways—through technology that identifies and removes potentially abusive content before it happens, by enforcing strict policies, and by talking with experts to ensure we stay ahead of new tactics," Southworth said.
She also confirmed that the company intends to "continue working with [the women behind the letter] to surface new solutions," though she didn't offer up details into what those solutions might look like.
Speier expressed hope that Facebook will meet with the caucus' leadership to collectively discuss how the social media platform can "better enforce its existing rules" to remove posts that threaten and harass women, and disable the accounts of "repeat and egregious offenders." She also reiterated the need for Facebook to potentially adjust algorithms that amplify disinformation campaigns centered around gender.
"Given Facebook's stated mission of promoting 'diversity and inclusion' to empower those who use the platform, and COO Sheryl Sandberg's work as a feminist, we're confident that we can work together to address this problem that has gone on for much too long," Speier said, adding that "it certainly is preferable to work together rather than legislate solutions, when possible." 
"But if Facebook and other social media platforms continue to fail to address this threat then we will need to look at other ways of enforcing the policies that these companies have created but do not enforce, and expand that enforcement to address gender disinformation," she said.