Contractors: Begin Shutdown Prep Now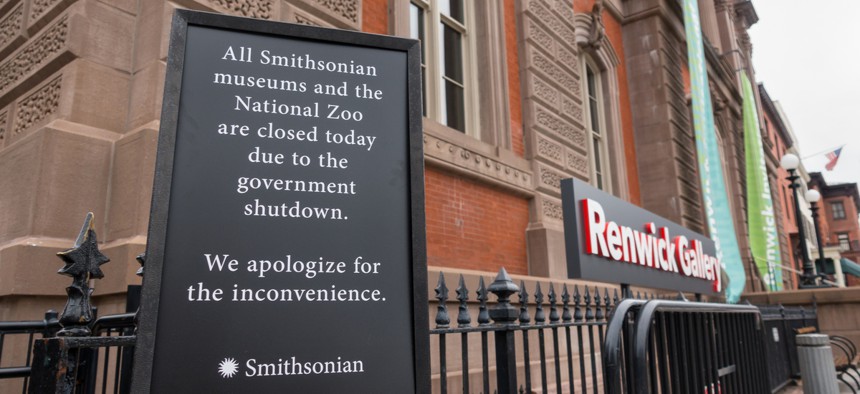 Now is a good time for government contractors to begin preparing for another potential government shutdown, according to the Professional Services Council, which represents close to 400 such companies.
Lawmakers Wednesday announced a second stopgap spending bill that would extend government funding another month, buying lawmakers more time to negotiate full-year appropriations. If the House votes to approve the continuing resolution, it would fund the government from Nov. 21 to Dec. 20.
That is almost one year to the day from the start of the longest government shutdown in U.S. history, a fact not lost on contractors, many of whom experienced lost revenue and layoffs as a result.
"We hope this continuing resolution goes into effect. I think it's valuable for member companies to have not just 8 days to prepare for the risk of a shutdown, but 5 weeks between now and Dec. 20," said Alan Chvotkin, executive vice president and counsel for PSC, speaking on a webinar hosted by the organization.
In his presentation, Chvotkin outlined steps contractors ought to take based on lessons learned from previous shutdowns, though he warned there is no "one size fits all" approach. Those lessons included nuanced information regarding stop-work orders, appropriate engagement with federal employees, contract and invoice statuses, compensation and remediation, shutdown recovery and other subjects.
Among the most important, Chovtkin said, was ensuring contractors know the federal landscape they work in. For example, contractors need to know how to reach a contracting office or another appropriate federal official when a shutdown looms. That official may have the authority to issue stop-work orders, which effectively halts work performed under a contract, as well as approving payments or delivering goods and services. During the 2018 shutdown, Chovtkin said poor communication between contractors and contracting officers exacerbated matters. In some cases, contractors didn't know whether federal contracting officers were excepted employees until they stopped showing up for work.
"Know where your contracting officer is, but there is always someone within an agency on site and with authority to act," Chvotkin said. "It is the obligation of the government to tell you to stop work. If you are not told to stop work, you must continue to perform."
Chvotkin also said it is wise for contractors to understand the physical environments their employees work in. In previous shutdowns, contractors have been surprised to find they aren't allowed into the government facilities they typically work in. Companies should consider whether contract work they do for an agency can be done offsite, and if not, a "guard at the door saying the office is closed" is essentially equivalent to a stop-work order.
"Work until you're told to stop work or denied access," Chvotkin said.
Chvotkin encouraged contractors to know their contracts and invoice statuses. Cash flow is particularly important for small businesses without millions of dollars in reserve. During the previous shutdown, the government went months without fulfilling millions of dollars worth of invoices. He also recommended companies have plans in advance to mitigate the impacts of shutdowns and plans to restart work after one.
"Don't wait until the next shutdown is imminent," Chvotkin said.