Stop-Work Orders Beginning to Go Out to Contractors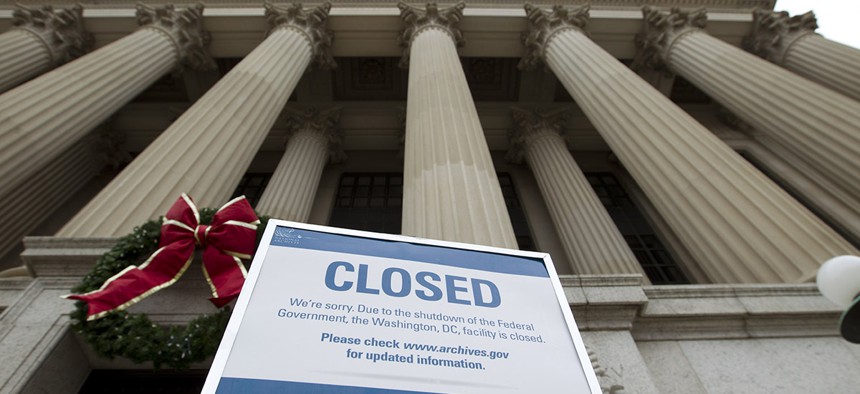 The Federal Communications Commission on Dec. 22 put out a message to staff saying it had sufficient funding to stay open during the partial government shutdown until the close of business, Jan. 2.
But on Dec. 31—with the prospects of a deal between the White House and Congress remaining weak—a new message announced that the regulatory agency "will suspend most operations in the middle of the day on Thursday, Jan. 3."  (Still working will be employees involved in "protection of life and property," spectrum auctions and the Office of the Inspector General.)
Contractors working to support the FCC were among those who have shared concerns with the Professional Services Council, according to Alan Chvotkin, the group's executive vice president and counsel. "A number of member companies have received stop-work orders from agencies," he told Government Executive on Wednesday. Others have "received communication from agencies saying they are fully funded and should continue working unless informed otherwise. It's a highly fluid set of circumstances," he said, referring to the unprecedented situation of a third shutdown in a single year that has spilled over into 2019.
The council, whose members have contracts with the shutdown-affected State and Justice departments, the U.S. Agency for International Development and the Homeland Security Department, recently posted on its website for members an updated Congressional Research Service report on the history of shutdowns, their costs and changes in agency guidance.
"As recently as Monday," Chvotkin said, "we've encouraged members to continue to reach out to agencies for as much information as they can glean, and to continue to communicate regularly with their own workforce." Most importantly, he added, contractors are urged to "document any government action's impact so that when when funds do become available, if there is any basis for seeking a recovery, they would have contemporaneous records."
Another contractors group, the National Defense Industrial Association, on Dec. 17 posted its own guidance for handling a shutdown.
The Aerospace Industries Association as of Wednesday was sticking with its statement put out on Dec. 22 before the holidays. "We strongly urge Congress and the president to reach an agreement and reopen the closed agencies as quickly as possible," AIA President and CEO Eric Fanning said. "Essential science, space exploration and air traffic control modernization work is being delayed, decreasing industry's ability to invest in our nation's future. This is no way to run a business – or a government."
Anecdotally, "there's still a lot of confusion, as many agencies are still trying to figure out whether they put out stop-work orders" and precisely what has been funded, Kraig Conrad, CEO of the National Contract Management Association, told Government Executive on Wednesday. "Many on the contractor side may have clarity, but they have a concern because they have subcontractors," he added. "if you're a small contractor, this could be a big deal because you may not have the resources and working capital to survive. So there's even less clarity."
Conrad had heard from contractor employees who are stationed inside federal agencies who showed up for work last month, only to be denied access to the building.
"This difficult situation is devastating to most small business federal contractors," echoed Richard Bodson, president and CEO of SysNet Technologies, a cybersecurity services small business contractor. "One company of about 75 employees that makes over $12 million per year in revenue is therefore suffering a loss of $1 million per month amplified by the double-hit of a cost of almost $600,000 per month," he told Government Executive in an email.
"SysNet has been fortunate through the annual government shutdowns and continuing resolution events in that the services we provide and the federal systems we support are all considered 'essential,' " he added. "The oddity for federal workers who are shut down is that they are in essence getting free vacation time. Admittedly the situation is tough on their cash flow, but ultimately they get paid for this shutdown time off, whereas the majority of federal contractors are not considered essential and they do not get compensated for the down time."
To ease the situation, Bodson opined, "it would be appropriate for the legislators and president to experience the same burdens that these situations impose on federal employees and contractor employees and businesses. That may inspire compromise among the debaters, regardless of their political affiliation."