The Gatekeepers of the Government's Other Transaction Deals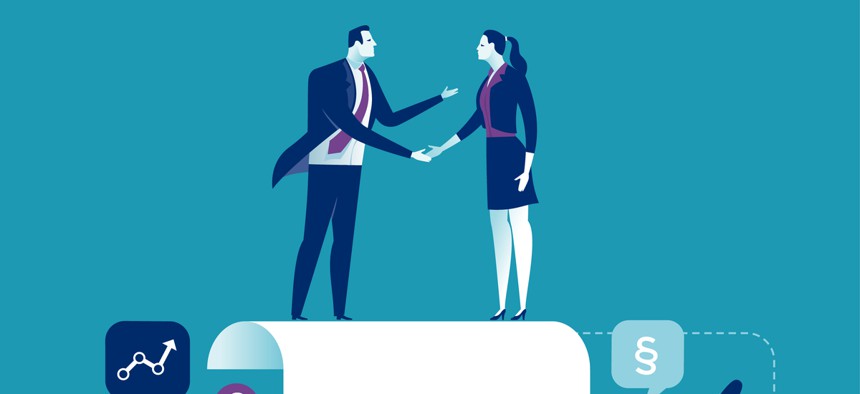 Agencies don't always know which companies have the bleeding-edge technology they seek. That's where consortia come in.
This is part of a series about other transaction authorities. Read about the history and what agencies are buying.
In the little-understood realm of other transaction authorities, there is a widely used but even more obscure contracting model: the consortium.
When federal contracting offices with OT authority—an alternative procurement method outside the Federal Acquisition Regulation—issue a contract, they sometimes will solicit a consortium, or group of traditional and nontraditional government contractors self-organized around a specific technological area. A consortium management company—often billed as a non-profit—will then be given exclusive access to the requirements to distribute among its association's members.
The consortium model has been used since the early days of OT contracting at the Defense Department, and is now used in civilian agencies with OT authority like the Energy Department and Transportation Security Administration. Richard Dunn, former general counsel for the Defense Advanced Research Projects Agency, wrote the statute that would become the Defense Department's OT authority and was there when the first consortium formed.
In the late 1980s, the U.S. market share in semiconductors had fallen below 50 percent. This caused grave concern among defense officials who believed it would take more than just the government to right the course, Dunn said.
"This was considered not only bad for the national economy but also bad for the national defense because the Department of Defense relies heavily on microcircuits and chips and so forth," he said.
This led a group of semiconductor manufacturers to band together to lobby Congress for research funding. The result was the Semiconductor Manufacturing Technology consortium, or Sematech, a joint funding program between industry and government. Each side kicked in $500 million. Within five years, the U.S. semiconductor market had rebounded, securing both the economy and the nation's defense posture, Dunn said.
With the success of Sematech, the Technology Reinvestment Project began. Over the next two years, DARPA project managers entered into 194 agreements, pushing some $762 million into advanced research, with industry matching approximately $1 billion.
The project included approximately 1,000 companies, 470 universities and 140 state and local government representatives, Dunn said.
"Back in the '80s, the term that was being used was 'research joint venture,' which didn't necessarily include the government at all," he said. Though, "If you wanted to call them consortium, you could."
The original intent of OT contracts and the use of consortia was never to buy things but to produce knowledge, Dunn said. However, because money and contracts were involved, procurement became the means of producing that knowledge.
This wasn't an easy jump to make.
"Here I am, a government lawyer, supposed to be concerned about the government's money, and I'm drafting this agreement and I'm looking at what we've created and I go to the guy who is pushing this program, head of the materials lab, and I said, 'Shouldn't the government have some kind of say or veto over which projects get funded?'" Dunn said. "And he said to me, 'Rick, I've got the smartest guys in the country working on this, if they can't figure it out, I'm not going to tell them.'"
Allowing the industrial base to self-organize and set the parameters for OT contracts made sense to Dunn when the only goal was knowledge. However, as OTs began to be used to buy things—rather than gain knowledge—and fewer industry dollars were invested, the value of consortia waned, in his opinion.
For instance, he cited a program to study the use of ceramics in flight components. After the project was completed, the companies that participated began using ceramic parts in the jets they sold. While the project enriched its members, it also served the main purpose: to create knowledge.
"The goal of the program was to establish the industry base for building ceramic fiber components," Dunn said. "The entire industry was lifted up through this. ... What's the goal of your program?"
Today's consortium managers believe they are bringing that tradition forward, even if OTs go beyond research into prototyping or production. Consortia provide a knowledgeable broker, both for the government buyers who might not be familiar with the emerging technology and nontraditional companies that aren't used to navigating government contracting.
When starting the National Security Technology Accelerator, or NSTXL, founder and CEO Tim Greeff "spent some time talking to folks at the Pentagon, talking to small businesses and people that either had failed to do business with the government or were adamantly opposed to doing business with the government but had great tech. One of the recurring themes, especially from the government side, was a lack of an honest broker in this process."
"Investing in new tech is inherently risky," he said. "What I heard from program offices … it's hard to know if the technology is really valid or if they're just getting a great pitch."
'Don't screw it up with stupid human tricks'
The need for an "honest broker" led Greeff and other consortia managers to establish their organizations as non-profits.
"There was no requirement that we do it," said Charlie McBride, president and CEO of Consortium Management Group, which manages the Consortium for Energy, Environment and Demilitarization, or CEED, and the Consortium for Command, Control, Communications and Computer Technologies, or C5. "We thought it was a smart thing to do. It would make government much more comfortable and make our members more comfortable if we were operating as a non-profit."
That seems to have borne out, according to McBride. "Increasingly if you see a [request for proposal] from a program office looking to do their own OTA, they stipulate that you must be a non-profit," he said.
McBride said employees of CMG are paid according to a scale for non-profits set by advisory firm Willis Towers Watson.
"We could make a lot more money as a for-profit, that's for sure," he said. "But I just don't think it's appropriate when you're operating as a liaison between government and members."
While NSTXL members are certainly in it to make money—and the management structure needs funding to be sustainable—Greeff said his focus is not on increasing profits and dividends for the management group itself and it takes no stake in the companies it supports.
"I don't have any shareholders I have to please; I'm not in it for the profit line," he said.
NSTXL also has a slightly different distribution model than other consortia. While only members can compete for NSTXL contracts, companies do not have to be a member to see the requirements for upcoming projects.
"We're the first truly open-source platform, where we host ours live on the website and anybody can read the requirements," Greeff said. The group takes the additional step of vetting non-member technologies, as well, to see if it would meet the requirements before the company signs up.
Even so, only members of the consortium are able to get funding. That reality can seem at odds with the idea of promoting competition.
"If consortia are being used for very unique types of things that maybe there's a limited supply base for, if all your competitors have banded together into a consortium, you're going to pay a lot of money," said Michael Fischetti, executive director of the National Contract Management Association. As that innovative technology moves from research to prototype to production, he said government program managers would find themselves "essentially in a sole-source situation," where the only vendor capable of delivering is the team under the consortium.
This doesn't present a problem for McBride, who said the model creates plenty of competition for large consortia like C5, which has close to 1,000 members.
"Within that model, we are very comfortable with the level of competition," he said. "Any time a statement of need comes to us from a program manager, we convert that to a request for white papers and we make that request available to our entire membership. Within the context of the consortium, there is full competition for every opportunity that comes to the consortium."
When a procurement office engages a consortium, it merely narrows the competitive pool to vendors capable of providing real solutions—a determination that becomes more difficult when dealing with technology that has yet to be invented.
"It is an instant universe that you know is likely to be able—through one company, a mix of companies—that consortium is more likely than a scattershot [FedBizOpps] approach to help you fulfill your requirements," McBride said.
He added that, in these areas, there is usually a sense of urgency for getting these new technologies into the field and the company—or companies—that designed it should have a role in producing the final product.
"If you have done the work to develop a prototype under an OTA, I think there's merit in having a follow-on task," he said.
There is power in using the consortium model, McBride said, but there is risk, both for the government and consortia.
"Our chronic worry, generally, is that somebody who is not a good steward will come in and do things under OTA that are not appropriate and therefore pose an existential risk to the whole regime," he said.
McBride said he expects Congress will include some language on the use of consortia in the 2019 National Defense Authorization Act, the legislative vehicle that has been used to hone the regulations around OT contracts for several years. While he has heard rumblings of this, there is little in the way of specifics at this time. In general, though, he said he'd like to see more plain language around how OT contracts are regulated.
"OTA is a gift from the Congress to the warfighter," McBride recalled a three-star general telling C5's membership during the group's annual meeting. "Don't screw it up with stupid human tricks."
Why and Wherefore Consortia?
With that level of risk and few regulations guiding procurement officers in the correct use of consortia, when is the right time to use this model?
"The first question would be: What's my objective?" according to Dunn. "Within or outside the OT context, if you're a government guy—a program manager, a guy with money and mission—what are you as a program manager looking for? What you're looking for is an easy button."
Building a new contract from scratch will take years, Dunn noted. "If I form a consortium, I then have a place where people can park money. ... If what I'm looking for is to attract sponsor money, other government agency money flowing through in my technology area, a consortium would be a good way to do that. If I'm focused on my particular mission and what I want to do is not just advance [for instance] hypersonic technology, but I want to demonstrate a hypersonic capability that does something, then maybe I want to be focused and go out with a solicitation."
Greeff agreed, suggesting contracting officers should take advantage of existing technologies and contract vehicles, when available.
"I would say that, from an OTA standpoint, the benefit to me is that if it's done appropriately—and I want to stress that—we provide speed in contracting but we also provide a much larger capture net of available technologies," he said "We provide the vetting to make sure that they're legitimate and we also provide the transparency and level of increased competition throughout that is key when you're trying to balance the speedier process and less-stringent FAR regulations with still being fair and open about how it's being done."