Trump's Pick for CDC Director Is Experienced But Controversial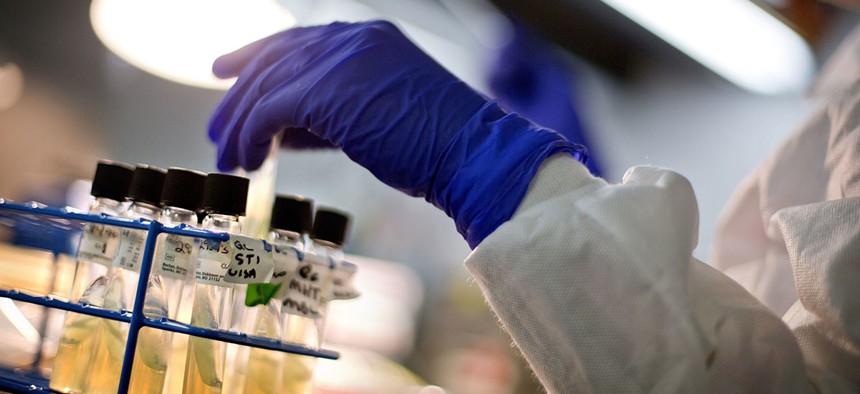 On the face of it, veteran virologist Robert Redfield seems like a good pick to lead the agency, but decades-old disputes are shadowing his appointment.
In the first year of his administration, Donald Trump has repeatedly filled important scientific positions with candidates who seem to be either unqualified for the roles or diametrically opposed to the very purpose of those roles. Scott Pruitt was chosen to lead the Environmental Protection Agency after having repeatedly sued it. Rick Perry became Secretary of Energy, heading a department that he formerly wanted to eliminate and that he couldn't remember the name of. Sam Clovis, a now-withdrawn nominee for chief scientist at the United States Department of Agriculture, had no scientific background. Brenda Fitzgerald seemed a reasonable choice to direct the Centers of Disease Control and Prevention (CDC) but was forced to resign after Politico reported that she had bought shares in a tobacco company shortly after taking up her post.
Given this parade of foxes in henhouses, it should have been a moment of joyous relief when Robert Redfield was confirmed as the new director of the Centers for Disease Control and Prevention on Wednesday. A leading virologist, Redfield has spent more than 30 years researching HIV and other infectious diseases. He served in the U.S. Army Medical Corps for 20 years and later cofounded the Institute of Human Virology at the University of Maryland School of Medicine, where he now acts as associate director. He has overseen a clinical program that treats more than 5,000 patients in the Baltimore-Washington area, and has experience treating people in sub-Saharan Africa. His supporters speak of him as a kind and compassionate doctor, who is devoted to his patients.
A scientist-physician with decades of experience in controlling and preventing diseases to lead the CDC? Check and check.
As part of his work treating HIV patients, Redfield has also dealt with many cases of heroin addiction—valuable experience, given the Trump administration's focus on tackling the opioid crisis. His "scientific and clinical background is peerless," said the Health and Human Services secretary, Alex Azar, in a press releaseannouncing Redfield's appointment. "Bob Redfield is a talented and committed physician/scientist who has steadfastly devoted the past three decades to the study and care of HIV-infected individuals," adds Anthony Fauci, the director of the National Institute of Allergy and Infectious Diseases, and a leading HIV researcher himself. "He is highly regarded."
But Redfield has not escaped the controversy that has dogged other Trump-era appointees. In the mid-1990s, Redfield oversaw a clinical trial of an experimental HIV vaccine at the Walter Reed Army Institute of Research. He was accused of manipulating data from the trial, "sloppy or, possibly, deceptive" data analysis, and overstating results in a number of talks and publications. After an investigation, the military cleared Redfield of misconduct charges, but as Jon Cohen reported for Science at the time, the Army never provided an explanation of how it reached its conclusions.
Despite clearing him, military investigators chastised Redfield for having a "close relationship" to a nonprofit called Americans for Sound AIDS/HIV Policy (ASAP) "to a degree that is inappropriate." ASAP, now known as the Children's AIDS Fund, was founded by evangelical Christians; it has championed abstinence-only education as a method of combating HIV and other approaches grounded more in religious belief than scientific evidence.
Redfield also has a history of supporting other contentious HIV-related policies. In 1985, he supported an unprecedentedly large program of mandatory HIV screening for the military—against the recommendations of the CDC and other health professionals. After testing positive, many recruits were barred from service, while several active soldiers were segregated, in breach of any patient confidentiality. "The reason we have done what we have done is that we think it's good medicine," Redfield told Laurie Garrett, the journalist who broke the news about the segregation, at the time.
For these reasons, Senator Patty Murray, the ranking member on the Senate Health, Education, Labor, and Pensions Committee, wrote a letter to the White House expressing concerns about Redfield's appointment and that he has "taken no action to distance himself from those positions." "What one wants in a director of the CDC is a scientist of impeccable scientific integrity," added Peter Lurie from the Center for Science in the Public Interest, a consumer advocacy group. "What one would get in Robert Redfield is a sloppy scientist with a long history of scientific misconduct and an extreme religious agenda."
But these controversies are now decades-old, and some critics are hopeful that Redfield's positions have shifted. "I am cautiously optimistic, and I'm hoping that, in all these years, his views have become more mainstream on disease control and prevention," says Gregg Gonsalves, a professor of epidemiology at Yale University and a longtime AIDS activist.
His main concern is that Redfield maintains ties to the Children's AIDS Fund, and still sits on its board. "But in emails with Dr. Redfield yesterday he reassured me that he shares common goals with the rest of the AIDS community, scientists and researchers, patients and advocates," says Gonsalves. "So, we all wait and see."
These are tricky waters to navigate, and Redfield is hardly the first to run aground in them. After Julie Gerberding was named CDC director in 2002, she convened a meeting on HIV prevention which included the religious right. "It blew up, with gay leaders of AIDS groups being called degenerates by some in attendance," says Gonsalves, who was there.
Similarly, the President's Emergency Plan for AIDS Relief (pepfar) has been widely and deservedly lauded for delivering life-saving antiretroviral drugs to 11.5 million people with AIDS in sub-Saharan Africa, but also criticized for funding ineffective attempts to prevent HIV infections by teaching abstinence and faithfulness.
Redfield will begin his directorship at a pivotal time for the CDC. Infectious diseases are emerging at an ever faster pace, drug-resistant microbes are sweeping the world, and the United States is struggling to deal with its opioid epidemic. Meanwhile, Trump's proposed budget for fiscal year 2019 threatens to slash the CDC's budget by 8 percent, although Congress's spending bill, announced this morning, gives the agency a $1.1 billion increase instead. The agency is also set to fall off a funding cliff that will force it to downsize its disease-fighting work in 39 countries, leaving the U.S. and the world more vulnerable to pandemic threats.
Given these challenges, others have concerns about Redfield's experience. That may seem odd for someone with such deep medical credentials, but the CDC is a public-health agency, and improving the health of entire populations requires different skills and knowledge than caring for individual patients. CDC directors must be more than experienced physicians or scientists; they must run an agency of 15,000 employees with a budget of over 7 billion dollars, and ideally, they'd jump into the post already having strong relationships with public-health officials at the state and local level.
For that reason, most former directors have either run a city or state public-health department before, or have worked at the CDC itself. Julie Gerberding was acting deputy director at the National Center for Infectious Diseases before she became CDC director in 2002. Her successor Tom Frieden was commissioner of the New York City Department of Health and Mental Hygiene for seven years before he took the role. No director in the CDC's history has come in with so little public-health experience as Redfield.
"He is passionate about HIV; how he administers a public-health agency will have to be determined," adds May Chu from the Colorado School of Public Health, who has worked at the CDC before. "Personally speaking, I would have preferred a seasoned public-health administrator."
One such candidate was already in post—Anne Schuchat. She joined the CDC in 1988 as one of its frontline disease detectives and has since held several leadership positions in the agency, culminating in two stints as acting director, before and after Fitzgerald's appointment. A career civil servant and public-health specialist, Schuchat has dealt with anthrax outbreaks in the United States, Ebola in West Africa, and SARS in China. She is highly respected within the agency, and many hoped that she would be permanently appointed. "You'd have joyous celebration if they made her permanent director," one analyst told Lena Sun at the Washington Post.
Redfield's appointment does not require Senate confirmation. He did not respond to a request for comment.