Trump Calls for a Space Force, a Concept His Pentagon Opposes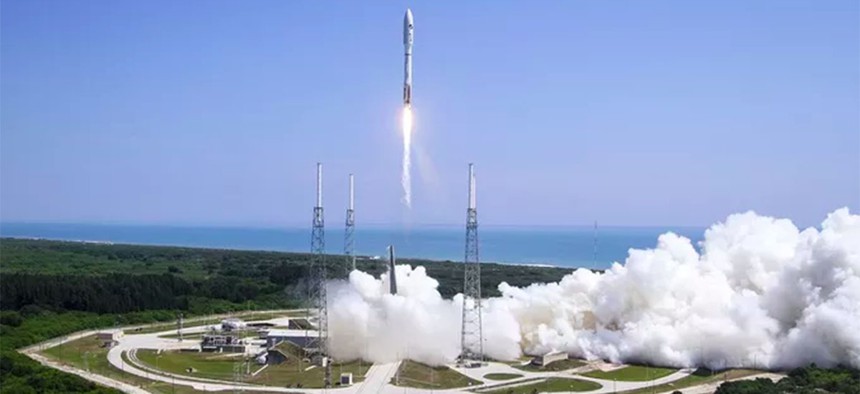 The president's words could reanimate a legislative proposal that the defense secretary and others thought they had killed.
U.S. President Donald Trump on Tuesday raised the prospect of creating a "Space Force," a new branch of the military service — and a concept that his leaders at the Pentagon oppose.
Air Force leaders, who oversee the bulk of the military's satellites and launches, spent the last year fighting off proposed legislation that would have called for standing up a Space Corps as part of the Department of the Air Force, just as the U.S. Marine Corps is part of the Department of the Navy. Last July, Defense Secretary James Mattis took the unusual step of speaking out against the proposal as it made its way through Congress. Even unnamed White House officials told CNN that creating a space corps was "premature at this time."
But Trump's comments, made to troops at Marine Corps Air Station Miramar outside San Diego, could signal a change in position as lawmakers scrutinize the Pentagon's latest budget proposal.
"My new national strategy for space recognizes that space is a warfighting domain, just like the land, air and sea," Trump said during a Tuesday speech at Marine Corps Air Station Miramar. "We may even have a Space Force, develop another one, Space Force. We have the Air Force, we'll have the Space Force. We have the Army, the Navy."
The administration's National Security Strategy, released in December, repeatedly identifies space as a contested domain, a somewhat more dire take than its Obama-era predecessors, which recognized "threats posed by those who may wish to deny the peaceful use of outer space."
"You know, I was saying it the other day — because we're doing a tremendous amount of work in space — I said maybe we need a new force. We'll call it the Space Force," Trump said. "And I was not really serious, but I said, 'What a great idea.' Maybe we'll have to do that. That could happen."
With that, Trump inserted himself into a bitter policy debate between Congress and the Air Force — and squarely on the side of the lawmakers. In fact, a fully independent "Space Force" would be an even more aggressive reform than proposed on Capitol Hill.
The president's words drew quick praise from Rep. Mike Rogers, R-Ala., who had proposed a Space Corps last year to fix what he called a "broken" national security space structure. Rogers said he looks forward to working with the administration "to make this a reality in the near future."
"I am so proud of President Trump's support of this important and historic initiative to create an independent space force," said Rogers, who chairs the House Armed Services Subcommittee on Strategic Forces. "At the end of the day, this isn't about personalities or individuals, it's about supporting our space warfighters, it's about making sure those warfighters have the equipment to execute future space operations, and it's about making sure that we continue to outpace our strategic competitors to preserve our national security."
The subcommittee's ranking member, Rep. Jim Cooper, D-Tenn., said although he had "not seen anything beyond President Trump's comments today, his remarks seem encouraging."
The U.S. Air Force has taken a number of steps to prepare for battle in space. As part of a plan to better protect its space assets from Russian and Chinese interference, the service is seeking to diversify its satellite constellations by buying smaller, cheaper spacecraft. But both Rogers and Cooper think the service isn't doing enough.
"We have the greatest Air Force the world has ever seen, because their No. 1 mission when they come to work every day is air dominance" but "you can't have two No. 1 missions," the Alabama Republican said in August.
But Air Force leaders argue that the move would create needless bureaucracy and make it more difficult for the Pentagon to integrate space into other warfighting domains.
"This will make it more complex, add more boxes to the organization chart, and cost more money," Air Force Secretary Heather Wilson said in June. "And if I had more money, I would put it into lethality, not bureaucracy….I don't need another chief of staff and another six deputy chiefs of staff."
The roiling debate had been put on the back burner when the two Armed Services committees deleted the proposal from the final defense policy bill that came out of conference. Instead, Congress enacted a few modest organizational reforms and asked Deputy Defense Secretary Pat Shanahan to study the issue.
But the issue has continued to simmer. Two weeks ago, Rogers and Cooper reamed the Air Force for what they said was a "denial" of the U.S.'s weakening position in space. Cooper added that "historians will not be kind when they look back at this period."
In Shanahan's report to Congress last week, the Pentagon raised the possibility of creating a combatant command for space.