5 Tips to Stop Backslide of Women in Government Tech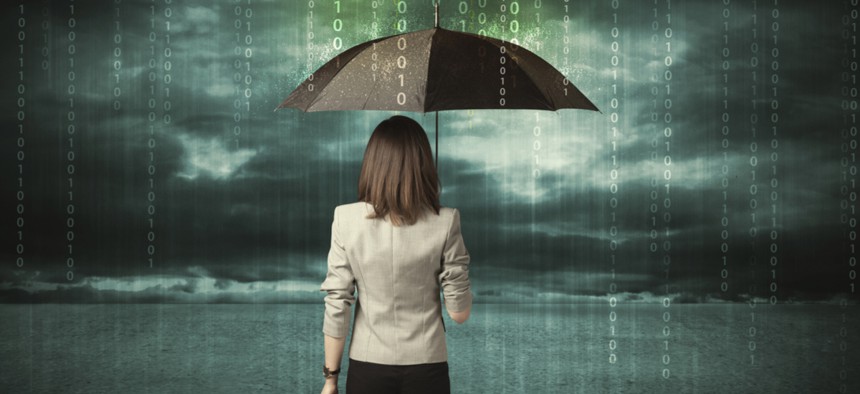 Five female federal executives offer advice on how women can succeed in public sector IT despite a making up a smaller share of the workforce.
Information technology—and the associated fields of science, technology, engineering and math, or STEM—has long been dominated by men. This is perhaps most true in the federal government, where women made up little more than a quarter of IT professionals in 2017.
In general, the tide is changing. According to 2015 employment numbers from the National Science Foundation, women accounted for 43 percent of scientists and engineers under 75 years old in the U.S. Looking at just women under 29, that share jumped to 56 percent.
Despite a rise of young women in STEM fields in recent years, that progress has not translated to the IT space.
A look at employment numbers from the Office of Personnel Management shows the number of women employed in IT positions within the government has fallen over the last five years, from almost 25,000 to just under 23,500. During the same time period, the number of men working in those positions rose from almost 82,500 to more than 84,600.
As a result, women went from making up more than 30 percent of the federal IT workforce in 2013 down to 27.7 percent in 2017.

This is still better than the overall technology profession—public and private sector—which averaged 22 percent female from 2005 to 2015, according to figures from the Census Bureau American Community Survey, with statistically insignificant changes year-over-year.
Having more women in executive IT positions will help change this trend, but it won't be easy. Five leading women in federal technology offered their advice to other women interested in an IT career in government during a lunch panel hosted by the Association For Federal Information Resources Management on Jan. 25.
Keep Applying
Stacy Dawn, assistant director for privacy and security compliance in the Securities and Exchange Commission's Office of Information Technology, suggested getting experience in as many different areas as possible. The best way to do this: apply for everything.
"Going through USAJobs, apply for every promotion that looks interesting to you. Let them tell you if you're the best qualified," she said. "You might be a little unsure … If that is you, then you own that job. Make it yours. That's how I've gotten to where I am now: I'm not afraid to take that risk."
Head Down, But Head Up
"My philosophy was always: Do really good work, keep your head down but also keep your head up," said Beth Angerman, executive director of the Unified Shared Service Management Office housed in the General Services Administration. "Pay attention to what's happening around you and how things are changing. How the town is changing, how the technology is changing, how the political landscape is changing. Stay aware, stay connected."
Move Around
Applying for promotions within a single agency might not be enough, according to Adriane Burton, Health Resources and Services Administration CIO at the Department of Health and Human Services. Along with moving up, it's important to move around, she said.
Over the course of her career, Burton has worked at IRS, the Justice Department, the National Institutes of Health, the Office of Management and Budget, the Bureau of Indian Health and the Centers for Medicare and Medicaid Services, gaining experience in a range of IT positions, as well.
"Move around to different positions and really be open to new experiences," she said. "I would say every five to six years to start thinking about moving on. You don't want to stay in any one place too long."
Ditch Your Comfort Zone
"You have to look for new opportunities and get out of your comfort zone," said Janice Haith, former deputy CIO for the Navy.
Haith suggested taking it a step further, including working for the Defense Department and with civilian agencies, urged others to follow suit. "Go to different agencies and organizations. It is a little different at DOD than a non-DOD environment, but everybody has some of the same challenges."
Keep Up With Education
Finally, Renee Macklin, director of IT enterprise services for the Commerce Department, said education is the key.
"My boss told me he selected me because of education," Macklin said of getting her first government job.
And not just a degree, she added, but continuing to learn throughout your career. "When we talk about knowing what's going on in the environment—what's changing in technology—it's very important to continue to get professional development. If you don't, you can't stay on top of what's happening."
Macklin succinctly summed the advice from the panel: "Get the appropriate education and be willing to change."