This Technology Could Help Solve IED Detection — And Airport Security Too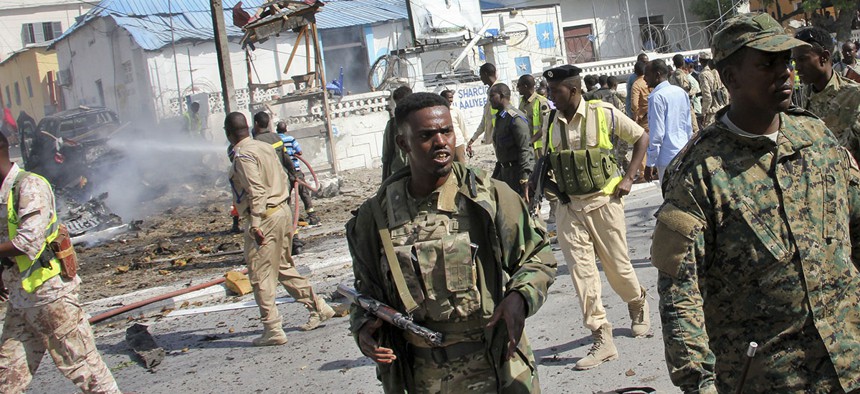 Detecting roadside bombs and other IEDs has been a major — and deadly — challenge for the U.S. military since it invaded Iraq and Afghanistan at the start of the century. And for the majority of that time, Raytheon has been working to develop a sensor that could identify those explosive materials shielded in a car, packed into a case, or hidden on a person.
The result of that decade of work: a new radio-frequency sensor that identifies explosives by their chemical composition.
The system is called REDS, or Raytheon's Explosive Detection System, and it's scalable — from a handheld sensor the size of a laptop to a full-size checkpoint that can scan pedestrians and vehicles as they pass. It's still experimental; Raytheon has a contract to demo it with the Joint Improvised-threat Defeat Organization, or JIDO, the latest iteration of the military's anti-IEDskunk works.
That organization has struggled at times to respond to the ever-changing IED threat, but its work is as relevant as when it was stood up in 2006. The Islamic State used suicide bombers, booby-trapped buildings, and vehicle-borne IEDs to great effect in its defense of Mosul. And just this past weekend, a pair of car bombings in Somalia's capital killed more than 300 people, including at least two U.S. citizens.  
Earlier this week, Raytheon demonstrated the system's card-table-sized variant during a JIDO exhibition at Virginia's Fort Belvoir. As Rimas Guzulaitis, a senior director with Raytheon's Intelligence, Information & Services division, talked to reporters about the technology, its monitor chirped periodically in the background.
An empty bag was placed on the table, and the pleasantly high-pitched pings and a nearby display proclaimed all clear. Cell phones, a plastic briefcase that might have been used by a Hollywood villain smuggling illicit goods — no alarm. Then came an identical case filled with RDX, a C4 simulant. Within seconds, the display turned red and a beeping alarm sounded.
"We're operating in a very noisy environment, cell phones are all around, antennas are all around, people are all around," Guzulaitis said. "That's where this is a step above what's out there. There are other RF solutions out there, but the Raytheon REDS operates very well in that environment."
Tuesday, it was configured to suss out that explosive simulant, but it could be set up to scan for other explosives, such as ammonium nitrate, or even multiple compounds in quick succession.
"Because it scans so quickly, it can switch between the frequencies we need to be able to scan for multiple things, whatever the things of interest are," Guzulaitis said.
JIDO officials acknowledge that no single piece of gear will solve their problems. Detecting IEDs will continue to be a challenge as adversaries adapt their tactics and techniques, and any so-called solution will "involve the networking of several different [counter-IED] system of sensors," JIDO spokesperson Melissa Tune said. But new technologies — including, possibly, RF sensors — are critical to getting ahead of the adversary, she said.
Raytheon isn't the only one looking at the radio-frequency spectrum to sniff out bombs. One Resonance Sensors, a 10-person startup based in San Diego, has developed an RFscanner that identifies explosives in liquids and electronic devices — the two threat scenarios that most concern airport security.
President Donald Trump's administration spotlighted the latter threat in March, when then-DHS Secretary John Kelly banned laptops in carry-on luggage for flights out of certain countries. But it's been a growing concern for security professionals as electronic devices have proliferated.  
Scientists have been looking at other uses for the RF spectrum for several decades. Sensors like ORS's use a technique called nuclear quadrupole resonance that's similar conceptually to magnetic resonance imaging, or MRI, machines, the company's founder Pablo Prado said. Both technologies look at the same frequency range, but the RF scanners don't require "the heavy and expensive magnets to make it work." When explosive electronics rose in prominence in 2014, ORS applied a long-researched technique that they had already proven to work on liquid carry-ons.
"With the team we had, we thought, 'Well, we can configure a sensor to look at this in particular,'" Prado said. "That was summer 2014. In early 2015, we already had something to test. We came out with the first product in 2015."
The device they produced can scan small electronic devices — cell phones and tablets — and they have since been testing this MobiLab ES  with DHS and the Transportation Security Administration. The company has conducted trials from Qatar and Israel to, just three weeks ago, a two-day trial with passengers at Washington, D.C.'s Ronald Reagan National Airport.
ORS's device is specifically calibrated to find explosives passengers might smuggle through airport security, Prado said, but it could be applied elsewhere — stadium entrances, bus terminals and the like.
And even beyond the variety of bomb-sniffing applications at home and abroad, radio-frequency sensors have other possibilities, too. Right now, ORS is focused on the explosive threat at airports, but the underlying technology could be applied to identify any number of non-explosive substances.
Raytheon, for instance, said REDS could be calibrated to find drugs an individual had swallowed or had implanted to transport across a border.
"The interesting thing too is that the way it works, it's not limited to explosives," Guzulaitis said. "So if you were interested in narcotics or something like that, it would be easily tuneable for that."
Raytheon and JIDO are planning a demo of the full-size traffic variant later this year.