The Bumps, Cuts and Zeros in Trump's Tech Budget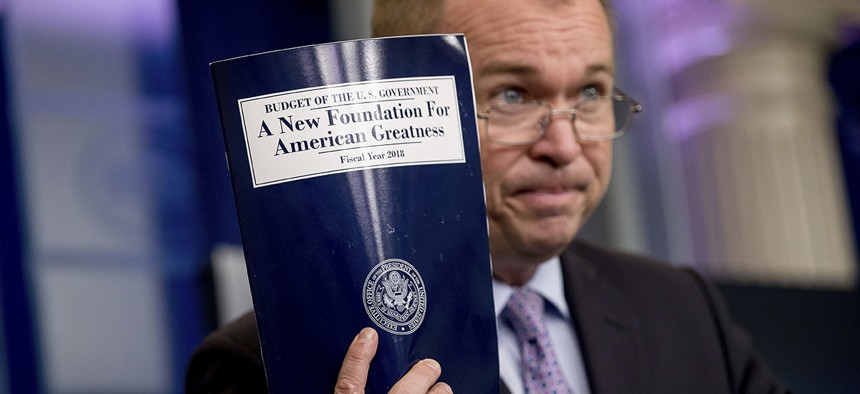 Federal IT sees an overall boost in spending, but many research programs take a hit.
President Donald Trump's proposed budget boosts spending on federal IT and cybersecurity programs, with an emphasis on more modern, secure systems and data-driven management.
"Modernization, in this sense, is not simply replacing individual outdated IT systems with newer ones; rather, it is a holistic approach to federal IT that fundamentally transforms how agencies accomplish their missions," the budget released Tuesday said. The goal is "simple, fast and helpful" experiences when citizens interact with agencies.
The $95.7 billion IT budget, for example, includes a central $228 million Technology Modernization Fund agencies can compete for to replace old systems. The competition aspect is to encourage agencies to develop "comprehensive, high-quality modernization plans."
If that sounds more like a business boardroom, that's by design. The budget documents encourage agencies to buy like a business and leverage the government's power as "the world's largest buyer." The administration urges the continuation of category management practices that allow the government to buy as one enterprise (like it does for buying laptops and computers) and encourages using shared services to yield savings from common administrative functions.
» Get the best federal technology news and ideas delivered right to your inbox. Sign up here.
The administration also wants high-quality data to be the basis of decisions. For IT leaders, the administration plans to turn the Capital Planning and Investment Control process into a strategic tool to assess and to manage IT investments and ensure agencies meet Federal Information Technology Acquisition Reform Act requirements. It also intends to find more ways to standardize data and simplify and automate reporting, building on initiatives like the Digital Accountability and Transparency Act.
But the overall gain isn't the whole picture. Here are some of the other notable ups and downs in that will impact IT, research and cyber programs:
How the 1.7 Percent IT Increase Spreads Around
The Trump administration's proposed 2018 budget increases federal IT to $95.7 billion, a 1.7 percent bump from fiscal 2017 as reported in the IT Dashboard. Defense Department spending accounts for 44.4 percent of all federal IT spending. The next four highest-funded agencies are the departments of Health and Human Services ($13.8 billion), Homeland Security ($6.8 billion), Treasury ($4.3 billion) and Veterans Affairs ($4.1 billion). The budget further breaks down the government's IT spend in terms of operations and maintenance, or "legacy" spending. Of the $48.5 billion reported to the Federal IT Dashboard, about $38 billion—or 79 percent—is classified as O&M spending.
Cloud Spending Increases
Provisioned services would account for 8.9 percent of the overall IT budget, totaling $8.5 billion, or $1.2 billion more than last year's budget. The budget suggests agencies will continue moving applications and services from internal data centers to commercial or hybrid cloud environments. To date, federal agencies have closed almost 4,400 of more than 10,000 tallied data centers across the country. Under the newly proposed budget, expect the data center consolidation trend to continue.
A Boost in Cyber Support to Agencies
The budget commits $971 million to DHS cyber operations, including a $49.2 million boost for DHS' cyber operations wing, the National Cybersecurity and Communications Integration Center, to provide cybersecurity assistance to government agencies and secure high-value federal systems.
The budget also includes $279 million for DHS' Continuous Diagnostics and Mitigation and $397.2 million for the National Cybersecurity Protection System known as Einstein.
That's a slight boost in CDM funding, from $274.8 million provided in President Barack Obama's final budget for the 2017 fiscal year. It's a significant drop from the $471.1 million the Obama administration provided for Einstein in 2017, much of which was committed to building out the programs' third-generation system, which now protects about 93 percent of civilian federal agencies.
Federal R&D Funding Focuses on the Early Stage
Trump's budget shifts responsibility for research and development squarely to the private sector. The fiscal 2018 request sets aside $11.7 billion for federal R&D, a $2.8 billion increase over the annualized continuing resolution level for fiscal 2017.
Broadly, the fiscal 2018 request reflects the Office of Management and Budget's updated definition of federal technology "development." Under the new definition, federal R&D investments should focus on "experimental development," and not user demonstrations or pre-production work. That shift reduces overall federal R&D spending by $33.5 billion in 2018.
Cyber Research Takes a Hit
The budget also slashes R&D funds at the main DHS agency that focuses on cybersecurity technology. The budget cuts R&D funding at DHS' Science and Technology directorate 27 percent, from $595 million to $437 million. There's also a 15 percent cut in R&D funding to the National Institute of Standards and Technology, the government's main cyber standards agency, from $762 million to $651 million.
The budget hikes R&D funding at DHS' main cyber and physical security wing, the National Protection and Programs Directorate, from $5 million to $11 million, an 83 percent increase.
FBI Seeks Funds for Cyber and 'Going Dark'
The budget includes a $41.5 million hike in cyber spending at the Justice Department including funding for 20 additional cyber-specialized FBI agents. The money will also go to improving cyber programs and high-speed networks, according to a fact sheet.
The department is also requesting an additional $21.6 million to combat the effects of warrant-proof encryption on FBI investigations, a challenge the bureau calls "going dark." The department is requesting an additional $19.7 million focused on combating insider threats and efforts by foreign intelligence services to steal the department's data.
Following Through on NIST Framework for Agencies
The budget touts it aligns federal IT spending with a cybersecurity framework developed by NIST. That follows through on an executive order Trump released earlier this month that mandated federal agencies adhere to the framework.
"Comprehensive adoption of the NIST Framework will provide agencies with a common view and understanding of cybersecurity risk with other agencies, suppliers and vendors, and broader industry," a budget fact sheet states. "This shared language around cybersecurity risk can lead to more sharing of best practices, common language for requirements and capabilities, and more joint efforts between public and private sectors to improve cybersecurity risk."
NASA Shifts to Deep-Space Exploration
NASA would receive $19.1 billion in the president's budget, approximately 1 percent less than it received in the 2017 annualized budget. The budget request emphasizes deep-space exploration and aeronautics research—allocating $3.7 billion for development on the Orion crew and technologies to launch astronauts on deep-space missions. The budget also ups cybersecurity spending at the space agency. Conversely, it significantly reduces Earth-centric research, reducing Earth science research grants and cutting four Earth science missions entirely (PACE, OCO-3, DSCOVR Earth-viewing instruments and CLARREO Pathfinder).
Weather Satellites Still Funded at NOAA
The National Oceanic and Atmospheric Administration is the hardest hit of the agencies within the Commerce Department, which itself would receive a $1.5 billion decrease from 2017 annualized funding numbers. NOAA would receive approximately $5 billion, or $700 million less than what it requested in fiscal 2017. The budget cancels $124 million in federal funding for the Manufacturing Extension Partnership program, and axes $250 million in grant money and programs that target coastal and marine management and research. The budget call these programs "a lower priority" than NOAA's core functions. Importantly for weather forecasters, the budget maintains funding for two next-generation environmental satellite fleets, the Joint Polar Satellite System and Geostationary Operational Environmental Satellite programs, to remain on schedule.
Energy Department R&D Slashed
The Energy Department's R&D unit would be eliminated entirely under the president's plan. The Advanced Research Project Agency-Energy, known as ARPA-E, is redundant because "the private sector is better positioned to finance disruptive energy technology research and development," the administration said in the request, citing potential overlapping programs. The budget allots $20 million for program closeouts and aims to shut down ARPA-E entirely by mid-2019.
The budget cuts R&D funding elsewhere in the Energy Department, especially for applied research programs dedicated to energy efficiency and renewable energy, fossil and nuclear energy, and electricity reliability. Broadly, the administration "focuses federal activities on early-stage R&D and reflects an increased reliance on the private sector to fund later-stage R&D," including steps such as commercialization, "where the private sector has a clear incentive to invest."
Cuts to Health IT Offices
The budget proposes to reduce funding for the Office of the National Coordinator for Health Information Technology, whose missions include encouraging hospitals to adopt electronic medical records, by 36 percent.
The Health and Human Services agency needs to refocus "[n]ow that the vast majority of physicians and hospitals have adopted electronic health records through federal incentive payments," the budget states. A reformed ONC should work with the private sector more to ensure the adoption of more advanced health IT, it noted.
Border Security Technology and the Wall
The budget allots $44.1 billion to DHS, including $2.6 billion for "high-priority tactical infrastructure" and border security technology. Though details are sparse, those amounts include budgets for a physical wall along the U.S.-Mexico border, though the administration hasn't settled on a design yet, OMB Director Mick Mulvaney told reporters Tuesday.
"We are absolutely dead serious about the wall," he said.