US Government Websites Might Have Violated Ethics Laws by Promoting Trump's Mar-a-Lago Resort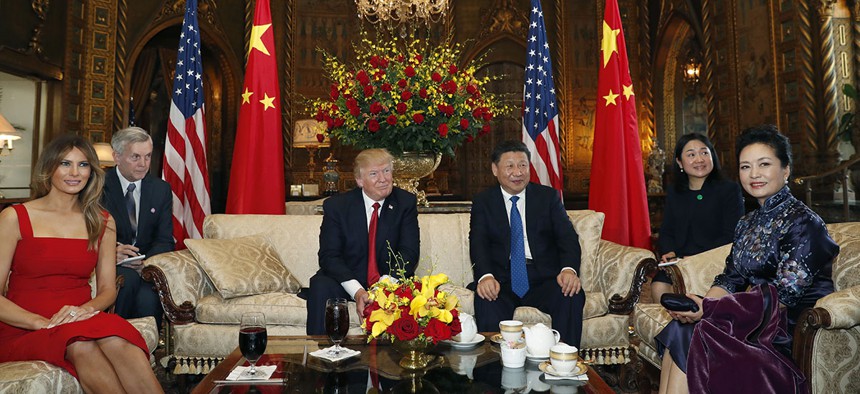 This article has been updated.
Former White House ethics officials are accusing the State Department of violating ethics rules prohibiting "the use of public office for private gain" by publishing an article that promotes Mar-a-Lago, Trump's private members-only club in Florida.
The article, which tells the history of Mar-a-Lago and dubs it the "winter White House," appeared on US embassy websites in the UK and Japan, among others, this week.
On Monday, the original post on which the UK and Japan articles were based was taken down, and replaced with the following message: "The intention of the article was to inform the public about where the President has been hosting world leaders. We regret any misperception and have removed the post."
The original post was "a clear ethics violation—it should never have happened," said Richard Painter, chief White House ethics lawyer under president George W. Bush and current vice president of ethics watchdog CREW, which is suing Trump over alleged violations of the constitution. "This is the use of public office for private gain. You can't be promoting Mar-a-Lago on state department websites—it's a business; you pay to join it."
Trump has already been criticized for giving Mar-a-Lago reams of free publicity since winning the election, as well as doubling annual membership fees to $200,000. In recent weeks, Trump has received both the prime minister of Japan and the president of China at the resort.
In an interview with Quartz, Painter said the person responsible for the article should be fired. "I strongly suspect that there are people higher up in government who approved and think this is a good idea, so they need to find out who approved it," he said.
Norm Eisen, chair of CREW and chief ethics lawyer under president Barack Obama, likewise called the article "outrageous." He likened it to White House counsel Kellyanne Conway's promotion of Ivanka Trump's jewelry, which the Office of Government Ethics (OGE) determined was a violation of a rule that prohibits using official channels to promote private business. "Perhaps because that was, to OGE's dismay, not punished, [Treasury secretary Steve] Mnuchin later did the same thing, promoting a film of his—and now this," Eisen said. "It's illegality run rampant."
Scott Amey, chief counsel at the non-partisan Project on Government Oversight, was more circumspect on whether rules had been violated, though he called the article "right on the line" and said it "shouldn't have been done."
"I can't believe that some ethics officer isn't raising concerns—even if it isn't a direct violation—and airing on the side of caution, saying, 'We really don't need to do this piece,'" he said.