The Government Finally May Have Found All Its Data Centers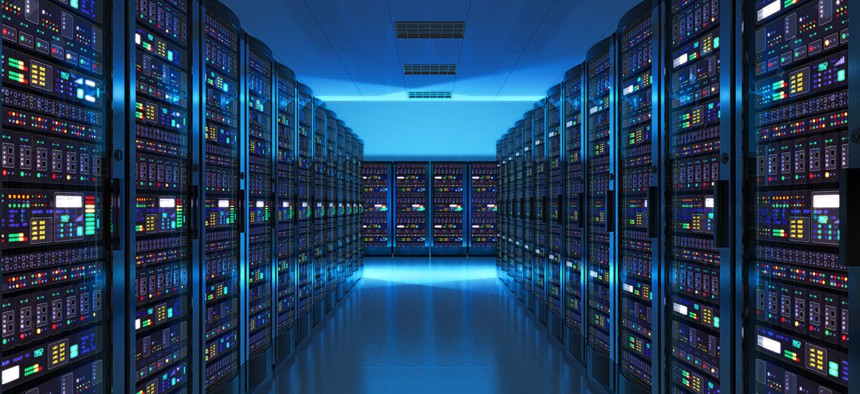 For years, the federal government has been trying to identify each of its many energy-guzzling data centers in hopes of closing many and saving money.
The effort began in earnest in 2010 with the Federal Data Center Consolidation Initiative—since superseded by the Data Center Optimization policy—when the data center tally stood at 3,133 and the Obama administration aimed to close 40 percent of them.
Yet, seemingly each year, the tally would balloon, either because agencies found previously unaccounted for data centers or because policy language describing what constitutes a data center would change. In 2013, the government estimated it had 6,000; later that year, the number climbed to 7,000 before the Government Accountability Office said the number was closer to 9,700.
» Get the best federal technology news and ideas delivered right to your inbox. Sign up here.
Now, almost seven years later, it appears as though "the number of data centers is stabilizing" around 10, 584, according to Dave Powner, director of IT management issues at GAO.
Powner testified Tuesday before a House Oversight and Government Reform Committee hearing on the performance of Chief Financial Officers Act agencies in adhering to the Federal Information Technology Acquisition Reform Act but spent some of his time talking about how much money the government stands to save by closing old data centers.
To date, Powner said agencies have closed 4,300 of nearly 11,000 data centers and achieved some $2.8 billion in cost savings and avoidances through fiscal 2015. Yet, Powner said, GAO estimates indicate at least $5 billion more in savings "is on the table," and possibly more than that, though it's difficult to gauge exactly how much because agencies are doing a poor job of reporting out-year savings.
"Agencies have saved about $3 billion with $5 billion planned," Powner said. "But agencies are only showing $500 million in out-year savings, one-tenth of what it should be."
Saving that money, obviously, would be a boon for agencies to rejigger formerly spent on legacy systems to "critical modernization needs," Powner said, and could be particularly useful if Congress passes the Modernizing Government Technology Act. The MGT Act would authorize agencies to create working IT capital funds to reallocate legacy savings and direct it to modernization efforts.
In any case, Powner said the rest of the federal government ought to follow the data center-closing lead of NASA, the General Services Administration, and the departments of Agriculture, Treasury and Justice. Combined, those five agencies are responsible for closing over half of the 4,300 shuttered data centers.
Luke McCormack, chief information officer for the Department of Homeland Security, testified Tuesday his agency had already closed 40 of 102 data centers, with plans to potentially operate with fewer than a dozen down the line. McCormack said how few data centers DHS could use would depend significantly on how often the agency is able to outsource data to the cloud.