Despite Improvements, Government Still Bottom of the Barrel in Customer Experience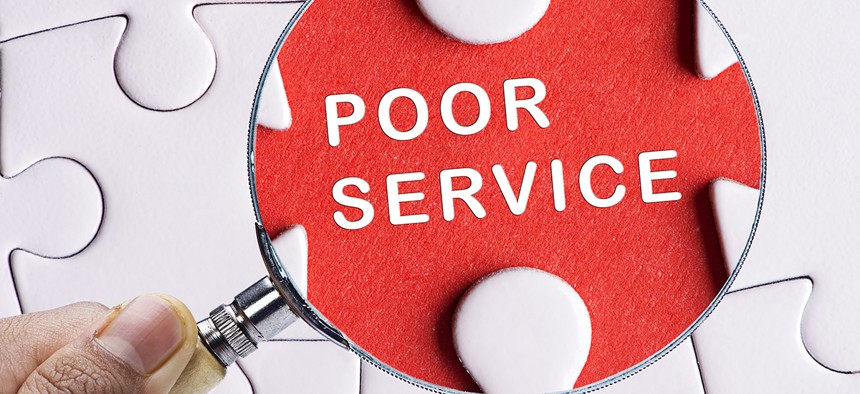 Overall, Forrester rates the federal government's average index as "poor," with agencies generally rating from "very poor" to "OK."
For the federal government, there was really nowhere to go but up in the latest Customer Experience Index released by Forrester Research. Yet, despite a better score this time around, the government still finished dead last—as it did last year—among 21 industries assessed by Forrester. 
The report scored 319 brands based on perceptions from 122,500 customers surveyed over the past 12 months.
Scores are based on how organizations "improve the customer experience in ways that drive mission success," according to Rick Parrish, senior analyst at Forrester, who wrote the report.
Overall, Forrester rates the federal government's average index as "poor," with agencies generally rating from "very poor" to "OK." A few— including top federal scorer National Park Service—were rated "good."
While the Obama administration's push to enhance customer service in government has led to pockets of success, most agencies are still in the infancy stages of improving customer service, according to Parrish. 
"The big picture here is some agencies are starting to get traction on managing customer experience in a systematic way," he told Nextgov. "Agencies have been trying to do this for years, but they've been flailing—there's been a lot of noise and action, but not a lot of progress. Some agencies now are figuring out how to improve their customer experience in systematic ways."
» Get the best federal technology news and ideas delivered right to your inbox. Sign up here.
Because the average scores in Forrester's Customer Experience Index are increasing, the government is likely to stay in last place for a while. Traditional banks, digital-only retailers, and auto and home insurance providers top the index, and even the scores of their worst brands never dip below "OK."
Even industries with comparable scores to the government in the index—internet and TV service providers and airlines—aren't going to be surpassed by the government in the near term.
"I do not see the federal sector overtaking any private sector industry anytime soon," Parrish said. "The other low-scoring industries are working hard on customer experience as well, and they are working on it more systematically than those individual agencies."
The White House established customer service as a cross-agency priority goal and more recently established a Customer Service Council of federal customer experience champions to share knowledge, best practices and use cases. But industry, Parrish said, remains much more driven to improve customer experience, partly because profit margins in today's competitive, connected era depend upon it.
Three entities were recognized among 28 brands that made at least a five-point increase from their 2015's third-quarter Customer Experience Index scores: the State Department's Bureau of Consular Affairs, the Internal Revenue Service and HealthCare.gov.
Unfortunately, despite HealthCare.gov's large improvement, it remained the lowest-scoring organization or program among the 319 rated.
Forrester will release its federal customer experience index in September, which will include individual agency assessments.