FAA Successfully Tests New Drone-Detecting Tech At Airport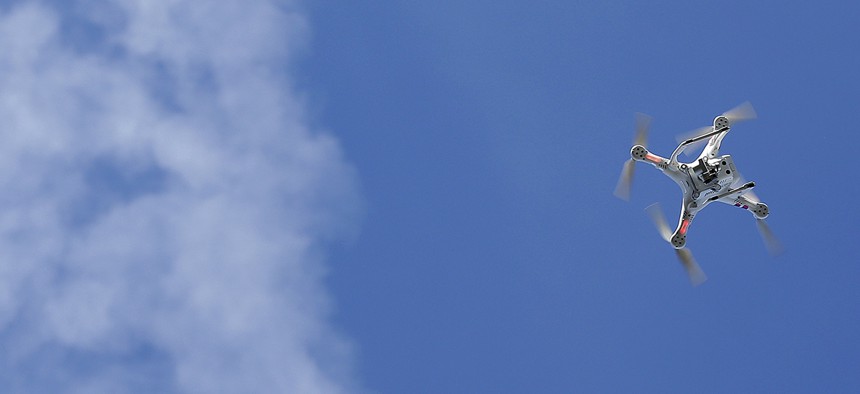 The Federal Aviation Administration says it can now detect drones flying near airports and find the drones' controllers on the ground. It's a development that could prove key to preventing future drone on plane collisions and marks a big step forward in integrating drones into commercial airspace.
The idea of hobby drones getting sucked into airplane engines causing mayhem and fiery crashes was the recurring scare story last fall after the FAA reported that the number of annual drone sightings by commercial pilots had quadrupled to 650, just by August. Fear not. Well, fear less.
Earlier this month, the FAA and defense contractor CACI successfully tested a new drone detection technology at Atlantic City International Airport. It's called SkyTracker, and it follows the radio signals that drones use to connect their operators, which would enable authorities to locate the rogue operator. From Jan. 25 to Feb. 2 the FAA conducted 141 tests, with drones both on the ground and in flight.
"SkyTracker successfully identified, detected, and tracked UASin flight, and precisely located drone ground operators – all without interfering with airport ground operations. We are very proud to partner with the FAA and DHS to help ensure national airspace safety from the escalating UAS threat," John Mengucci, CACI'S COO, remarked in an FAA press release last week.
According to its makers, SkyTracker also allows law enforcement to "initiate countermeasures that, unlike other technologies, do not interfere with legitimate electronics or communications systems in the area, or with UAS that are being operated responsibly as determined by the U.S. government," the company has said.
What sort of countermeasures do those include?
The company's literature doesn't say but last fall, at a House Transportation and Subcommittee Hearing, Rep. Peter De­Fazio, D-Ore., said they included forcing the drone to land, revert back to the operator, or "in the case of hos­tiles, they de­liv­er something to the op­er­at­or," presumably in the form of a jammed signal, at least. CACI did not immediately respond to a request for clarification.
Jody Brown, the company's executive vice president, confirmed to Defense One that they have deployed the system to the military but wouldn't comment on where, or even which military. They also list embassies and sporting events as the sorts of places where they could deploy SkyTracker.
Of course, there are lot of potential remedies for rogue drones floating (sorry) around.
Both Droneshield.org and Domestic Drone Counter Measures market drone detecting technology to consumers. But if you actually want to down a drone, the remedies vary in terms of legality and safety. The shotgun defense is legal in Kentucky, (for now), but actively jamming Wi-Fi or cellular signals, a control feature for many popular drones is illegal, at least for regular consumers. The Tokyo Police Department has dispatched drone-hunting drones armed with nets. Last August, Sen. Chuck Schumer, D-N.Y., proposed mandatory geo-fencing firmware upgrades, which cybersecurity researcher Michael Robinson quickly showed to be a very hackable solution for at least one of the most popular brands.
The FAA is one step closer to incorporating UAVs into commercial airspace, as mandated by Section 333 of the FAA Modernization and Reform Act of 2012. The test marks an important step forward in that process.
It's a good solution, but not a perfect one. A drone that could operate autonomously and didn't need to send or receive radio signals in order to fly would be impervious to the SkyTracker system. But autonomous drones? Who would ever make such a thing?