What Congress Hopes Agencies Learn from Atrocious FITARA Grades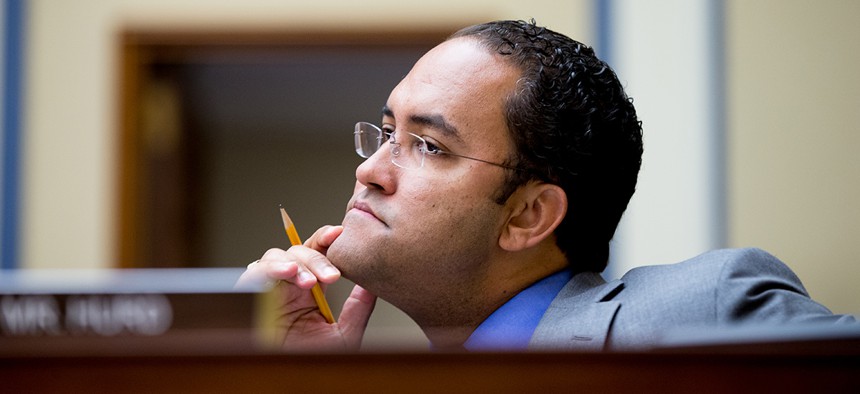 Agencies on average earned a D grade on new scorecards released by the House Oversight and Government Reform Committee.
When it came to their performance in implementing IT reform legislation, federal agencies got served this week with nearly failing grades.
Across four categories -- consolidating energy-guzzling data centers, chunking up big development projects into manageable pieces, holding line-by-line reviews of IT spending, and assessing the risk of major IT programs -- agencies on average earned a D grade on new scorecards released by the House Oversight and Government Reform Committee.
But a year or two from now, agency chief information officers might well be singing Drake's 2013 paean to self-improvement, "Started from the Bottom."
The scorecards tracking progress implementing the 2014 Federal Information Technology Acquisition Reform Act were "an initial assessment," FITARA co-author Rep. Gerry Connolly, D-Va., said Wednesday. And the results weren't published to "push or stigmatize" agency officials but to highlight areas for improvement, he added.
Connolly said he urges agencies to "seize this opportunity, and use the scorecard as a management tool to better guide decision-making and investments within the agency."
"While the grades themselves are illustrative of overall performance, it is the multiple elements that make up the grades on which agencies and our committee will focus to ensure we deliver on the transformative promise of FITARA," Connolly added.
If yesterday's scorecard marks were the bottom, agencies – and their newly empowered CIOs – will have a fully committed Congress and an active Office of Management and Budget backing them up to reach the top, lawmakers made clear at Wednesday's hearing.
IT subcommittee chairman Rep. Will Hurd, R-Texas, promised quarterly reports on agency progress and future FITARA-related hearings involving agency acquisition officials.
Hurd also didn't shy away from technical questioning – a road rarely traveled by lawmakers in a subject as arcane as federal IT – including a lengthy exchange with Transportation CIO Richard McKinney over why so few of the agency's IT projects – nine of 59 – are producing deliverables every six months as required.
In its FITARA scorecard, Transportation received an F in the category of certifying projects using incremental development, and an overall grade of a D.
The biggest reason for the bipartisan support of FITARA is money.
The federal government spends some $86 billion on federal IT. Yet, much of that money is wasted on duplicative systems or legacy technology dating back several decades, said House Oversight Chairman Jason Chaffetz, R-Utah.
FITARA aims to reduce the government's IT spend and make the spend more transparent to internal stakeholders and the public, although it's difficult to gauge how much of a financial impact the law will create.
What is true, however, is that agencies are missing out on billions of dollars in savings right now, said Dave Powner, director of IT management issues at the Government Accountability Office.
GAO is in the midst of tracking legacy IT spending across government and released subsequent IT guidance Wednesday. Powner said the government sometimes struggles to get a handle on its IT investments, even important ones like data centers, which McKinney called "foundational" to any IT enterprise.
Powner told Congress that the government -- as part of a years-long effort -- has identified a total of about 11,700 data centers. That updated count is nearly double what the government thought it had even two years ago, making it difficult to estimate how much could be saved by closing them. Very few of the "new" federal data centers in the latest count are actually new, either. The vast majority simply hadn't been accounted for.
Nonetheless, the government has closed 3,300 data centers so far, with savings of $2.5 billion, Powner said. There are plans to close another 2,000 to save a total of $8 billion.
Yet, Powner said agencies could be saving more, but they've "lowballed their targets" or haven't submitted new cost estimates at all.
Federal CIO Tony Scott said he wanted to make sure agency progress isn't merely "rubber stamped" by his office.
Scott said he'll be releasing a series of new guidelines for agencies to follow that target spending visibility "at all levels" of agencies.