Air Forces Cyber turns focus to information operations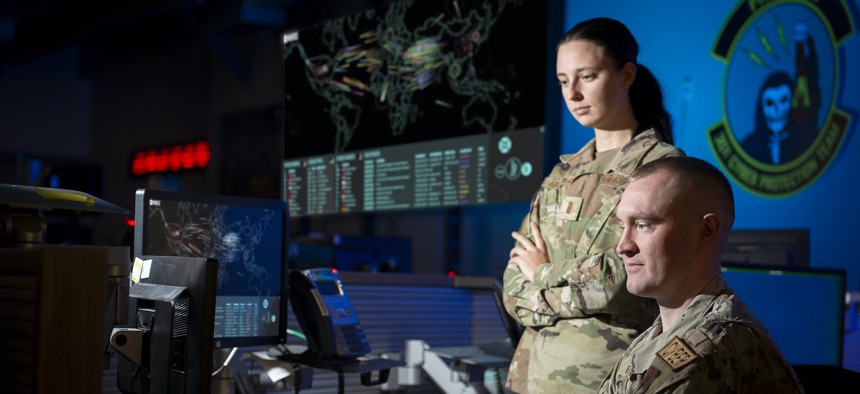 New training effort will teach how to target disinformation campaigns and how to influence audiences.
The U.S. Air Force's cyber command will devote more time to training airmen in information warfare—from uncovering disinformation campaigns and networks to attempting to influence the audience themselves—its commanding general said.
"We've been charged as the operational level of information warfare for the United States Air Force. So with that, in the construct that we're building out, our information warfare operations center is going to lead," Lt. Gen. Kevin Kennedy, who leads 16th Air Force, said during a Mitchell Institute for Aerospace Studies event Wednesday. 
The U.S. military has spent relatively little effort on influence operations compared to China and Russia. 
"Adversaries are already looking to manipulate us through the [information] domain," Kennedy said. "They're doing it to gain insights. They're doing that to shape our perceptions, and eventually they're doing that to try and shape our behavior.
"That's what our activity is going to help with, and we have more experience in that than a lot of places in the U.S. Air Force, just based on our alignment with U.S. Cyber Command, so we have a lot more planners that have done information operations planning and bringing together more of the information warfare capabilities, and that's one of the aspects that we're looking at bringing to the other" air combat commands.
About a year ago, Kennedy met with the other 16th Air Force commanders to discuss how to improve information warfare, and they decided to focus on training. Now information operations must be fully integrated into broader non-kinetic effects such as electronic and cyber warfare, he said.
"We're working through the information warfare operations center concept…to understand how our operations activities and investments in competition are creating a baseline understanding of the information environment and influencing the information environment, and what our adversaries' perceptions are."
Away from the battlefield, the Air Force will do more work with other partners in the government to better reveal adversary information operations before they go viral and combat them, he said. That may mean reaching out to social media companies to discuss possibly adversarial campaigns, a practice that was somewhat controversial when the Cyber Infrastructure Security Agency attempted it. 
Kennedy didn't touch on the fight currently playing out in Congress over the question of foreign information campaigns and whether the government has a responsibility to reveal and thwart them. Instead, he used his time to remind the audience that foreign disinformation campaigns are very real and could have effects on the battlefield.
"We're looking at our adversaries trying to create the negative perception that there is no reason to fight, that there is no reason to contest the [People's Republic of China]. Where there's disinformation and misinformation, we're looking to expose that. We're looking to see [how different actions] align with the authorities of our various hats. We're looking to remove the information, the infrastructure that they're using to propagate that message. So we partner closely through, generally, U.S. Cyber Command. But sometimes [we partner with] the interagency if we see terms of service violations on social media. Social media is the battleground for this activity."