Army looks to de-tangle its networks to combat China's 'digitally native' military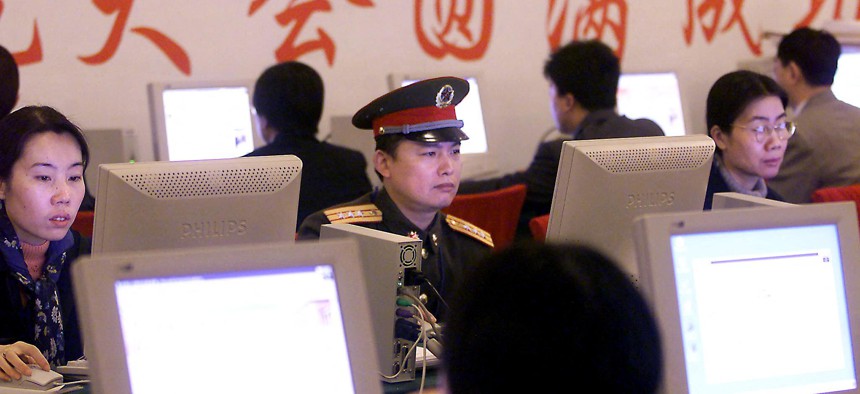 By year's end, troops should be able to jump on a network from just about any location, an Army cyber leader said.
It would be a huge mistake to assume China's military is as poorly networked as Russia's, a top Army leader said Tuesday. 
They "leapfrog some of the technologies because they didn't have to go from analog to digital, right? As they were building their tanks and their ships and their aircraft, they were essentially native from the get-go," Young J. Bangs, the Army's principal deputy assistant secretary for acquisition, logistics, and technology, told an audience at the TechNetCyber conference in Augusta, Georgia.   
It's one big reason the Army must accelerate various efforts, including detangling its network, making data more traceable, and buying software faster than the hardware, he said. 
Another is shrinking its electromagnetic signatures. Unless the U.S. military can modernize its data structures to reduce power and emissions, its impressive arsenal of "exquisite" equipment might become  more of a liability than an asset, Bangs said.
"Capabilities have now exponentially gotten bigger, require more power, have different signatures, and we are…a Christmas tree when we light up. And so we have to really be focusing on more of the low signature, right? Because our threat, our peer threat in China, they can see us as well as us, arguably, sometimes better [than we can see ourselves.] And when we go and turn on our equipment, we'll just be blaring targets for them, just like Russia is right now in Ukraine."
The Army needs to better understand how much energy, radio signal, or data it is emitting on the battlefield and prioritize traceability, observability, and automated consumption of data and replaceability of software and hardware, he said. 
Bangs said this effort will be helped by current efforts to allow the Army to acquire software according to rules that better reflect the fast pace of development of information technology, not the set that governs the acquisition of hardware. 
"There's a memo already that's been signed…that separates the software material release process and the hardware material release process. So again, hardware can go refresh at their own cycles, and software can refresh at a faster cycle," he said.
Reducing the sheer number of different network setups will also help, said the Army's deputy chief for cyber.
"Today, we have 14 different organizations that are providing their own unique network services," Lt. Gen. John Morrison Jr. said at the conference. The goal is to "reduce to one, possibly two, all being delivered through Army Cyber."
That's no small feat for the U.S. Army, which, people used to joke, has more variety of radios than France does cheese. Morrison said that he recently undertook an expansive review of all the different IT and network requirements across the service. 
"We are now really coalescing those requirements down from, I think we were up above 70ish, different requirements documents down into something that we can hand over to the material developers that make sense and doesn't box us in and allows us to get after this notion of continuous modernization," he said.
The Army is also looking to enable its forces to access a network from any location or device.
"Right now in the Pacific, you can travel anywhere around that [region] and plug into the network. By the end of this calendar year, you'll be able to do it globally, and you'll be able to do it securely," Morrison said. "So think about from an operational perspective, a unit…getting to the distant end and immediately being able to plug in. We have been talking about that for years."
He said troops should be able to access the military's unclassified network by the end of 2023, and the classified net by the end of next summer.