Air Force taps enterprise IT director as new CIO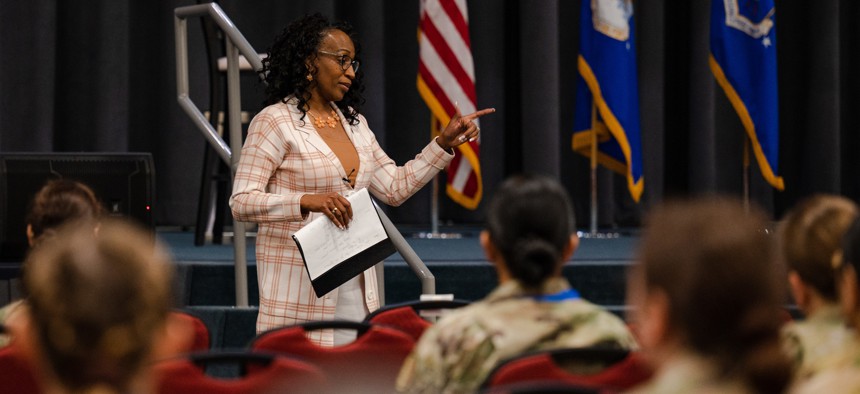 Officials confirmed the armed service named Venice Goodwine to replace outgoing CIO Lauren Knausenberger.
The Air Force has its next chief information officer already in place two months after the position became vacant. 
An Air Force official confirmed to Nextgov/FCW Tuesday that enterprise IT director Venice Goodwine had officially stepped into the role on Aug. 13, succeeding former CIO Lauren Knausenberger, who resigned in June after two years as CIO and six with the armed service. 
Federal News Network first published news of Goodwine's selection Tuesday morning. 
Goodwine has helmed the Air Force's enterprise IT efforts for the past two years, following a more than two-year tenure as the Agriculture Department's chief information security officer. 
Upon her return to the Air Force's C-suite in 2021, Goodwine helmed the acquisition of its $5.7 billion Enterprise-IT-as-a-Service Wave 1 contract, , which provides enterprise technology services for more than 800,000 Air Force and Space Force personnel.  Her work on the contract — as well as overseeing an $8.2 billion portfolio of enterprise solutions servicing more than 360,000 personnel and contractors — helped make Goodwine a 2023 Federal 100 recipient.  
She has extensive armed services experience, having worked with the Air Force and Marine Corps in multiple technology and cybersecurity roles. 
According to an Air Force biography published Tuesday, she began her military career as an signals intelligence analyst in 1986 and served as an officer in the reserve until her retirement in 2022.