Navy 'setting the pace' among services, principal cyber advisor says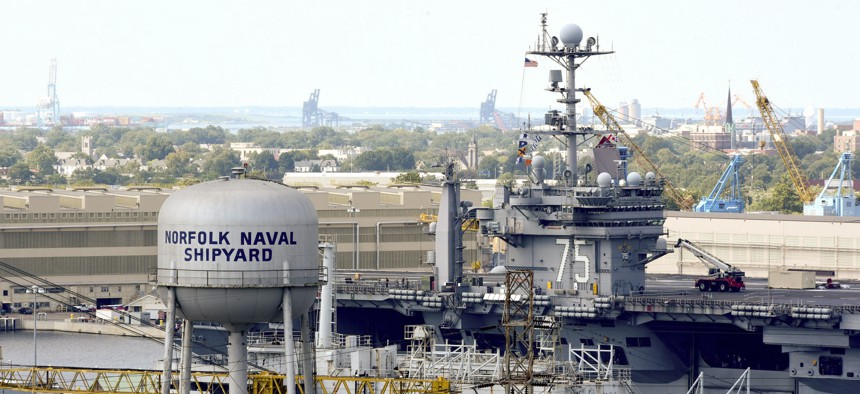 SAN DIEGO—The Navy is "setting the pace" among the services' efforts to protect infrastructure and technology with pilot programs and a forthcoming cyber plan, the Navy's principal cyber advisor said Tuesday.
Chris Cleary said he is pushing his counterparts in other services to implement MOSAICS, a prototype tool for protecting industrial control systems that partner Johns Hopkins Applied Physics Laboratory calls "the first-ever comprehensive, integrated and automated solution" for the job.
"Can we agree MOSAICS is the way we're going to proceed so we're not chasing the next good idea fairy, right? It's a solution. It may not be the most perfect thing in the world, but it's better than continuing to chase" the idea of perfection, Cleary told reporters at the West 2023 conference on Tuesday.
Cleary, who oversees his department's cybersecurity efforts and informs budget and strategy planning, said he is "aggressively" pushing to make MOSAICS the standard across the services, including creating a sample program office. 
"The Navy is setting the pace now for how we're going to get after securing defense critical infrastructure," he said. "I work very closely with the other principal cyber advisors. We have now taken it upon ourselves to be, again, sort of the lead advocates for how we're going to get after deploying defense critical infrastructure security within the departments." 
Another nascent effort is the Situational Awareness, Boundary Enforcement and Response, or SABER, a joint capability technology demonstration designed to secure critical defense infrastructure.
Cleary said the Navy will release its new Cyberspace Superiority Vision plan in the next month, after the Pentagon releases its own cyber strategy. He released a preview in October; the final 10-page plan will have seven lines of efforts, including protecting operational technology and defense critical infrastructure.
The "pacing threat" is China, Cleary said.
"They are well-resourced, dedicated and sophisticated. They're going to continue to find ways to deliver effects against all the things that we do in the department, both the Navy and the Marine Corps to impede our ability to do things forward," he said.
Later, the Pacific Fleet commander echoed this in his keynote.
"I do have concern about potential cyberattacks to U.S. infrastructure and [industrial control] SCADA systems that could exacerbate our ability to deploy the force rapidly in response to operational warning of any act of aggression," Adm. Samuel Paparo said Tuesday. "And I think that it requires unending vigilance in our cyber systems, in our port systems, and it requires a greater focus on ensuring that more of the fleet is ready to deploy on a moment's notice."