Expect AR/VR on the battlefield, Air Force CIO says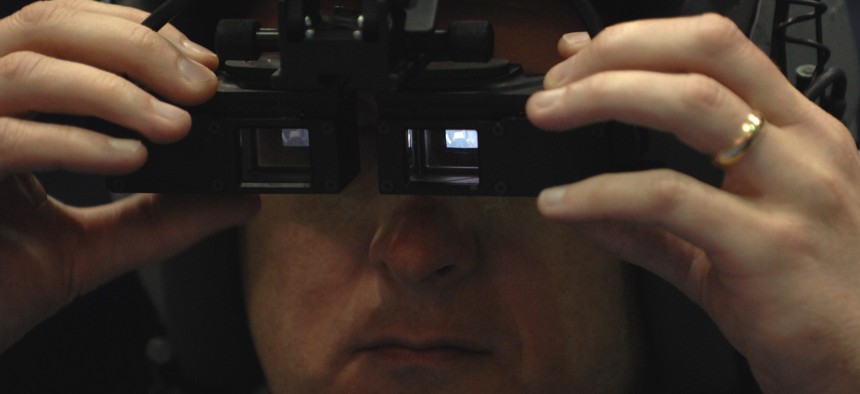 Augmented- and virtual-reality gear will become more than just a training tool, Knausenberger says.
Expect tomorrow's airmen and guardians to use augmented- and virtual-reality tools to fight real battles, an Air Force leader said Wednesday.
"We're doing some pretty cool stuff across the Department of the Air Force with AR/VR, with our maintainers and with our pilots. And AR/VR, in some cases, it's gotten so good that you really can feel like you were there and experiencing something," Department of the Air Force CIO Lauren Knausenberger said at a Mitchell Institute event. "And so I think that there will be increasing use cases where we are using AR and VR and where we are moving something throughout a battle space, for instance."
Augmented and virtual reality tech isn't new, but has become more prevalent for uses outside of video games. And for the military and intelligence community, it's a multibillion-dollar space. The Air Force has been toying with the idea for years, experimenting with AR/VR to assist airmen prepare aircraft for combat missions and used helmets outfitted with the tech to help pilots train for encounters with enemy fighters. Moreover, the Air and Education Training Command has been testing models that let airmen train with VR and artificial intelligence simultaneously. 
The Army has also been developing its synthetic training environment. It took a big swing with a more-than-$20 billion contract to field goggles that promise to improve soldiers' ability to navigate the battlefield. The Navy, like the Air Force, has been using the tech for maintenance and repair training. There's also potential for it to be used to help with training for unmanned vessels and communications systems. 
And with the growing popularity of AR and VR tools, it's possible that learning skills and tasks in a virtual-but-tactile world could become not only second nature but highly effective.  
"I was talking with some of my friends the other day, about how when I write something in a notebook, I actually remember it more than if I type it onto a piece of paper. And maybe that's just because that's where I started in school," Knausenberger said. "People that start [learning] more in an AR/VR world where they're kind of in a simulated environment, tactically moving the world around them…Are they going to remember that kind of more kinesthetic learning in an AR/VR space?"
Some research suggests the answer is yes, AR/VR can help improve recall in K-12 students particularly for complex subject areas, like science and technology. It's also been linked to improved mental and physical health.  
But don't ditch your keyboards just yet, Knausenberger said.  
"It's definitely a fascinating look. I think we have options," she said. "But I think for the next few years, we'll be doing our day-to-day business and numbers, probably with keywords and our battle space and training increasingly with AR/VR."