The Ukraine war is teaching the U.S. how to move intelligence faster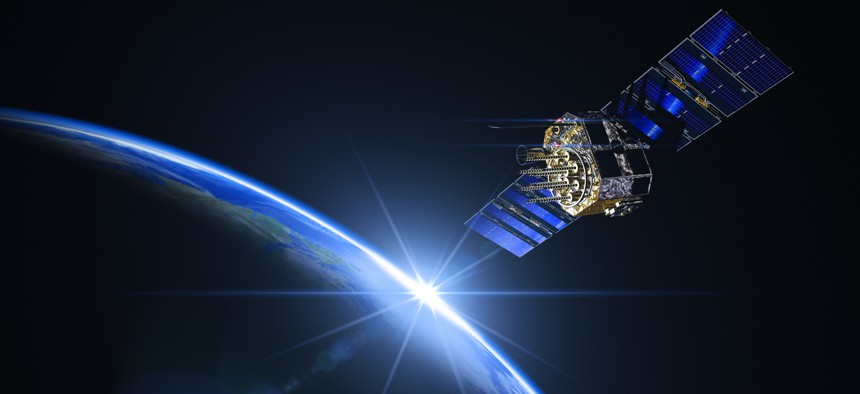 Ukraine's swift counter-offensive owes much to U.S. weapons, planning, and intelligence help. But the U.S. Army is benefitting as well: by learning how to move intelligence much faster from satellites to ground units.
Part of the answer is planning: making sure satellites are available to gather data when and where commanders need it.
That means "trying to locate where the targets are now in the targeting board, you know, making sure that the effect that the commander wants on the battlefield is there and it's right there in the stack," said Lt. Gen. Daniel Karbler, the commanding general of U.S. Army Space and Missile Defense Command.
Plans must include getting permission to access those satellites, Karbler told reporters at the Association of the U.S. Army conference on Wednesday. "We could sit there and we can have a plan out there. But sometimes you have to get authorities at the right level. And if you're waiting for authorities to come down, because you haven't put them into the plan initially, then that flashbang…it's going to be much longer,`` he said.
Part of the answer is new software tools. For example, U.S. defense contractor Palantir has developed MetaConstellation, which allows a user to specify a time and ground location—say, where you recently launched a HIMARS strike against a Russian tank company—and get an AI-assisted search of all the relevant data gathered by passing satellites, whether radio signals, thermal imagery, or aerial photos. This allows a ground commander to do the kind of search that used to be possible only at higher headquarters, and the results appear far faster than the days it might otherwise, Palantir officials said.
 That's further enabling the sort of highly mobile, highly maneuvering combat that Ukraine is using to push back Russian forces.
"This war is being fought really by like a bunch of small units, right?  They're going out and they're running their mission in a certain area. How do we empower that unit to basically be working off of imagery from today for their targets and understand the success or failures of other units' strikes or impact on those targets?" a Palantir official told Defense One. 
"We're working now on this thing called Skykit, which is, like, basically this software in a Pelican case with a Starlink [satellite internet connection] attached to it. And it's like, how do you give them a laptop, a Starlink and a ruggedized case so that any unit in their truck can go back and do all this work in a fully offline disconnected fashion? These little autonomous units, how do we empower them?"
In April, the U.S. Army launched a program to help Ukrainians much more quickly spot and respond to Russian drones. Lt. Gen. Jonathan Braga, who leads Army Special Operations, told reporters that "anything that provides early warning on adversarial drone reconnaissance allows you to make sure you maintain survivability and move before you know you're being shot at."
He said that the Army is "just trying to help the Ukrainians as they iterate through this in this moving battlefield right now."
But the United States doesn't have forces operating in Ukraine and is focused on not becoming a party to the conflict. So how do you provide intelligence support, down to individual, fast-moving units, without people onhand? The Army is realizing that to make that transfer better they need to establish a new working partnership between special operations, space, and cyber assets. 
In addition to the work that the Army is doing with Ukraine, they are also experimenting with new special operations, space, and cyber partnerships. Some of that experimentation will play a part in the Army's big Project Convergence experiment taking place next week.