L3Harris wants to add drone data streams to night vision goggles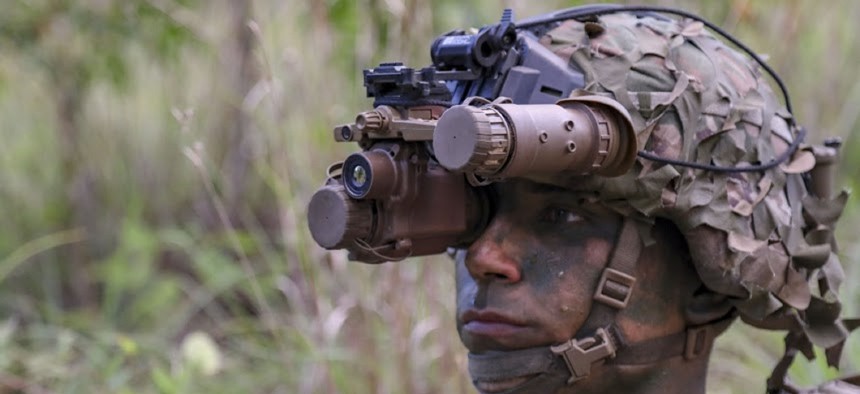 Improving image quality and broadening the amount of data feeds available are priorities for future versions.
The next version of the U.S. Army's night vision goggles could feature a way for commanders to see what soldiers are seeing. That is, if the Army wants that capability. 
The Army selected L3Harris and Elbit Systems of America to develop its Enhanced Night Vision Goggles - Binocular in 2020. The goggles are designed to fit over a soldier's helmet and give them key information, such as location and map data, thermal imaging, and rapid target acquisition or line of sight connected to a soldier's weapon for accurate shooting. 
But as the Army moves to center data and information throughout its enterprise and operations,  L3Harris wants its version of the goggles to include data from more sources, including unmanned systems.
The company's goggles currently have GPS and a compass, and soldiers have the option to see or hide features. Data comes in wirelessly through their radio, then moves to their end-user device—such as a phone—and through a situational awareness system called Nett Warrior to display a series of icons and other information and develop a clear sense of what's going on in a given situation in the goggles' field of view. 
The result is a real-time display of what's physically in front of a soldier plus information on "where other soldiers are, where their enemy locations are, templated potentially with routes and waypoints that you want to go on," Leith Ames, L3Harris' director for business development, told Defense One at the Association of the U.S. Army's annual conference. 
Improving image quality for distance and clarity in very low-light conditions is a priority, as well as other features that can improve soldiers' situational awareness. That means finding what else can plug into the display, called ENVG-B, such as UAV feeds and other sources.
"That's a really interesting aspect because, potentially, if you're around the corner, and I'm a leader and I want to see what you're seeing, I could essentially hit a button and see your camera…this first-person view of what you're seeing," Ames said. "That can happen. The infrastructure is there, the technology is actually there, then it's a matter of getting it implemented if desired."
Any future development of the goggles would have to be OK'd by the Army, but industry companies are betting on the value of demonstrating what is possible before it becomes a program requirement. 
The military service has already received several thousand pairs of night vision goggles, but could get up to 100,000 under the $442 million contract for the program of record. For the latter, about 9,000 goggles have been funded so far. L3Harris plans to ship out more in the beginning of 2023.