Space chief nominee worried about launchpad 'traffic jams'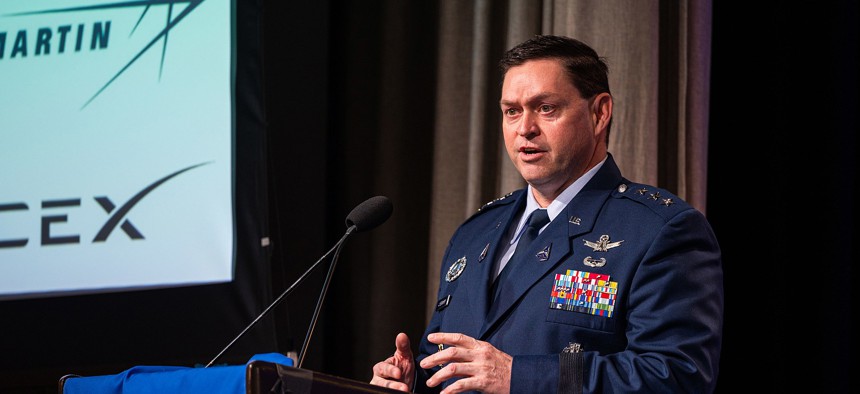 The Space Force will "need to look at other opportunities" as launch cadence grows, Lt. Gen. Chance Saltzman told lawmakers.
The increasing commercial use of launch pads and other space infrastructure could eventually hinder the Pentagon's ability to deploy new satellites when and where they're needed, the nominee to lead the Space Force told lawmakers on Tuesday.
"Currently, our capacity on our ranges meets the governmental needs, but with the proliferation of small satellites, that's going to change rapidly," Lt. Gen. Chance Saltzman told the Senate Armed Services Committee during his confirmation hearing to be the chief of space operations. "The number of launches is going to go up dramatically and we're going to need to look at other opportunities."
The Space Force deputy chief of space operations was responding to Sen. Tim Kaine, D-Va., who asked about the dangers of a "traffic jam" at military launch facilities as more launch companies attempt to launch the huge numbers of small satellites required for some constellations, like those required for internet services planned by SpaceX or OneWeb.
One way to make sure the Pentagon can launch anytime, anywhere is by increasing the number of launch providers and pads available to the Defense Department, Saltzman said.
Saltzman was tapped to replace Gen. John Raymond, the first chief of space operations, who took over the Space Force when it was established in 2019. Because Raymond transferred over from being the head of U.S. Space Command, Saltzman is the first nominee for chief of space operations to testify before Congress. 
Most American launches lift off from Space Force ranges in Florida and California. In 2019, the Florida launchpads handled 19 launches, while officials touted a "drive to 48" slogan, setting a goal to be able to launch 48 times in one year, or almost once a week. This year, the Florida base is on track to oversee more than 60 launches, Col. Mark Shoemaker, the vice commander of Space Launch Delta 45, told Spaceflight Now. That number could grow to 100 by 2023, an official told MyNews13.
Last month, the base hosted two launches just 12 hours apart, the first time there were two launches in a day from Cape Canaveral since 1966.
But the growing number of launch providers and the rise of small satellite constellations is expected to exponentially increase the demand for launch windows and infrastructure. More than 1,000 satellites are expected to launch in 2025, nearly three times the 365 that launched in 2018. Just one company – Astra, a California-based small launch startup – is anticipating launching about 300 times in 2025, more than double all global launches combined last year. 
That rapid increase in launch cadence could increase the use of spaceports, like the Mid-Atlantic Regional Spaceport in Wallops Island, Va., or the Pacific Spaceport Complex – Alaska on Kodiak Island. 
Saltzman said the Space Force is working with other federal agencies on a "national spaceport strategy" that would include Wallops, which is in Kaine's home state. 
A 2020 study found that the Defense Department handing off management of launch sites to an office tasked solely with operating spaceports could help the overall space economy grow, UPI reported.
Increasing SATCOM readiness 
The Space Force is in the process of absorbing satellite communications responsibilities from the Army and other services; it's "one of the most important things" the service has done, Saltzman said. Having it under a single service branch "gives us a lot of authorities, responsibilities and opportunities" to increase units' readiness." 
But there's concern that as the military increasingly relies on SATCOM, there won't be enough people to fulfill the missions. 
Sen. Mazie Hirono, D-Hawaii, said Regional SATCOM Support Center Pacific "has not seen corresponding manpower increases to handle this additional work."
Saltzman said the Space Force is redesigning how it assesses readiness for those units, particularly those from other services. 
Themes of personnel, training, and general preparedness ran through Saltzman's testimony.
"As seen in the current conflict between Russia and Ukraine, Russia's disruption of commercial satellite communications and the providers' prompt adaptation to restore service is but one example of what we can expect in the future, but on a far greater scale," Saltzman responded to a policy question on electronic warfare. 
"As such, the USSF must develop and field a diversified array of active, adaptive, and networked electronic warfare capabilities…We must develop and employ cutting-edge technology to expand our maneuver space and provide the Joint Force maximum operational flexibility while denying a potential adversary the ability to do the same."
The general also mentioned training concerns for the highly technical service, highlighting several equipment deficiencies. 
"If we have exquisite weapons systems, exquisite systems on orbit to provide joint capabilities, but our guardians, our operators don't have the skills, the training, the experience they need to make the most out of those systems, then I feel like we're not really fully combat ready, fully ready to do those critical mission tasks." 
Saltzman told senators the Space Force needed to invest in testing and training infrastructure capabilities, like simulators and ranges that allow operators to practice tactics. The Space Force also doesn't have the ability "to link multiple units together" so they can practice coordinating, something that is required during large force employments, he said.  
"We've just been operating in a benign environment for so long we didn't need to necessarily have those capabilities," Saltzman said. But that must change in the coming years, he said.