Author Archive
Jacqueline Feldscher
Senior National Security Correspondent, Defense One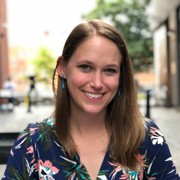 Jacqueline Feldscher is senior national security correspondent at Defense One. Previously, she was national security and space reporter at Politico. Before that, Feldscher covered defense issues in Congress and at the Pentagon for the Washington Examiner, the Washington Times, and Navy Times, covering the Navy and Coast Guard. She's a graduate of Boston University, and holds a master's in journalism from the Medill School of Journalism at Northwestern University.
Emerging Tech
America needs a long-term goal in space to be able to compete with Beijing, Pentagon industrial-base group writes.
CXO Briefing
The House Armed Service Committee's topline is more than Biden's budget request, but less than that of its Senate counterpart
CXO Briefing
Just six weeks after requesting $773 billion for 2023, the Pentagon's No. 2 acknowledges the military may need more money, due to inflation.
---
Policy
Improvements spurred by Russia's invasion will help the industry long after the fighting ends.
CXO Briefing
Rep. Adam Smith: Putin's war "fundamentally altered what our national security posture" needs to be.
By

Marcus Weisgerber and Jacqueline Feldscher
Policy
The Pentagon has said it will not seek an exemption to the climate goals.
Emerging Tech
Space professionals worry the National Space Council is ceding its defense portfolio.
By

Marcus Weisgerber and Jacqueline Feldscher
Emerging Tech
A Space Force official says the service is considering how to respond to attacks in orbit.
CXO Briefing
The Pentagon does not need the must-pass bill to operate, experts say.
Policy
The proposed amendments to the NDAA include ideas on Afghanistan, China and extremism in the ranks.
CXO Briefing
"It's taking the top slot from the counterterrorism mission over the past 20 years," said John Doyon, executive vice president of INSA.
CXO Briefing
Biden says he will approve Austin's recommendation to require vaccinations by mid-September, or sooner if the FDA formally approves them.
Cybersecurity
Service branches differ in their engagement with anti-Black extremism or anti-Semitic conspiracy theories, internet research firm says in upcoming report.
CXO Briefing
Private industry is launching at a pace with which the military's space-surveillance system can't keep up. Now lawmakers say the Commerce Department's fix is running late.