Author Archive
Jacqueline Feldscher
Senior National Security Correspondent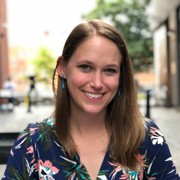 Jacqueline Feldscher is senior national security correspondent at Defense One. Previously, she was national security and space reporter at Politico. Before that, Feldscher covered defense issues in Congress and at the Pentagon for the Washington Examiner, the Washington Times, and Navy Times, covering the Navy and Coast Guard. She's a graduate of Boston University, and holds a master's in journalism from the Medill School of Journalism at Northwestern University.
CIO Briefing
"It's taking the top slot from the counterterrorism mission over the past 20 years," said John Doyon, executive vice president of INSA.
CIO Briefing
Biden says he will approve Austin's recommendation to require vaccinations by mid-September, or sooner if the FDA formally approves them.
Cybersecurity
Service branches differ in their engagement with anti-Black extremism or anti-Semitic conspiracy theories, internet research firm says in upcoming report.
---
CIO Briefing
Private industry is launching at a pace with which the military's space-surveillance system can't keep up. Now lawmakers say the Commerce Department's fix is running late.