Defense intelligence director voices support for a cyber-specific intel center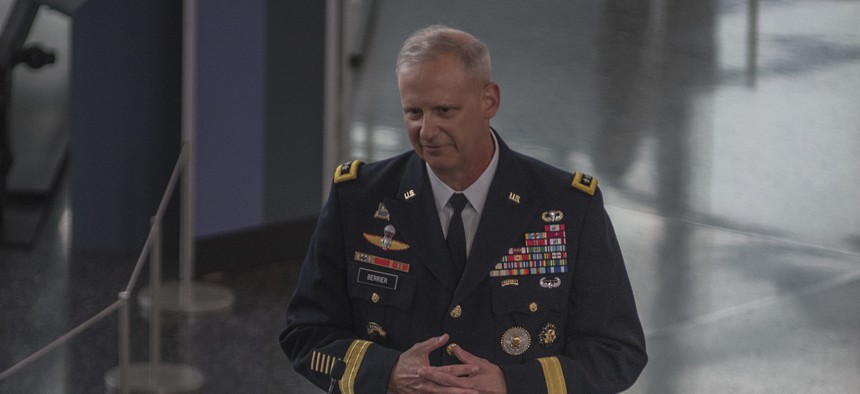 DIA Director Lt. Gen. Scott Berrier said his agency needs "to get our act together on intelligence support to cyber operations."
The U.S. intelligence community needs to prioritize its support for government-backed cyber activities, including exploring the development of a center dedicated to sharing collected information, Defense Intelligence Agency Director Lt. Gen. Scott Berrier said during a Center for Strategic and International Studies event on Wednesday.
"I would say that we need to get our act together on intelligence support to cyber operations," Berrier said, adding that "DIA is not postured right now to deliver everything that we probably could."
Given the number of military services underneath the Defense Department's umbrella, he voiced support for the development of "an intelligence center that supports cyber" and referenced the National Ground Intelligence Center and the National Air and Space Intelligence Center as examples of centralized centers that provide more targeted military assistance.
Berrier said "there's a long dialogue going on right now" with U.S. Cyber Command, the National Security Agency and lawmakers on the Hill "on what does 'right' look like for intelligence support to cyber."
DIA is also in the process of modernizing its legacy database system for capturing and generating all-source foreign intelligence with a new platform called the Machine-Assisted Analytic Rapid-Repository System, or MARS. The system is expected to become fully operational in 2025. 
MARS will include a cyber module, which Berrier said "will be very helpful" on its own in enhancing information sharing capabilities moving forward. He added that the new system will also utilize artificial intelligence and open source data to augment information that "we can buy" and "we can steal," but that it will not replace the human intelligence component that is still needed to make more strategic decisions.
"It gives analysts, through alarms and tippers, ways to analyze what's happening and techniques that we haven't used before," Berrier said, adding that "AI and handling the big data will give you trends, but it doesn't give you an enemy commander's intent."
Berrier called it "a great example of how we're already sort of starting down that road" toward using more advanced tools and technologies to bolster information collection and sharing efforts, but stressed that DIA would do it "very carefully and deliberately and lawfully."