CISA sees 'routine and standard' security reports at beginning of Election Day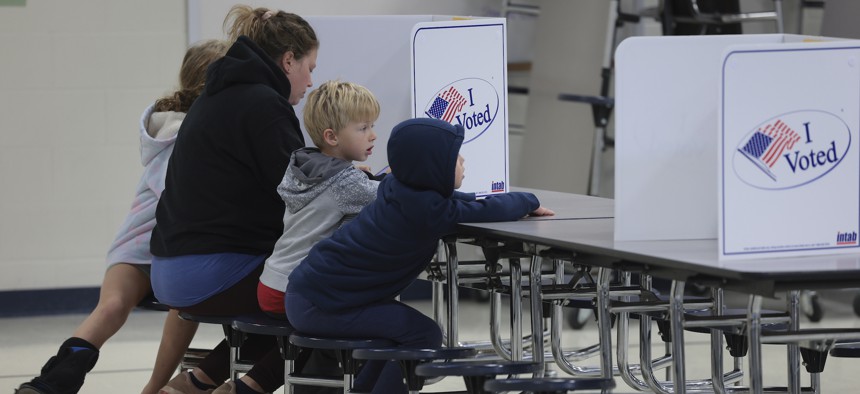 Working extensively with local jurisdictions, "it's all about communication," a Cybersecurity and Infrastructure Security Agency official noted.
As dozens of jurisdictions in the U.S. cast ballots for local races on Election Day 2023, the Cybersecurity and Infrastructure Security Agency is increasing election security operations to encourage swift information sharing efforts on what could pose a threat to digital voting.
So far, the only disruptions that have been reported to CISA from local districts have been "routine and standard," or nonmalicious, a senior CISA official told reporters on Tuesday morning.
Agency efforts to prevent cyberattacks on digital voting systems, including manning the Election Operations Center, located in Arlington, Va. and designed to offer support for local election officials via industry, advocacy and private sector partners working with CISA to secure U.S. election proceedings. 
CISA will be on call working with external partners to monitor any suspected threats that are reported by one of the thirty states holding elections today.
"Really when it comes to today…it's all about communication," the official said. "Communications with election security experts, communication with state and local election officials, communication with you all and to the American public."
Some of the potential election day issues will be standard disruptions, such as human error or natural forces. But CISA will be working alongside partnering state and local election officials to monitor, share and analyze threat incident reports on Election Day. 
"We continue to see new specific and critical threats to disrupt election infrastructure or election day operations," the official said. "However, that doesn't mean we're not going to see anything go wrong today."
The multi stakeholder collaboration on CISA's Election Day preparation is critical to the agency monitoring the threat landscape in U.S. voting ahead of the 2024 presidential election. The official said during the press conference that partnering with stakeholders in the field has helped CISA instill proactive protocols for cybersecurity vigilance. 
"We're really encouraged by the election stakeholder community and how seriously election officials are taking this from the state and local level," the official said. "They want to succeed."