Biden administration looks to jumpstart cyber training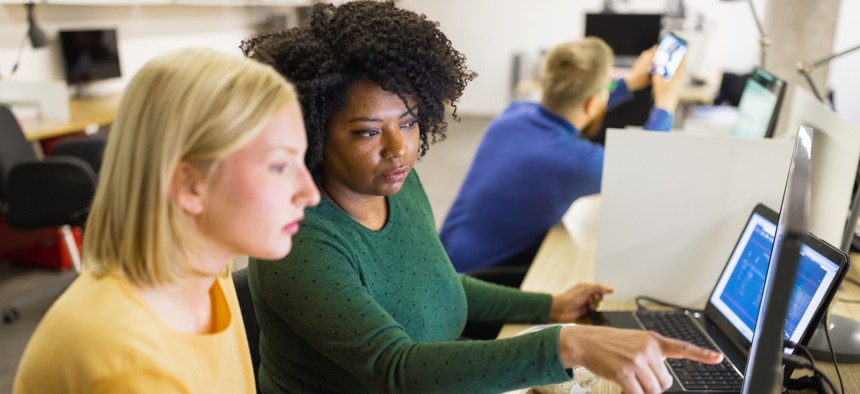 Federal agencies, universities, nonprofits and private companies announced cyber workforce initiatives at a White House event hosted by National Cyber Director Chris Inglis on Tuesday. 
The event was billed as a "call to action" to address the cybersecurity workforce shortage. There are about 700,000 open cybersecurity jobs across the public and private sectors. Leaders are looking to create new pathways into the profession while ensuring that the workforce is diverse – something the industry has struggled thus far to do.
The Departments of Labor and Commerce announced a 120-day sprint to push the use of registered apprenticeships in cybersecurity. The effort will both "increase awareness of current successful cybersecurity-related Registered Apprenticeship programs while recruiting employers and industry associations to expand and promote Registered Apprenticeships as a means to provide workers with high-quality, earn-as-you-learn training for good-paying cybersecurity jobs," Labor Secretary Marty Walsh said in a statement.
Currently, there are 714 registered apprenticeship programs and over 42,000 apprentices in cyber-related jobs, according to the Labor Department.
As part of the sprint, the Labor Department's Office of Apprenticeship is accelerating the process for employers to get started, allowing them to launch programs in as little as two days, the department says.
Nonprofit CompTIA and software company ConnectWise made a joint announcement that they'll be supporting this sprint through their own paid, registered apprenticeship program pairing IT workers with businesses.
"We forget the majority of this work is done by rank-and-file cyber professionals," said Todd Thibodeaux, CompTIA president and CEO who was at the summit, in a statement. "It is with these frontline positions where the most sizable staffing deficits exist, something we intend to address with this program."
Katie Moussouris, summit attendee and founder and CEO of Luta Security, told FCW that she's encountered the talent gap firsthand trying to fill specialized cybersecurity roles.
"We found ourselves where we had to hire people for aptitude and train them in exactly the kinds of job roles we needed to fill, and it's been a hugely successful model," she said. "I think that this [summit] is chapter one of a larger conversation that they plan on having with industry and with the rest of the government on stimulating new cyber workforce pathways and creating new opportunities to reach everyone."
Other announcements made Tuesday include:
A commitment from Fortinet, a cyber solution company, to offer its information security awareness and training service for free to U.S. schools starting this fall. 
Tech corporation Cisco will expand its Networking Academy to train an additional 200,000 American students over three years. It also announced a partnership with North Dakota to make a skills-to-job program available for all North Dakota residents. 
(ISC)², a nonprofit that offers training and certifications for cybersecurity professionals, will offer its entry-level education program and certification exam to one million people for free. Half of these course enrollments and exams will go to students at historically black colleges and universities and other minority-serving institutions. 
Cyber training provider ThriveDX and investment firm NightDragon are planning to launch a Cyber Talent Hub that'll offer free training and connect candidates and job openings. It's an effort being done with industry and educational partners. Carahsoft, Liberty Mutual Insurance and other companies have signed on, along with New York University, University of Chicago, University of Michigan and University of Wisconsin. 
Experts say that making a dent in the workforce shortage will require coordinated effort across different sectors, as well as potentially reconsidering the expensive certifications and job experience requirements for entry-level positions that can be a barrier of entry.