Lessons of the Cyber Reskilling Academy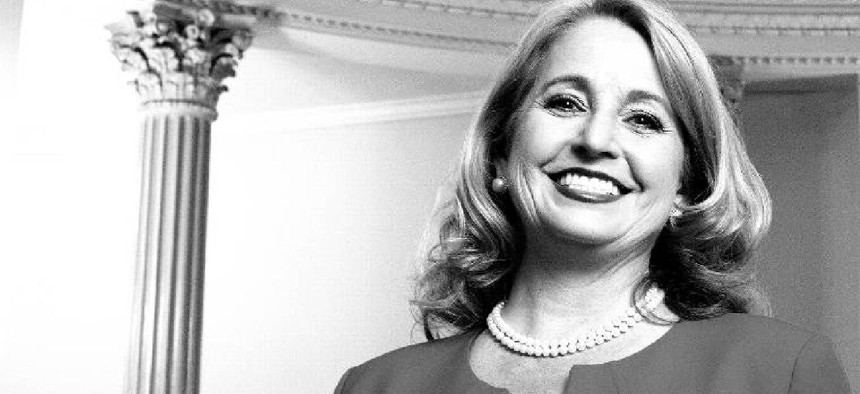 The leaders who orchestrated a reskilling program meant to transform feds into cyber defense analysts have some takeaways.
As federal CIO, Suzette Kent helped lead an effort to reskill current federal employees for jobs in cybersecurity. (FCW photo)
In 2018, the Office of Management and Budget launched a pilot with the Department of Education and the CIO Council to reskill current feds into cybersecurity positions.
Suzette Kent, former federal CIO, said she had conversations with agency CIOs about common needs for cyber talent across government and came up with idea of retraining current feds for the positions. The move had some obvious advantages: federal hiring managers wouldn't have to onboard new employees and current feds already possessed deep understanding of the mission and business processes of their agencies, she said.
Two classes graduated from the pilot, called the Federal Cyber Reskilling Academy, but there were significant problems getting graduates placed into cyber roles -- in part because the entry level cyber jobs on offer didn't match up to the pay grades of the feds who enrolled in the reskilling program.
But federal tech leaders are still looking at reskilling and upskilling as viable methods for filling federal technology jobs.
OMB, the CIO Council and the Chief Data Officers Council launched a six-month data analysis upskilling program in 2020 that came from the same set of workforce analyses. It started in the Census Bureau before the CIO Council took it on, and it has resulted in a reference guide so it can be replicated locally at agencies.
One takeaway: People are interested.
"When we first started we didn't know whether or not there was going to be an appetite, but we found out that absolutely there was," said Jason Gray, CIO at the Department of Education and co-chair of the CIO Council's Workforce Committee. The first round saw over 1,500 applicants for less than 50 spots.
Another lesson: Leaders weren't sure about how the training would work.
"They were literally pilots to test the training process," said Gray. But the participants were able to absorb the new information on a relatively short, three-month timeline.
"The fact that in three months you had 25 non-IT professionals able to get industry-standard certifications was really amazing," Gray said.
One big question that came out of the program was about "building a transition path for trainees," said Dorothy Aronson, CIO of the National Science Foundation and co-chair of the CIO Council's Workforce Committee.
The federal personnel system doesn't guarantee a smooth transition from one area of work to a different one, a hurdle for feds in the program who weren't already in IT roles.
The first cohort had participants in the GS-12 to GS-15 level, but many entry-level cyber defense analyst positions are lower on the General Schedule scale. Participants couldn't move over and up into cyber jobs because they didn't meet standards requiring a certain amount of experience in a field, generally a year.
After the program, OMB, the Office of Personnel Management and the CIO Council launched some temporary detail opportunities for graduates to improve their skills and fill this gap. Incorporating those details into any future iterations of the program could ensure that participants leave with the right amount of experience, Gray said.
Gradual, evolutionary changes within a job series, like the data upskilling program, might also be more effective than complete reskilling, Aronson said.
Kent noted that over the course of the pilots, "we identified places where modern work does not match the government's hiring processes."
In particular, job requirements stressing education and experience are hindering progress, Kent said.
"That is somewhat of an antiquated perspective, especially in areas of emerging technology," Kent said. "Because what's relevant in the space changes so quickly, I'd take somebody that had a certification in the last 24 months for the role before someone who had a degree 10 years ago.… If I'm putting somebody on the playing field, I want somebody who's been in the game recently."
Overall, the program's architects say that reskilling will be necessary to confront government's tech challenges.
"If we as a federal government want to jump forward and modernize, then we have to have people who understand government, who have this commitment to the cause," Aronson said. "So we're trying to figure out, how do we bring those people? How do we propel them into this future world more quickly? That's the problem we're trying to solve."