Former National Security Council Officials Flag Backlash From Commerce Blacklisting Huawei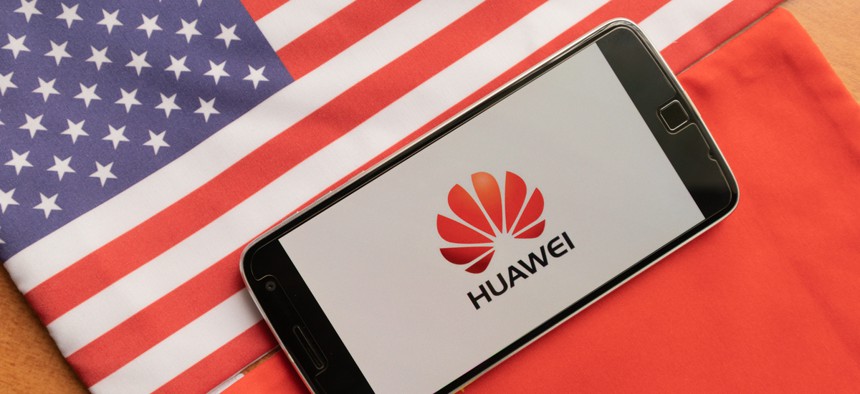 U.S. companies' participation in crucial standards setting bodies is falling off even more precipitously.
Former members of President Obama's National Security Council are among cybersecurity professionals noting how the Trump administration's approach to Chinese telecommunications giant Huawei is exacerbating U.S. entities' lack of participation in international bodies responsible for establishing the technical standards for running fifth generation network technology.
"Continuing to cede leadership roles in these organizations and their associated processes," Megan Stifel, executive director for the Americas of the non profit Global Cyber Alliance, told Nextgov, "risks a future where 5G, internet, and other standards reflect the values, interests, and priorities of nations that do not share our approach of an open, interoperable, secure, and reliable [Information and Communications Technology] ecosystem."
Stifel has been thinking about ways to boost U.S. participation in international standards bodies since at least early 2016, when President Obama established a Commission on Enhancing National Cybersecurity. That commission issued recommendations similar to those in the Cyberspace Solarium Commission's landmark report from March: Increase support for the National Institute of Standards and Technology and install a National Cyber Director who would encourage U.S. companies and academic institutions to participate openly while keeping the national interest in mind.
"The Solarium Commission report is the most recent acknowledgement of the need for strong U.S. government and industry leadership on standards for ICTs," said Stifel, who directed international cyber policy on Obama's National Security Council. "The importance of this leadership, including with partner nation governments and industry, is due to the critical role standards play in the development of the technologies that are essential to our everyday lives, our economy, and our national security.  The results may include decreased market opportunities, competition, and most critically, privacy and security in a global economy dependent on ICTs." 
While U.S. participation in standards bodies like the Third Generation Partnership Project and the Institute of Electrical and Electronics Engineers suffers, Huawei and other Chinese entities are actively engaged.
And the Commerce Department's inclusion of Huawei on its forbidden "entities" list last year seems to be making things even worse, as U.S. companies don't want to run afoul of a rule they fear bars U.S. entities from sharing their technology in any way with the Chinese company.   
Stifel tweeted Friday that the Huawei blacklisting is "a newer twist on a problem that began years ago, that concerned us in the [44th National Security Council] working to advance policy, and that the [Cyberspace Solarium Commission] addressed in its recommendations." 
Cyber professionals across the ecosystem have been taking notice of the fallout.
On Monday, Mitch Parkerciso, chief information security officer for Indiana University Health, tweeted: "I sit on IEEE standards committee calls. The US is now no longer the dominant country." 
Michael Sellitto, a former State Department official who sat on the NSC with Stifel, added: "Can't blame other countries or foreign companies for having influence if the US doesn't show up."