After Midterm Elections, a Focus on Securing Campaigns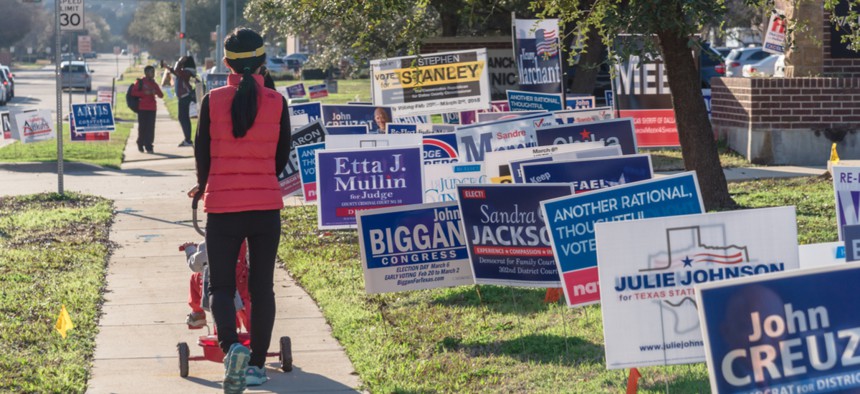 The Homeland Security Department hopes campaigns can cooperate on cybersecurity rather than compete.
The Homeland Security Department and a cybersecurity non-profit plan to ramp up efforts to share cyber threat information and best practices with political campaigns after the midterm elections conclude next week.
The Center for Internet Security, or CIS, which manages a cyber threat information sharing program between the federal and state and local governments, hopes to begin offering similar services to political campaigns, the organization's executive chairman John Gilligan told reporters Tuesday.
CIS reached out to campaigns about the idea in recent months but found they were too busy to launch a new program so late in the election cycle, Gilligan said after a panel discussion about election security hosted by the Center for Strategic and International Studies.
CIS hopes that the comparatively slower pace of 2019 will allow it to get the program off the ground, Gilligan said. He described the plan as "informal" at this point, but said he hopes it will be well established before the presidential and congressional elections in 2020.
Campaigns could significantly benefit from the program because they typically operate on shoestring budgets, especially early in a race, and aren't able to hire cyber experts, Gilligan said. The long run up to 2020 will give CIS and the campaign organizations time to build trust, he said.
The goal would be to run the program at almost no cost by simply piggybacking off of state and local cyber threat information sharing that CIS is already doing. The program would only deal with unclassified threat information, Gilligan said.
The Homeland Security Department, which is leading election security work for the federal government, also hopes to establish better ties with campaigns between 2018 and 2020, said Bob Kolasky, who leads the department's National Cyber Risk Management Center.
Homeland Security has vastly improved cyber information sharing and threat detection with state and local election administrators since Russian efforts to undermine the 2016 elections. That effort was spurred by a late Obama administration decision to define election systems as critical infrastructure, similar to airports, banks and hospitals.
The department has met with the Republican and Democratic national committees but is not broadly sharing threat data with House and Senate campaigns.
Hackers linked to the Russian government penetrated Democratic nominee Hillary Clinton's campaign in 2016 and released the stolen data to WikiLeaks, according to indictments from Special Counsel Robert Mueller.
Chinese hackers also reportedly penetrated both the Obama and McCain campaigns in 2008.  
Ultimately, Kolasky said, he hopes Democratic and Republican campaigns can cooperate on cybersecurity similar to how companies in critical infrastructure sectors do.
"How do we cordon off the security imperative from the political imperative?" he asked. "I'd like to get to a point where campaigns work together on security, work with the government and don't compete on security."