Huawei Slams FCC Efforts to Bar It From Federal Communications Program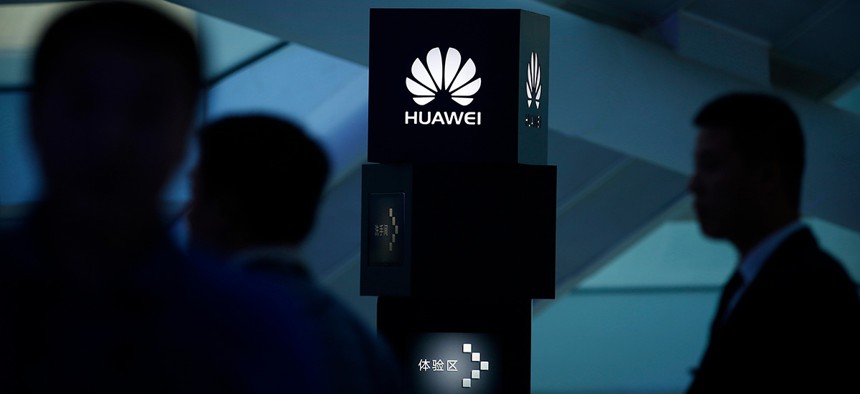 Government officials say the Chinese telecom poses a hacking threat to national security.
The Federal Communications Commission's efforts to block the Chinese company Huawei from U.S. telecom contracts and supply chains is unconstitutional, misguided, "arbitrary and capricious," Huawei said in comments posted Monday.
The Chinese telecom giant devoted more than 100 pages to savaging the FCC proposal, which would deny money from the commission's Universal Service Fund to companies that purchase equipment or services from companies that are deemed threats to national security.
That list would include Huawei and ZTE, another Chinese telecom. U.S. intelligence officials fear the companies could be used by Chinese government hackers to spy on Americans or launch destructive cyberattacks.
The $8.5 billion Universal Service Fund provides money to lower the cost of telephone and internet service in high-cost areas and to expand services in rural and low-income areas.
The FCC released Huawei's comments Monday along with comments from about two dozen other organizations with an interest in the issue.
Huawei wasn't alone in expressing concern about the proposal.
NTCA–The Rural Broadband Association said the proposal is "overly broad and lacks clarity." AT&T worried that, by limiting its national security fix to Universal Service Fund recipients, the FCC might be artificially distorting competition and harming consumers.  
Other commercial commenters supported the FCC action but warned that the commission should be sure to harmonize its actions with governmentwide cybersecurity efforts, including a Homeland Security Department push to improve the cybersecurity of government supply chains.
The FCC push is one of several efforts to rein in Huawei and ZTE in the U.S. Both House and Senate drafts of an annual must-pass defense policy bill would bar the companies from large numbers of government contracts.
ZTE is also one negotiating chip in the broader dispute over U.S.-China trade.
Huawei took two main tacks in its argument against the FCC proposal. First, the company argued that the proposal stretches beyond the bounds of FCC's powers and violates Huawei's constitutional right to due process.
Second, the company argued that the commission doesn't have a reasonable basis for believing that Huawei poses a national security threat to the affected phone and internet providers.
"The Commission does not analyze Huawei's longstanding commitment to the security of telecommunications networks nor its continued, active participation in improving global cybersecurity standards," the company states. "Instead, it prejudges Huawei wholly on the location of its headquarters."
A separate dispute between the U.S. government and a foreign company came to a head last week when a U.S. district court judge dismissed the Russian company Kaspersky's challenge against a law banning its software from government contracts.
Lawmakers were similarly concerned that the Russian government might use Kaspersky as a tool to hack government networks. Kaspersky has vowed to appeal the ruling.