Trump Homeland Security Adviser Bossert Resigns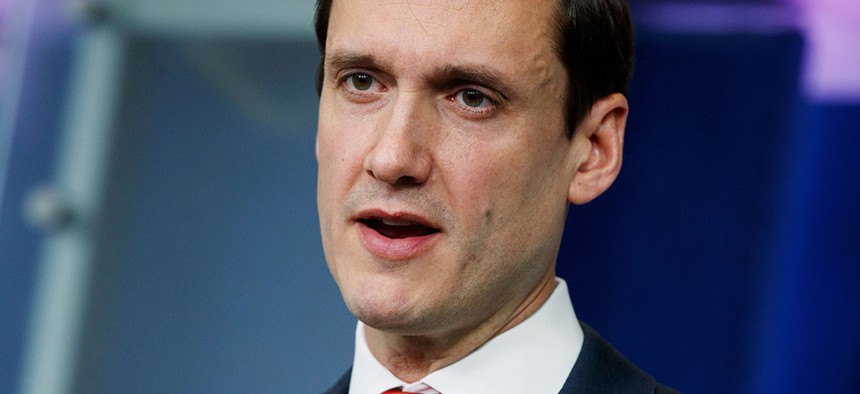 President Donald Trump's Homeland Security Adviser Tom Bossert is leaving office, White House Press Secretary Sarah Huckabee Sanders said Tuesday.
White House Cybersecurity Adviser Rob Joyce will be replacing Bossert on a temporary basis, The New York Times reported, citing an administration official.
Bossert was instrumental in developing a cybersecurity executive order the administration released last year, which focused on strengthening federal networks against digital attacks, improving the cybersecurity of critical infrastructure sectors, such as energy and financial services, and establishing norms of appropriate nation state behavior in cyberspace.
Under Bossert, the administration also focused on developing plans to combat botnets—armies of zombie computers that nations, criminals and vandals use to force their adversaries offline.
Many critics, however, have said the administration's cyber policy was dogged by Trump's refusal to consistently acknowledge Russia's digital efforts to undermine the 2016 election.
Cyber experts have listed Bossert among a handful of sober cyber and national security advisers steering the Trump administration, which is lighter on government experience and expertise than its predecessors.
Bossert, who has a long history in government, was formerly a Deputy Homeland Security Adviser to President George W. Bush.
His announcement follows the departure of National Security Adviser H.R. McMaster, whose last day was Friday. McMaster is being replaced by former U.S. Representative to the United Nations John Bolton.
Sanders did not give a reason for Bossert's departure or announce a successor Tuesday. Bossert did not immediately respond to a request for comment.
"The President is grateful for Tom's commitment to the safety and security of our great country," Sanders told White House reporters.
"Tom led the White House's efforts to protect the homeland from terrorist threats, strengthen our cyber defenses, and respond to an unprecedented series of natural disasters," she added.