DHS to Scrutinize Government Supply Chain for Cyber Risks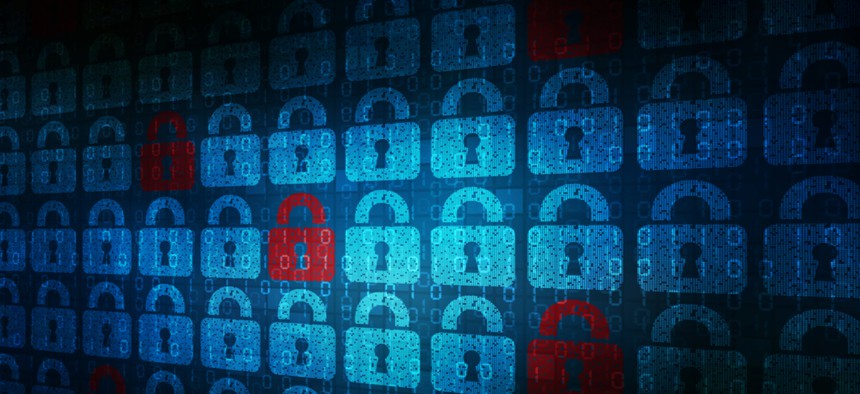 The department wants to integrate cyber vetting into existing supply chain checks.
The Homeland Security Department is surging its efforts to protect government and contractor technology systems from cyber risks inside their supply chains, a top department official said Wednesday.
Government contracting leaders from the General Services Administration and counterintelligence officials are also working on the Homeland Security-led effort that launched earlier this year, said Jeanette Manfra, who leads Homeland Security's Office of Cybersecurity and Communications.
The department is consulting with some industry leaders on how they manage supply chain risks, Manfra said, but she declined to name the companies during a panel discussion at the Brookings Institution and in a conversation afterward with reporters.
The program's major goals are to identify the greatest supply chain cyber threats, figure out if there are technical ways to mitigate those threats and, if not, figure out other solutions, Manfra said.
She declined to specify other solutions the government might consider. Possibilities might include barring companies with questionable supply chains from some government contracts or banning them entirely.  
There's no specific end date for the project because it will likely result in an ongoing Homeland Security responsibility, Manfra said.
Supply chains for contemporary technology products can be excessively complex with computer hardware originating from numerous nations and software code written in dozens of different places or assembled from open source libraries with long and complicated histories of their own.
That opens up plenty of opportunities for U.S. adversaries, such as Russia and China, to sneak a hackable vulnerability into those systems that those nations' intelligence services can later exploit. Those vulnerabilities might also arise simply from shoddy workmanship or poor updating and be exploited by nations or cyber criminals.
It's nothing new for Homeland Security to examine how long supply chains might introduce cyber vulnerabilities, Manfra said.
What's different this time is that Homeland Security is dedicating special staff time to the project and focusing on building a standardized process for how cybersecurity concerns can be built into supply chain assessments that government acquisition leaders are already doing—typically for other reasons such as assessing a contract's financial risk or energy footprint.
The initial focus will be on the government's high-value assets, Manfra said, a term that refers to government systems that hold the most important information and are most likely to be targeted by adversaries.
"We can't all just throw up our hands and say: 'It's too complicated, I'll never know where the code's coming from,'" she said. "At some point … we can figure it out."
The new effort comes as the Homeland Security Department is becoming increasingly aggressive about foreign cyber threats. The department issued a binding operational directive in September ordering all agencies to remove the Russian antivirus Kaspersky from their networks citing fears the software might be compromised by the Kremlin.
During a Senate Intelligence Committee hearing Tuesday, lawmakers and intelligence officials raised similar concerns about the Chinese telecom firms Huawei and ZTE and their affiliates becoming spying platforms for the Chinese government. Sens. Marco Rubio, R-Fla., and Tom Cotton, R-Ark., have introduced legislation that would bar those companies and their affiliates from government contracts.
Asked if Huawei and ZTE might be targeted by the new supply chain efforts, Manfra said the department is "looking across the board." She repeated, however, that if the government can't mitigate supply chain risks through technical means, it will consider other options.
Manfra declined to say how many agencies have fully scrubbed Kaspersky from their systems following a December deadline to begin doing so. She cited two lawsuits Kaspersky has filed against the government over the ban, which she said make it difficult to speak publicly about it.  
Prior to those lawsuits, Homeland Security officials said Kaspersky was found at about 15 percent of federal agencies and was found mostly in smaller offices that were not directly overseen by agency chief information officers.