Expect Federal CIO, Federal CISO and Other Cyber Nominees Soon, White House Cyber Chief Says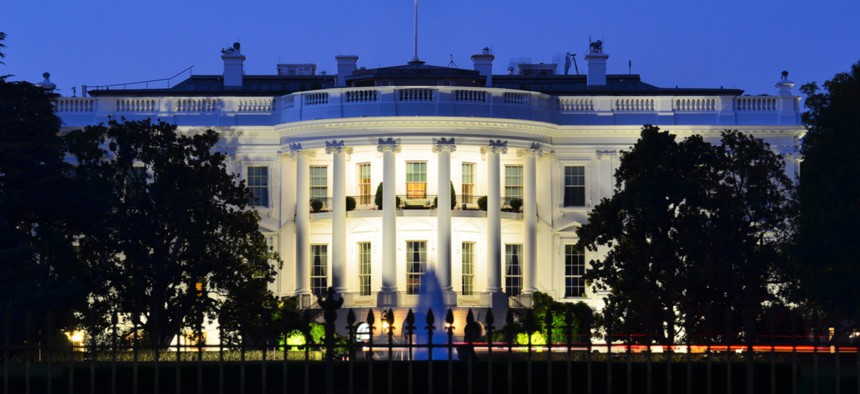 The vacant tech and cyber jobs are not among those Trump plans to leave vacant to starve bureaucracy, Cybersecurity Coordinator Rob Joyce said.
Many top cybersecurity and technology positions remain vacant 10 months into the Trump administration, but that's not by design, White House Cybersecurity Coordinator Rob Joyce said Thursday.
Those vacant positions—or positions filled on an acting basis—include the federal chief information officer, the federal chief information security officer, the head of the Homeland Security Department's cybersecurity and infrastructure protection division, and numerous agency CIOs and CISOs.
There's no guarantee that all of those positions will be filled, but they're definitely not among the positions President Donald Trump says he's purposely not filling in order to reduce government bureaucracy, Joyce said during a summit hosted by Defense One, Nextgov's sister publication.
"It's not an intentional emptiness today and not an intentional decision to keep those empty going forward," Joyce said. "It's more stacking up the nominations and clearing the decks of the senior-most leaders and ambassadors we've got to get through."
Once those top officials are confirmed, Joyce said, he expects a "cascade" of tech and cyber officials to reach the Senate for confirmation.
The vacancies in top tech and cyber ranks have made it more challenging to make decisive changes, he said.
"Often the new people will come in and will challenge the status quo and allow us to shake things up a bit," he said.
Coming Soon: More Transparency About Government Bug-Hoarding
The government is weeks away from publicly releasing an updated version of its strategy for deciding whether to tell industry about dangerous computer vulnerabilities or to keep them to spy on U.S. enemies, Joyce said.
The Obama administration released broad information about how and when it discloses cyber vulnerabilities in 2014. That was in the wake of the Heartbleed vulnerability, which sent security watchers into a panic.
The Obama administration didn't reveal many details about its process, though.
Trump administration officials have been reviewing and updating the Obama disclosure policy and hope to release a public version of it shortly, Joyce said at the Defense One Summit.
Joyce has two goals for the publication, he said.
The first is to demonstrate what criteria the government uses to make disclosure decisions and how it balances national security, like hoarding exploits for spying, with individual security. 
The second goal, Joyce said, is to demonstrate that the intelligence community doesn't make those decisions on its own.
"There's a lot of fog in 'Is it just the intel community? Do Commerce, DHS, Defense and other folks have a loud voice?' They do," he said.
National Security Agency leaders said in 2015 that the government discloses more than 91 percent of the vulnerabilities it encounters. The figure is still "somewhere in that neighborhood," Joyce said.
Joyce also acknowledged that recent alleged leaks of government hacking tools from the NSA and CIA inform government's thinking about vulnerability disclosure.
A group called the Shadow Brokers has released hacking tools allegedly stolen from NSA and WikiLeaks has released a cache of alleged CIA hacking tools under the name Vault 7.
How Much Kaspersky is on Government Systems? 'Not Heinous' Amounts But Too Much
Joyce defended a Homeland Security order that gives agencies three months to begin removing the Russian anti-virus Kaspersky from their systems.
Sen. Claire McCaskill, D-Mo., ranking member on the Senate Homeland Security Committee worried that timeframe was too long. Given the scope of government technology, however, it could be irresponsible to force agencies to move more quickly, Joyce said.
In the meantime, the government is taking other precautions to prevent the anti-virus from doing any harm, he said.
In its May removal order, Homeland Security said it was concerned the Russian government could use Kaspersky to hack into U.S. systems.  
In most cases in which Kaspersky was running on U.S. government systems, it was an add-on in a small division that wasn't managed by an agency's main technology office, a situation known as "shadow IT," Joyce said.
"If you look at the absolute percentages and numbers [of Kaspersky running on government systems], the numbers weren't heinous," Joyce said. "But they were more than we were comfortable with," he added.
Some agencies have already removed Kaspersky instances from their systems, he said.
Also during Thursday's discussion:
A cybersecurity advisory group led by former New York City Mayor Rudy Giuliani, which Trump announced soon after his election, is still meeting, Joyce said. Among other things, the group is focused on the cybersecurity of power plants, said Joyce, who sat in on one meeting in which the group offered advice to the president.
Joyce's team meets with the Office of American Innovation "on a weekly basis" to integrate government cybersecurity and technology modernization plans, he said.
A cybersecurity strategy that the Trump administration is putting together based on reports from the president's cyber executive order in May will differ in some ways from previous strategies under the Obama administration, Joyce said. He declined to share specifics, though. "That's the part that's the most exciting, but it's also that last 10 percent where some of the agencies that own those specific pieces will fight a little bit," he said.
An interagency group is meeting weekly to discuss alternatives to Social Security numbers as a national identifier in the wake of the Equifax breach, Joyce said. Joyce described the Equifax breach, which compromised Social Security numbers and other personal information of more than 40 percent of the country, as his "enough moment." He wouldn't guarantee a timeframe for retiring Social Security numbers as a major identifier, but said "if we don't start the journey, we will never finish it."