State Plans to Elevate Cyber Mission, Despite Shuttering Dedicated Office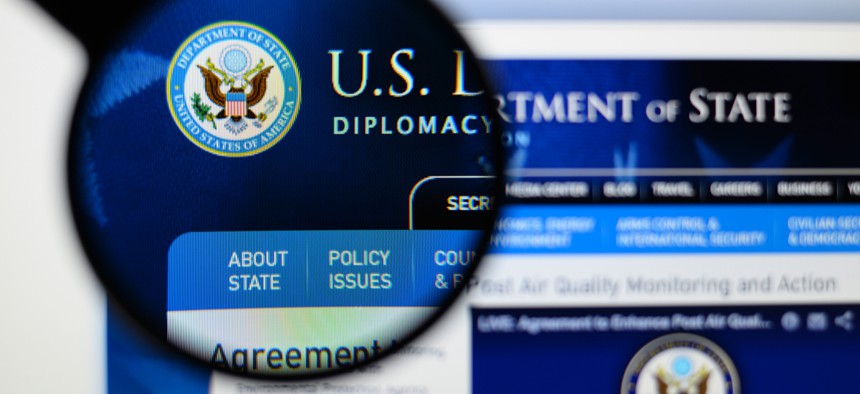 The claim comes after the department downgraded its main cyber diplomacy office.
Secretary of State Rex Tillerson's decision to oust the State Department's cyber coordinator and a plan to downgrade and absorb the coordinator's office into the agency's economic section are just the first moves in a process that will end with cyber diplomacy gaining rather than losing prominence, a top State official told lawmakers Tuesday.
That will likely include creating a permanent, Senate-confirmed position in charge of cybersecurity within the State Department, Deputy Secretary of State John Sullivan told the House Foreign Affairs Committee.
That elevation will also likely include a closer relationship between the State and Defense departments on cyber issues, Sullivan said.
» Get the best federal technology news and ideas delivered right to your inbox. Sign up here.
He did not provide a timeline for how that elevation would occur.
"I can commit to you that cybersecurity, our whole cyber effort, will be elevated at the department beyond what it is now," Sullivan said, adding that "a final decision at what level we'll place cyber responsibility has not been made."
Sullivan pledged to keep the committee in the loop about those plans. Tillerson hopes to have all reorganization plans finalized and briefed to Congress by the end of 2017, Sullivan said.  
Tillerson outlined his plan to downgrade the cyber coordinator's office last month as part of a broader scheme to close, downgrade or reorganize special envoys, ambassadors and representatives.
The proposal to downgrade ambassadors and envoys, in turn, is part of a major department reorganization that includes a roughly 30 percent cut to the department's budget as proposed by the president.
Numerous lawmakers criticized Tillerson's decision to downgrade State's main cyber diplomacy office in the wake of a Russian cyber and information warfare campaign to sow confusion during the 2016 election.
House Foreign Affairs Chairman Ed Royce, R-Calif., and ranking member Eliot Engel, D-N.Y., introduced legislation that would restore the office and make it permanent earlier this month.
Since its creation in 2011, the coordinator's office, led by longtime White House and Justice Department official Chris Painter, has led bilateral and multilateral negotiations about global rules of the road in cyberspace and combating cyber crime.
The office also represented the U.S. in United Nations-sponsored meetings that interpreted how international law applies in cyberspace and sent delegations to help developing nations improve their cybersecurity infrastructure so cyber criminals located elsewhere can't hijack it for phishing and distributed denial of service campaigns.
Painter said in an interview with Nextgov that he's concerned closing his office sends a message to U.S. allies and adversaries that cybersecurity is not a U.S. priority.
Throughout the hearing, Republican and Democratic lawmakers criticized the Trump administration's slow process for naming new political appointees at State and leaving ambassadorships vacant.
The hearing also veered into broader foreign policy concerns such as belligerent exchanges between President Donald Trump and North Korean leaders.
Upgrading IT
The State Department reorganization will also include a major upgrade to the department's information technology infrastructure and cybersecurity protections, Sullivan told lawmakers.
The department hopes to gain $5 billion in savings by upgrading IT systems, he said.
Otherwise, "we're going to have to spend for outdated systems to keep them patched and running—huge amounts of money," he said.
In addition to the cost of maintaining outdated IT systems, a decentralized risk management system makes it more difficult for the department to respond to crises, according to Sullivan's prepared testimony.
State's unclassified email system was breached in 2014, likely by Russian government hackers.